Even Pennsylvanians Can Now Buy Wine in Grocery Stores, but New Yorkers Still Can't
A bill that would expand wine sales in the Empire State is meeting familiar resistance from entrenched interests.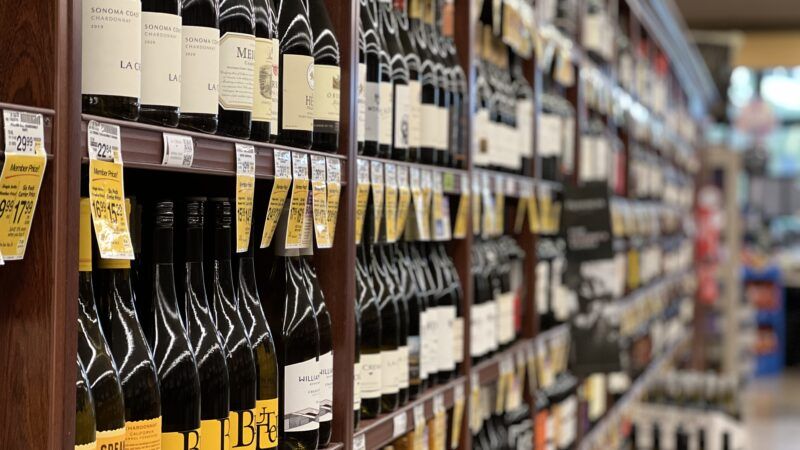 (Lynn Friedman/Texas Standard/Flickr)
When I lived in New York City a couple of decades ago, you could buy beer in grocery stores but not wine. Although that remains true, a bill introduced by state Sen. Liz Krueger (D–Manhattan) would finally allow New Yorkers to buy wine in stores that also sell food—an option that shoppers in most states (including Texas, where I live) already take for granted.
As usual, the opposition to alcohol liberalization in New York is led by independent liquor merchants, who see competition as an existential threat. The chief backer of Krueger's bill is Wegmans, the Rochester-based grocery chain that also played a central role in making beer more accessible in my home state of Pennsylvania.
Both of these stories illustrate how a company pursuing profit can promote consumer choice while businesses that benefit from the legal status quo squeal in outrage at the possibility of new competition. These struggles against absurd alcohol rules also show how such irksome restrictions can inspire bipartisan support for deregulation, scrambling the usual assumptions about which party tends to favor government control over economic activity.
Pennsylvania's alcohol regulations are even more restrictive and convoluted than New York's. Distribution is controlled by the state, which operates stores that sell liquor and wine but not beer. Prior to 2007, Pennsylvanians had two options for buying beer: They could pick up an overpriced six-pack or two at a restaurant, or they could buy a keg or a case from a state-authorized distributor. But thanks to Wegmans and a Pennsylvania Supreme Court decision triggered by its innovative end run around the state's arbitrary rules, Pennsylvanians were able to begin buying beer at grocery stores, like the residents of all but a few other states.
Since state law allowed restaurants to sell malt beverages, Wegmans created cafés inside several of its Pennsylvania stores where shoppers could buy beer. The Pennsylvania Liquor Control Board (PLCB) approved the use of restaurant liquor licenses at those locations. Unsurprisingly, the Malt Beverage Distributors Association (MBDA), which represents businesses that sell beer by the case, was not pleased. It sued the PLCB, arguing that Wegmans was effectively selling beer in grocery stores, contrary to state law.
In 2010, the Pennsylvania Supreme Court unanimously rejected that argument. It acknowledged that a state regulation said a restaurant with a liquor license "may not conduct another business" or "permit other persons to operate another business on licensed premises." But the regulation also said "licensed premises may not have an inside passage or communication to or with any business conducted by the licensee or other persons except as approved by the Board" (emphasis added).
Two other regulations explained the conditions of such approval. "Where the Board has approved the operation of another business which has an inside passage or communication to or with the licensed premises," one said, "the extent of the licensed area shall be clearly indicated by a permanent partition at least 4 feet in height." Another required that "storage and sales of liquor and malt or brewed beverages" be "confined strictly to the premises covered by the license." Pennsylvania also required that restaurants, to be eligible for a liquor license, "have an area within a building of not less than four hundred square feet, equipped with tables and chairs, including bar seats, accommodating at least thirty persons at one time."
Since Wegmans had met all the relevant regulatory requirements and was "operating legitimate, fully-functioning restaurants within their grocery stores," the court concluded, those beer outlets were legal. "Refusing to acknowledge the validity of these restaurants," it said, "would violate, rather than vindicate, legislative intent."
The court also addressed the MBDA's claim that letting Wegmans sell beer would result in "unfair competition," which was really the crux of the distributors' complaint:
MBDA presented testimony of its chief counsel and of owners of neighboring beer distributors, which established their concern that the grant of licenses will directly result in unfair competition in the beer sale market, causing a number of Pennsylvania beer distributors to go out of business. They asserted that there is a difference between Wegmans and a typical restaurant licensee because customers who patronize Wegmans are there to buy grocery items, which beer distributors cannot sell. MBDA further presented testimony suggesting that Wegmans would attract customers who desired to purchase beer solely for takeout purposes, thus infringing on their market share of beer sales.
The Pennsylvania Supreme Court did not reject that argument because it was nakedly protectionist and plainly contrary to the interests of consumers. Rather, it questioned the premise that Wegmans' beer sales would have a substantial impact on the distributors.
"Wegmans presented the testimony of an economist who opined that beer distributors would not suffer a negative economic impact if Wegmans began selling beer in its restaurants," the court noted. "With Wegmans being limited to selling two six-packs per takeout purchase, the economist asserted that such sales would not impact distributors' sale of larger quantities, as there are different customer bases for the sale of beer in six-packs and sales by the case. The economist further testified that distributors may actually benefit from Wegmans' licensure because Wegmans, as a 'destination retailer,' attracts a large number of customers, which is an advantage to nearby businesses based on the economic benefit of 'clustering' retailers."
Six years after that decision, then-Gov. Tom Wolf, a Democrat, signed a bill that authorized grocery stores to sell beer without going into the restaurant business. The law—which was sponsored by Rep. Mike Turzai (R–Allegheny), a longtime champion of liquor privatization in Pennsylvania—also loosened restrictions on wine sales, allowing direct sales by producers, to-go sales by restaurants and hotels, and sales by specially licensed grocery stores, which must buy their bottles from the PLCB. While that's clearly an improvement on the legal situation that inspired an ill-fated PLCB experiment with wonky automated wine kiosks in grocery stores, wine prices are still relatively high in Pennsylvania.
What about those poor beer distributors? "While beer distributors' worries about having a raft of new competitors have come true, fears about a sales slump forcing distributors to close haven't materialized," Lancaster Online reported in 2021. "Today, there are 29 beer distributors in Lancaster County, the same number in 2013. In fact, helped by a new ability to sell singles and six-packs and boosted by home-drinking during the pandemic, beer distributors that revamped their stores and focused on craft beer and expanding selection say they're doing better than ever."
Back in New York, meanwhile, you still can't buy wine at the grocery store. In trying to change that, Wegmans is encountering familiar resistance from entrenched interests.
Krueger's bill is limited to stores that cover at least 5,000 square feet and specialize in "foodstuffs," conditions aimed at excluding convenience stores and multipurpose retailers like Walmart and Costco. But the bill still could allow wine sales at an additional 1,900 locations statewide.
That prospect dismays the owners of New York's 3,700 or so privately operated liquor stores. Krueger's bill, The New York Times notes, has reignited "a perennial skirmish against mom-and-pop liquor stores that see the legislation as a threat to their very existence."
The three companies that have a legal monopoly on wholesale distribution of alcoholic beverages in New York are also opposed to wine in grocery stores. Gothamist reports that the distributors share their customers' worry that the reform "would change the paradigm for wine sales in New York and put many shops out of business." Wegmans "spent over $30,000 in May alone pushing the measure," the Times notes, while "the two main alcohol distributors in the state, Southern Glazer's Wine & Spirits and Empire Merchants, have collectively spent at least $120,000" on lobbying.
"Somehow this becomes this huge controversy because New York is one of the few states that you can't go into a supermarket and buy wine, even though you can buy beer," Krueger told the Times. "The underlying issue is that you've got a monopoly control of wholesale distribution of liquor in this state, and the three wholesalers who control all liquor distribution think that this disadvantages them."
Krueger and Assemblymember Pamela J. Hunter (D–Syracuse), who is sponsoring the wine bill in her chamber, cite a recent Siena College poll that found 76 percent of New Yorkers "support changing this antiquated law." Consumers "want the convenience of purchasing wine in grocery stores—where they buy their food and other beverages, such as beer," Hunter says.
Gov. Kathy Hochul, a Democrat whose election campaign received $25,000 from Southern Glazer's last year, has been noncommittal on the bill. "I'm waiting to see what the Legislature does," she told reporters a couple of weeks ago.
Krueger's experience suggests further reason for pessimism. "I have been championing this issue—allowing consumers to buy wine in their local grocery stores—for many years," she says. "When friends come to visit from places like Virginia, North Carolina, Pennsylvania, or DC, they're often dismayed to discover the law won't let them buy wine in the grocery store. But it's time to change that this year." Since special interests have managed to defeat a reform that is overwhelmingly popular with consumers "for many years," it may not be time to break out the Champagne that Krueger's bill would allow New Yorkers to buy at Wegmans.