Spurred by Uvalde, Texas Legislature Passes Bill To Finally Close 'Dead Suspect Loophole'
Texas' public record law let police hide records of suspects who died in custody from grieving families, reporters, and lawyers.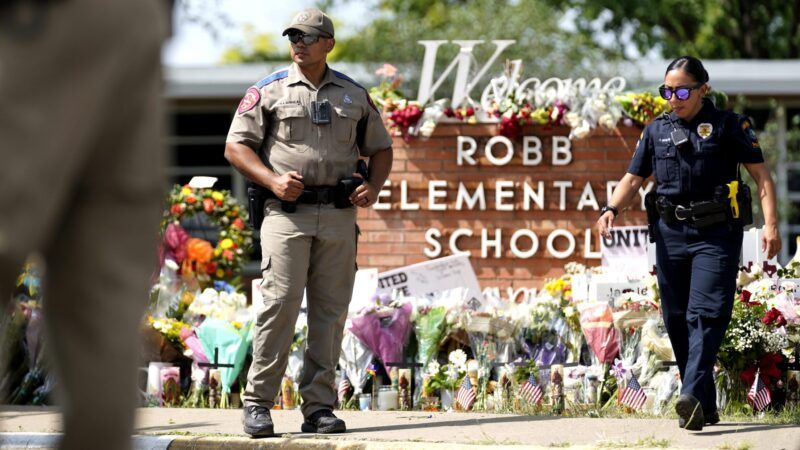 Following outrage over the lack of transparency surrounding the mass shooting in Uvalde, Texas, last year, the Texas legislature passed a bill Monday to close a notorious loophole in the state's public record law that allows police to hide records of deaths in custody.
The bill, H.B. 30, now goes to Republican Texas Gov. Gregg Abbott's desk. It would clarify that an exception that allows police to withhold records in cases where the suspect of an investigation was never convicted of a crime does not apply to deceased individuals. Texas enacted the statute in 1997 to protect the privacy of innocent suspects. Still, police departments quickly figured out they could also use it to indefinitely withhold information on deaths in police custody since a dead suspect will never be convicted.
Previous bills to close this so-called "dead suspect loophole" failed because of intense opposition from police unions. However, outrage over the botched police response to the mass shooting last year in Uvalde, Texas—and subsequent refusal to release public records about the shooting—finally pushed the most recent version of the law over the finish line.
Texas state Rep. Joe Moody (D-El Paso), who has introduced the bill for the past several years, tweeted that "Uvalde elevated the issue for the last one."
This work can mean policy, and this work can mean people. Closing the dead suspects loophole was about both. I worked this for six years, but Uvalde elevated the issue for the last one, and I'm so proud to finally deliver a path to the answers the people deserve. #txlege #Uvalde https://t.co/URDXDMZAJ7

— Joe Moody (@moodyforelpaso) May 29, 2023
In practice, the loophole prevented loved ones from accessing information about how family members died and protected police from scrutiny from lawyers and reporters. A 2018 Reason investigation found at least 81 instances where police departments cited the statute to withhold records of deaths in police custody from reporters, lawyers, and family members of the deceased.
Another years-long investigation by news outlet KXAN identified at least 154 public information requests related to 52 in-custody deaths in which the authorities cited the exemption for withholding records. 
And the Texas Tribune and ProPublica reported earlier this month on how a town used the loophole to withhold suicide reports from families of dead soldiers.
The loophole is being invoked more and more over time. Reason's previous investigation found that the loophole was cited 3,046 times in 2017 by local and state agencies trying to withhold public records, compared to 823 in 2003. A new Reason analysis of public record rulings issued by the Texas Attorney General's office shows the statute was cited 5,085 times in 2022.
The most infamous case is that of Graham Dyer, an 18-year-old who died in 2013 after being arrested in Mesquite, Texas, while having a bad acid trip. Dyer's parents fought unsuccessfully for years to get video footage of their son's final hours, but Mesquite police refused to hand it over, citing the loophole.
Dyer's parents eventually got the footage from the FBI through a federal Freedom of Information Act request. It showed Dyer slamming his head against the interior of a police cruiser after he wasn't properly restrained. An officer repeatedly tased him in the testicles to try and make him stop. The Mesquite Police Department neglected to mention the tasings in the incident report filed after Dyer's death.
The report also claimed it took several officers to subdue Dyer, who was 5 feet 4 inches and 110 pounds, and put him in a restraint chair in a padded cell. The video showed Dyer being left handcuffed on the concrete floor of the jail's sally port, where he continued to smash his head against the ground. Jail officials didn't request medical assistance until he was found unresponsive in his cell.
Dyer's parents repeatedly testified in favor of the legislation, but the loophole survived all previous attempts to close it because of lobbying from the Combined Law Enforcement Associations of Texas (CLEAT). CLEAT argued that Moody's bill was "pushed by anti-police groups who want access to the information so they can post it on social media and trash officers who are involved in high profile incidents."
However, the Uvalde shooting put the issue of police transparency under a spotlight. Texas police agencies largely relied on an exemption concerning ongoing investigations to withhold records related to the Uvalde shooting, where a gunman murdered 19 schoolchildren and two teachers. However, the City of Uvalde invoked the loophole, along with many other exemptions, when it denied public records requests from Texas Public Radio.
If Abbott signs the bill, Texas jails and police departments will have one less way to avoid accountability.