DOJ Says That Cops Who Killed Autistic Teenager May Have Violated His Civil Rights
Eric Parsa died after police placed him in a "prone position" for over nine minutes. Now, the DOJ says that the officers' actions likely violated the Americans with Disabilities Act.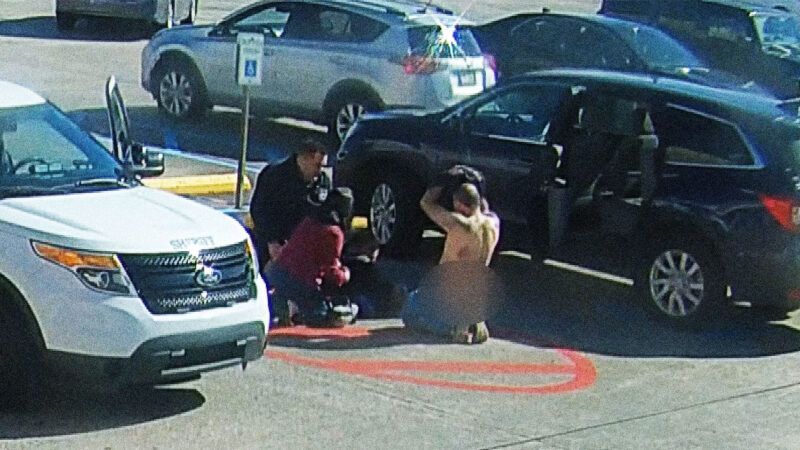 (Screenshot, lawandcrime.com)
An autistic teenager died in 2020 after Louisiana police officers sat on him and placed him in a chokehold for several minutes. According to a statement of interest from the Department of Justice, the officers' actions could have violated the boy's civil rights. 
In January 2020, Eric Parsa, a "severely autistic" teenager, began having an "acute sensory episode" in the parking lot of a New Orleans–area laser tag center. According to a lawsuit filed by Parsa's parents in 2021, Parsa "began to experience a sudden sensory outburst or 'melt-down'" and began hitting himself and his father. At Parsa's parents' request, an employee at the laser tag center called the police for help.
When Jefferson Parish Sheriff's Office (JPSO) police arrived, Parsa slapped one officer, who responded by forcibly taking Parsa to the ground, where he was held in a prone position for over nine minutes. During this time, officers placed Parsa "on his stomach, handcuffed, shackled, arms and legs held down, head, shoulder and neck encircled by the arm of a deputy, with JPSO deputies applying their own body weight as a restraint." Officers only stopped and placed Parsa in a "recovery position" when they noticed that he had "gone limp and he had urinated." An unconscious Parsa was then taken to a nearby hospital, where he was pronounced dead.
Parsa's family filed a lawsuit against the officers in January 2021, alleging that the officers' conduct violated Parsa's civil rights under the Americans with Disabilities Act (ADA) and the Rehabilitation Act of 1973. Last year, the couple made further allegations of wrongdoing after JPSO officers attempted to, without probable cause, obtain warrants for Parsa's school records detailing past misbehavior, seemingly to justify the officers' fatal use of force against Parsa.
Earlier this month, the Department of Justice released a statement of interest—which DOJ officials often use to persuade judges to take a preferred interpretation of a given legal issue—that tentatively agreed with Parsa's parents, stating that the officers' conduct may have violated Parsa's rights under the ADA.
"Here, the record is replete with facts showing that several Defendants knew about E.P.'s disability before or on arrival to the scene and that others learned of his disability during the encounter," reads the 21-page statement. "E.P.'s behavior, such as slapping his head, and failure to say anything other than 'firetruck,' could be construed as 'clear signals' of E.P.'s disability-related limitations and need for reasonable modifications," as required by the ADA. 
Instead of pinning him to the ground, the statement notes that officers should have accommodated Parsa's disability by "using de-escalation strategies; removing distractions and providing time and space to calm the situation when the child poses no significant safety threat; and avoiding or minimizing touching a child whose disability makes them sensitive to touch."
But while this intervention from the DOJ is good news for Parsa's parents—particularly because of a recent motion from the JPSO attempting to toss the Parsas' ADA claims—as long as police officers retain qualified immunity protections, actually holding government actors accountable is still an uphill battle.