'No One Will Become an American Until…the Border Is Secure'
Plus: Lawsuits over drag shows, a ban on Chinese citizens buying property in Florida, and more...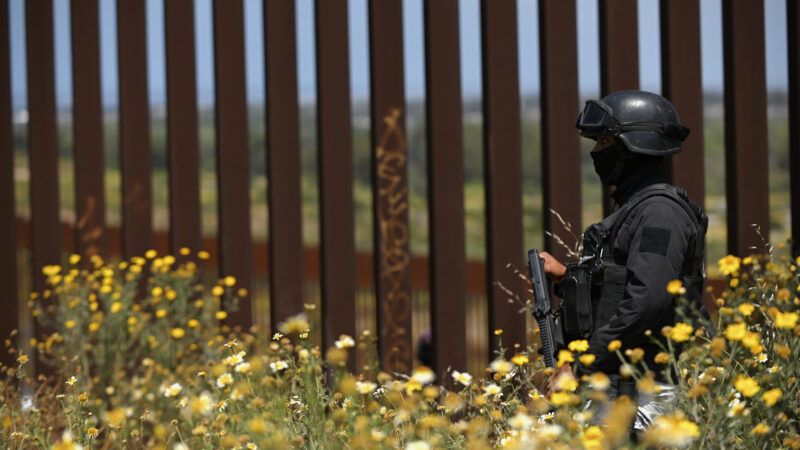 (Carlos A. Moreno/ZUMAPRESS/Newscom)
Paths to lawful residency plus enhanced border measures in new, bipartisan immigration reform bill. New legislation from Reps. María Elvira Salazar (R–Fla.) and Veronica Escobar (D–Texas) aims to compromise on concerns about immigration. It lays out a path to legal residency for some people in the country illegally while also ramping up border security measures, among other things. But this path could be held up unless the U.S. comptroller general declares the border secure.
Called the Dignity Act, the bill would be the "first serious bipartisan immigration solution proposed by Congress in over a decade," they said in a Tuesday statement. So far, the bill—an update on similar legislation introduced by Salazar last year—has attracted a bipartisan roster of five additional co-sponsors. You can find a detailed summary of the massive bill here and all 500 pages (which I have not yet read in full) here.
The meat of Salazar and Escobar's bill seems to be two new programs—the Dignity Program and the Redemption Program—by which people in the U.S. illegally could obtain deferred removal or lawful permanent resident status.
The Dignity Program provides for deferred action on removal plus travel & employment authorization for undocumented immigrants under certain conditions. To start, they must have been in the U.S. for five years prior to this bill passing, must not be eligible for admission under certain provisions of the Immigration and Nationality Act, and must not have a significant criminal record, such as being convicted of any felony.

To apply for the program, people would be required to submit a $1,000 "restitution" payment (to "be used to support American workers") and submit biometric and biographical data to the Department of Homeland Security (DHS). The deferment period can last up to seven years, during which time applicants must report to DHS biennially and pay an additional $1,000 fee with each report until a total of $5,000 has been paid. During this period, they would be expected to pay taxes, have health insurance, and be employed or in school for at least four of the years (subject to certain waivers for people with young children, disabilities, etc.). Additionally, an applicant would not be able to "avail himself or herself of any Federal means-tested benefits or entitlement programs" and would be forced to pay (in addition to other taxes) a 1.5 percent income tax which would go into the Immigration Infrastructure Fund.
People who complete the Dignity Program would be considered lawful non-immigrants— authorized for employment and eligible for reentry—for a five-year period and can renew for as many periods as they like. They would also become eligible to apply for the Redemption Program.
Under the Redemption Program, people in the Dignity Program would be able to apply for lawful permanent residency status, valid for five years and renewable indefinitely. During a conditional period in the Redemption Program, they would be required to submit a biennial report to DHS, pay an additional $5,000, do at least 200 hours of community service, and learn English and U.S. civics. (Learning requirements may be waived for people ages 65 and up.)
Section 24103 of the bill says:
if an alien maintains and completes the requirements of this section, after a period of 4 years beginning on the date that the alien's application for participation in the Redemption Program is approved, and subject to sections 111181 and 1515 of Division A of this Act, the Secretary may adjust the status of the alien to that of a lawful permanent resident, except that the alien's status granted under section 24101 may not be extended unless the alien demonstrates that the alien satisfies the requirements under section 312(a) of the Immigration and Nationality Act (8 U.S.C. 1423(a))
People will surely argue over the particular requirements of the Dignity and Redemption Programs. Is it fair to make participants pay an extra 1.5 percent income tax? Will the thousands of dollars in required "restitution" payments make the program prohibitively expensive for many undocumented immigrants? Should learning English really be a condition? These are all valid questions on which reasonable people might disagree. But at least this bill gets the ball rolling on discussion over what such a program might look like and lays out the terms in a relatively clear way.
The big red flag for all of this comes in some meta-conditions set for the Redemption Program. Here's how Salazar put it:
For those skeptics, many of them in my Republican Party, that say we are legitimatizing millions without the border being secure, as it has happened for 30 years, listen to this: there's a provision within the Dignity Act that guarantees that no one will become an American until the Government Accountability Office certifies that the border is secure.
"No one will become an American" at all until the border is certified secure?
Looking at the text of the bill, it seems that what Salazar means is no one who completes the Redemption Program can be declared a lawful permanent resident without action from the Government Accountability Office (GAO) and DHS. From the bill's text:
The Secretary of Homeland Security may not adjust the status of an individual under section 24103 until the date that the Comptroller General of the United States certifies that the Border Patrol has achieved a 90 percent or higher detection and apprehension rate of individuals attempting to cross the southern border of the United States unlawfully during the previous 12–month period.
And later:
The Secretary of Homeland Security may not adjust the status of an individual under section 24103 until the Secretary of Commerce certifies that all employers in all States are in compliance with the requirements of section 274A(b) of the Immigration and Nationality Act.
Those are some pretty big—and hard to assess—conditions. How does the comptroller general determine that Border Patrol has reached a 90 percent detection and apprehension rate? By nature, people who sneak into the country are undetectable.
Even if adequate assessment mechanisms can be agreed upon, and security goals met, this seems likely to hold up the Redemption Program for a long time.
And what if the security goals or employer compliance goals aren't meant—where does that leave people in the programs? It seems folks who submit data, pay extra taxes, pay restitution fees, and go through all the other requirements could be left in limbo, unable to actually achieve the promised legal status simply because of matters totally out of their hands.
---
FREE MINDS
A Florida hamburger joint is suing over the state's anti–drag show law. Senate Bill 1438, signed into law by Gov. Ron DeSantis, a Republican, earlier this month, gives state agencies the power to shut down or revoke the liquor licenses of businesses that allow minors to see an "adult live performance." Hamburger Mary's, which allows minors at its drag brunch on Sundays, is suing.
"Danielle Otterbein says she and her friends frequently go to drag brunch at Hamburger Mary's with their daughters on Sundays," notes WESH 2 Florida:
"I love the pageantry. I love the camp. I love the silliness of it. My daughter is the same way. It's fun. It's a really good time," she said.

However, she says she and her friends haven't been able to bring their children since the state legislature passed the bill.

The owners of Hamburger Mary's are suing the state of Florida over the bill, saying the law is too vague. They also claim bookings fell 20% in May after they told customers children could no longer come to the drag shows.

Republican state Rep. Randy Fine says the bill is not vague at all.

"It's not unclear at all. What's clear is you have a business in Orlando saying they will go out of business if they cannot do sex shows for children. That is stunning," he said.
The new law defines adult performance as a live show that "depicts or simulates nudity, sexual conduct, sexual excitement, or specific sexual activities" or "lewd conduct, or the lewd exposure of prosthetic or imitation genitals or breasts" when it "predominantly appeals to a prurient, shameful, or morbid interest; is patently offensive to prevailing standards," and/or "is without serious literary, artistic, political, or scientific value" for children. That may not sound all that objectionable, but critics of the measure say it's meant to ban any drag performances that allow parents to bring their kids or that it goes too far, preventing even older teens from seeing shows with raunchy humor (like A Drag Queen Christmas, targeted last December by Florida's Department of Business and Professional Regulation).
---
FREE MARKETS
A group of Chinese citizens who live in Florida are suing over the state's ban on most citizens of China, Cuba, Venezuela, Syria, Iran, Russia, or North Korea buying property in the state. They're represented by the American Civil Liberties Union (ACLU). You can find the full complaint here.
The new Florida law—S.B. 264—"bears more than a passing resemblance to those xenophobic edicts" of earlier eras, writes Reason's Jacob Sullum:
DeSantis portrays S.B. 264, which sharply restricts land ownership by Chinese citizens, as part of the state's efforts to contain the influence of the Chinese Communist Party (CCP). But the plaintiffs represented by the ACLU, who live in Florida legally but do not have green cards, have nothing to do with the CCP. They have been working or studying in the United States for years and are dismayed by the arbitrary, nationality-based rules that suddenly stand in the way of their plans to buy residential property. …

DeSantis wants us to believe that preventing a dietician, a property manager, or a professor from buying property in Florida, based purely on their national origin and non-immigrant status, somehow strikes a blow against "the Chinese Communist Party" and "crack[s] down on Communist China." But it is hard to see why innocent people should suffer for the crimes of an oppressive regime they left behind.
"Florida's discriminatory property law is unfair, unjustified, and unconstitutional," Ashley Gorski, a senior staff attorney with the ACLU's National Security Project, said in a statement. "Everyone in the United States is entitled to equal protection under our laws, including citizens of other countries. If SB 264 goes into effect, it will profoundly harm our clients and countless other immigrants in Florida."
---
QUICK HITS
Often referenced "masks do harm" study retracted.

Editors: "…complaints were valid … the article does not meet the standards of editorial & scientific soundness…"

Will likely live on as a zombie & retraction part of a conspiracy narrative. pic.twitter.com/wyXHVJC76T

— Timothy Caulfield (@CaulfieldTim) May 19, 2023
• Florida Republican Gov. Ron DeSantis is reportedly slated to announce his presidential bid tomorrow during a conversation with Twitter CEO Elon Musk.
• Republicans "want a new, non-metaphorical drug war," David Weigel warns at Semafor.
• "The South Carolina Senate approved a bill Tuesday that would ban most abortions after around six weeks of pregnancy—before most people know they are pregnant—and sent it to the Republican governor who has promised to sign the bill into law as soon as possible," reports the Associated Press.
• A bill that would have required Texas schools to display the Ten Commandments in all classrooms failed to advance in the state's GOP-controlled House.
• Reason's Natalie Dowzicky donated her bone marrow for free. But not everyone should have to do so without compensation, she writes.
• Target is pulling some LGBT-themed merchandise amid customer complaints.
• Arizona's war on tamales.