New Poll: Bad News for Biden, Good News for Trump
Plus: France wants to target porn websites without involving the courts, Republican senators agree with House colleagues about the debt ceiling, and more...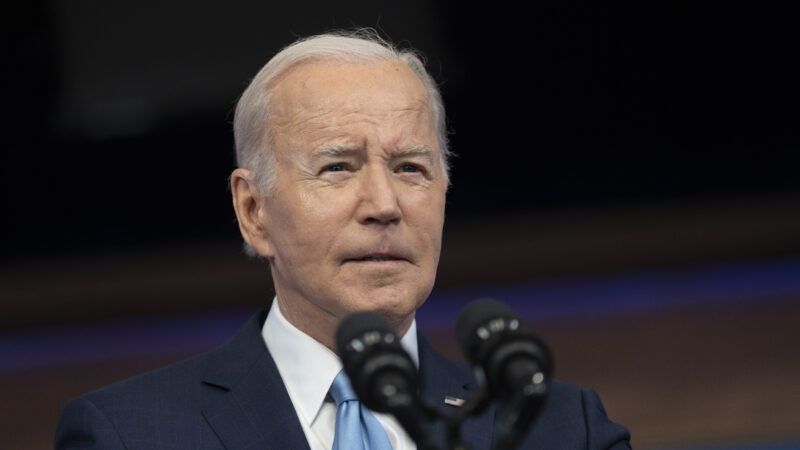 (Chris Kleponis - Pool via CNP/picture alliance / Consolidated News Photos/Newscom)
Biden's approval ratings slip. It's still way too early to read much into polls about the 2024 elections. But as far as early election opinions go, the picture can't be comforting for Democrats. A Washington Post-ABC News poll conducted between April 28 and May 3 finds that only 18 percent of those surveyed "strongly" approve of how Joe Biden is handling the presidency, with another 18 percent saying they "somewhat" approve.
This 36 percent approval rating is down from 52 percent in April 2021 and 42 percent in April 2022. Biden's approval rating also stood at 42 percent back in February of this year.
Meanwhile, a net 56 percent somewhat or strongly disapprove of the job Biden is doing.
"This poll is just brutal for President Biden," ABC News anchor George Stephanopoulos said.
One shouldn't put much stock in a single poll, especially not this far out from the actual election. But it's an interesting snapshot of the current mood surrounding both Biden and former President Donald Trump.
When asked whether Biden or Trump has done "a better job handling the economy," 54 percent said Trump and just 36 percent said Biden.
And when people were asked if they would vote for Biden or Trump in 2024, Trump enjoyed a slight advantage: Thirty-six percent said they would definitely vote for Trump and an additional 9 percent said they probably would, while 32 percent said they would definitely vote for Biden and 6 percent said they probably would. (Twelve percent said they were undecided, 3 percent said "neither," 1 percent said "someone else," and 1 percent said they would not vote.)
While I don't take too much stock in polls at this time, these numbers are striking.

Democrats, it would appear, have a Biden problem. https://t.co/MUOg2g8Jsq

— Alyssa Farah Griffin (@Alyssafarah) May 8, 2023
Democratic and Democratic-leaning voters were asked if they would like the Democratic Party to nominate Biden to run for a second term as president in 2024 or another candidate. Just 36 percent said Biden, while 58 percent said someone else.
The obvious choice for "someone else" might be Vice President Kamala Harris. But  no one can really make a case for a President Kamala Harris, whose vice presidency has been as underwhelming and filled with weird missteps as her failed 2020 presidential bid.
On the GOP side, Trump is pulling further ahead of potential primary competitors. Among Republicans and Republican-leaning voters, 43 percent were in favor of the party nominating Trump as its 2024 candidate, compared to just 20 percent who said the Republican Party should nominate Florida Gov. Ron DeSantis. No other candidate or potential candidate garnered more than 2 percent support, although many conservative respondents (27 percent) said they had no opinion.
The poll was conducted among a random sample of 1,006 U.S. adults, and the results have a margin of error of plus or minus 3.5 percentage points for the total sample and 5.5 points for just Republicans or just Democrats.
---
FREE MINDS
France is considering giving tech regulators the power to shut down porn websites without going to court. Under a proposal announced Sunday, the Regulatory Authority for Audiovisual and Digital Communication (Arcom) would be able to block and delist websites that it accuses of not doing enough to keep minors from accessing adult content, according to Le Monde and Agence France-Presse (AFP).
A French law passed in 2020 requires porn websites to verify the ages of all visitors. This age verification mandate "was surreptitiously added to a hastily approved domestic violence law during an atypical and sparsely attended COVID-era session of the French Parliament in July 2020," notes XBIZ.

The new Arcom proposal is part of a larger bill to "secure and [to] regulate the digital space," Jean-Noël Barrot, the French minister for digital transition and telecommunications, told AFP. The bill also includes provisions related to cyberstalking and gives Arcom power to stop the spread of media that the European Union has banned.
---
FREE MARKETS
Republican senators are uniting behind their House colleagues in demanding spending cuts before agreeing to raise the debt ceiling. A letter signed by 43 GOP senators states that they are "united behind the House Republican conference in support of spending cuts and structural budget reform as a starting point for negotiations on the debt ceiling."
???? SIGNED BY 43 GOP SENATORS ????

1/ The Senate Republican conference is united behind the House Republican conference in support of spending cuts and structural budget reform as a starting point for negotiations on the debt ceiling.

— Mike Lee (@SenMikeLee) May 6, 2023
"Our economy is in free fall due to unsustainable fiscal policies. This trajectory must be addressed with fiscal reforms," the letter continues. "Moreover, recent Treasury projections have reinforced the urgency of addressing the debt ceiling. The House has taken a responsible first step in coming to the table with their proposals. It is imperative that the president now do the same."
"As such, we will not be voting for cloture on any bill that raises the debt ceiling without substantive spending and budget reforms," the senators concluded.
Senate Republicans who did not sign the letter include Sens. Susan Collins (Maine), Josh Hawley (Mo.), John Kennedy (La.), Lisa Murkowski (Alaska), Rand Paul (Ky.), and Mitt Romney (Utah).

---
QUICK HITS
Not an expert on Australian law but threatening a two-year prison sentence for selling illegal e-cigs while keeping cigarettes perfectly legal seems like a bad idea. https://t.co/ijkMSB6N8q

— Jacob Grier (@jacobgrier) May 8, 2023
• No, the average college grad wasn't making $100,000 in the 1980s.
• The reign of Joe Biden, travel agent in chief continues. Biden and Transportation Secretary Pete Buttigieg "want to require more generous passenger compensation from airlines who cancel or delay flights, the latest effort by the administration to improve the flying experience ahead of a busy summer travel season," reports Politico.
• States are spending millions on child ID kits that record kids' fingerprints, take DNA samples, and warn that "over 800,000 children are missing every year." But "similar kits are available for free from nonprofit and governmental entities, and claims made by the company about the number of missing children and the effectiveness of such kits are exaggerated," notes ProPublica. (For more realistic child abduction stats, see "Enough Stranger Danger! Children Rarely Abducted by Those They Don't Know.")
• A new Cato Institute paper analyzes the Biden administration's "Housing First" program, which was instituted to address homelessness. The program aims to address "the need for permanent housing before tackling other issues, such as mental health problems or substance use disorder," explain Vanessa Brown Calder and Jordan Gygi.
• The podcast business is shifting: "Some of the most listened-to podcasts in America are struggling to sell ads as the audio business shifts toward the vast, mostly independent, 'mid-tail.'"
• "If you scratch the surface of virtually any supply crisis, you will likely find myriad trade restrictions preventing the flexibility that businesses need to adjust their behavior — just as consumers adjust theirs — in times of emergency," writes Gabriella Beaumont‐​Smith.
• In case you're wondering how the 2023 Libertarian Party is going: The Libertarian National Committee (LNC) is suing the Libertarian Party of Michigan (LPMI) for copyright infringement:
The LNC has filed a trademark suit against members of LPMI pic.twitter.com/SZJ4pIqXdw

— Putin! At The Disco (@fakertarians) May 8, 2023