NBA MVP Joel Embiid Learned To Shoot by Watching YouTube
Politicians attack social media for spreading conspiracies and so-called misinformation. But what about when social media helps someone become an NBA star?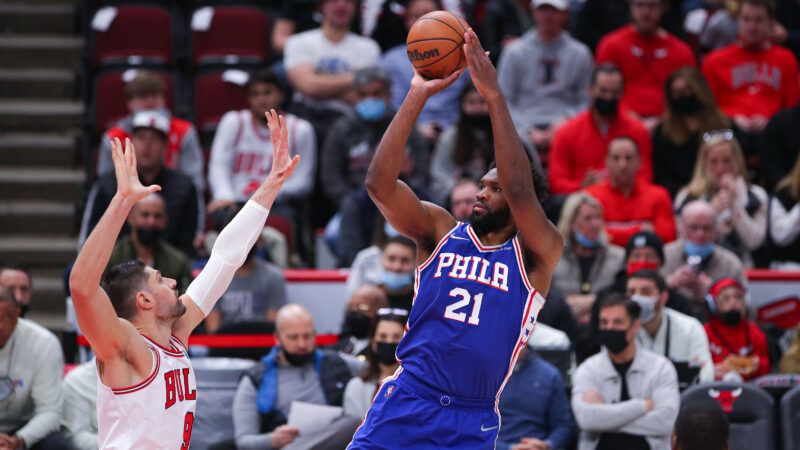 When Joel Embiid arrived in the United States from Cameroon as a gangly 16-year-old back in 2011, he already possessed many of the physical traits—height, athleticism, massive wingspan—that he'd one day employ to become a superstar in the NBA.
One thing he didn't really know much about, however, was how to actually shoot a basketball.
Until he was 15, Embiid hardly played hoops at all. He'd been on track to become a professional volleyballer before being spotted by a retired NBA star, Luc Richard Mbah a Moute, who ran a basketball camp in Yaoundé, Embiid's hometown (and Cameroon's capital). Mbah a Moute convinced Embiid to commit to learning basketball. That opened the door for his 2011 move to the U.S., where Embiid enrolled at a prep school and kept training. In 2012, he was recruited to the University of Kansas, one of the top college basketball programs in the country, despite being described as "more prospect than player at this stage" in an ESPN profile. He was drafted third overall in 2014 by the Philadelphia 76ers, when he was barely 20 years old and still a relative newcomer to the sport.
Yesterday, he was named the NBA's Most Valuable Player for the 2022-23 season. It's quite possible none of that would have happened without YouTube.
"You know how I learned to shoot?" Embiid told Sports Illustrated in 2016, just before making his debut in the NBA. "I watched white people. Just regular white people. They really put their elbow in and finish up top. You can find videos of them online."
To really understand this story, you have to understand what makes Embiid special, even among the athletic freaks and superhuman scoring machines that are modern professional basketball players. If you're over 7 feet tall, like Embiid is, you don't necessarily have to be that good of a shooter to succeed at basketball. Stand near the basket, learn how to position your body, and you're going to get plenty of easy scoring chances. There are plenty of big guys, from Bill Russell to Shaquille O'Neal, who make outstanding careers out of doing that.
Embiid does that too, of course. But he can also step away from the basket and drain a jump shot. He's made over 33 percent of the three-point shots he's attempted in his career—a clip that won't have anyone confusing him with two-time MVP Steph Curry, but still well in excess of what even the best players his size can typically drop.
That shooting touch, Embiid wrote in The Players' Tribune, is the result of being humiliated by a teammate during three-point shooting drills in high school, then turning to online videos:
I'm so competitive that I'm like, I gotta beat this guy. I gotta find a way.

So I'm chilling one night, and I go on YouTube, and I'm thinking I'm about to figure this shooting thing out.

I go to the search box like….

HOW TO SHOOT 3 POINTERS.

Nah.

HOW TO SHOOT GOOD FORM

Nah.

Then the light bulb went off, man. I typed in the magic words.

WHITE PEOPLE SHOOTING 3 POINTERS.

Listen, I know it's a stereotype, but have you ever seen a normal, 30-year-old white guy shoot a three-pointer? That elbow is tucked, man. The knees are bent. The follow-through is perfect. Always. You know how in America, there's always an older guy wearing like EVERLAST sweat-shorts at the court? That guy is always a problem. His J is always wet.

Those are the guys I learned from on YouTube. Just random people shooting threes with perfect form.
Those YouTube videos didn't just allow Embiid to impress his high school teammates or earn a chance to make a career out of the sport. They helped him turn himself into arguably the best basketball player on the planet.
Of course, Embiid had a lot of help from other sources too, and he probably possesses a level of determination that most of us don't. You're unlikely to become a professional basketball player by watching hours of white dudes shooting three-pointers tonight. Sorry.
But you might learn how to repair a leaky toilet or install a utility sink in your basement by watching YouTube; I did.
"YouTube confers agency at every level—kids can become world-class musicians just by watching other kids who are trying to do that with their glockenspiel or whatever," Stewart Brand, former editor of the now-defunct counterculture magazine Whole Earth Catalog, said in a 2022 interview. "In that sense, the early dream that we had about the internet as this thing that would bring all knowledge to all people for free kind of came true."
Embiid went from being a Cameroonian kid who'd hardly picked up a basketball to being a first-round NBA draft pick in under five years. Now, he's an MVP. Every day, untold numbers of other people accomplish less audacious tasks because of the knowledge that others make freely available via all sorts of online platforms, from Wikipedia to TikTok.
This is a perspective that seems to be largely missing from the constant debates about so-called Big Tech and the supposed damage it causes to society. Are there cranks on YouTube spreading silly conspiracies and crazy uncles on Facebook sharing QAnon memes? Of course. But to ban, restrict, or police how Americans use those platforms means potentially throwing out a lot of the good with the bad.
When politicians call for regulating social media and other online platforms, they often do it with an explicit promise of protecting children. They ought to consider the other side of that equation too. Being exposed to unfamiliar ideas can sometimes be scary—but, like it was for a 16-year-old Embiid trying to refine his untapped athletic potential, it can be game-changing.