Lawsuit: Police Officer Broke a 61-Year-Old Woman's Leg, Then Bragged He 'Man-Dropped' Her
Before assaulting her, the cops taunted her for being homeless, she claims.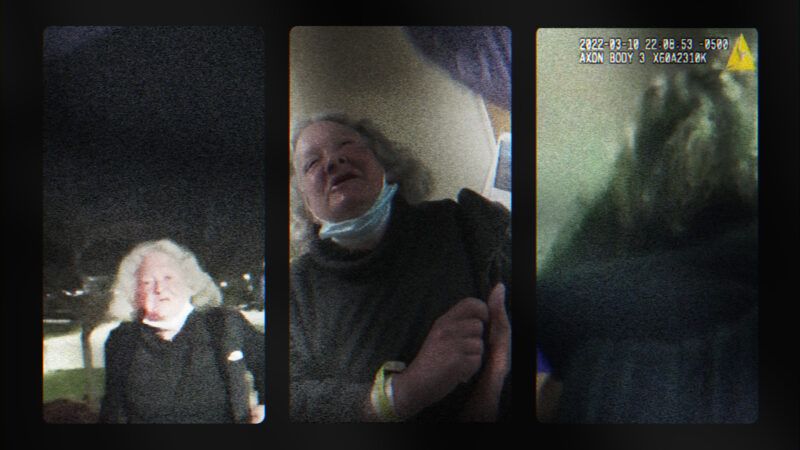 A homeless woman has filed a lawsuit claiming that—after she had been forced to leave a local hospital—Lexington, Kentucky, police officers violently arrested her, breaking her leg. Since her injury, the woman says she has been forced to undergo multiple corrective surgeries.
"The Defendants' mistreatment, insults, harassment, assaulting, battering, and humiliating conduct caused Plaintiff to be arrested and deprived of competent medical care as well as her freedom," the 25-page complaint states.
In March of last year, Linda Trapp, then 61, was staying at Catholic Action Center, a homeless shelter, when she was taken to St. Joseph East Hospital after she fell and hit her head. As she was being discharged around two hours later, Trapp asked hospital staff for a COVID test, as the shelter had a policy of not allowing individuals to return without a negative COVID test. However, the lawsuit claims that hospital staff refused to administer a COVID test—meaning that Trapp would be forced to sleep outside.
The lawsuit states that hospital staff then called for police assistance, as they believed that Trapp would not leave the hospital.
Body camera footage shows one police officer, which the complaint identifies as Myles Foster, becoming verbally aggressive toward Trapp, telling her "I will drag you out and throw you out on the sidewalk!" He continued, "Come on, I will drag you out….you wanna call my bluff, go ahead!"
The lawsuit states that Trapp eventually complied and slowly walked toward the hospital's exit. However, she again asked for a COVID test and her walking cane, which she needs for her degenerative knee condition. (Notably, Trapp later told a local news station that she had been drinking that night and had, in fact, not brought her cane to the hospital.) Foster told her, "It's not that cold tonight you will be alright" in response to Trapp's concerns about being forced to sleep outside.
Throughout the encounter, body camera footage shows Foster continuing to behave aggressively toward Trapp. At one point, the complaint states that "Foster pushed Plaintiff to the ground and threatened to take her to jail." After Trapp stood up, Foster told her "We are not touching you. If I touch you again you are going in cuffs…and you're gonna get hurt because I am gonna put you on the ground."
When Trapp finally reached the hospital's exit, the complaint states that the police officers, as well as several hospital employees, "collectively began to humiliate and make fun of" Trapp. The lawsuit claims that Foster "sarcastically yells, 'Bye Bye!'" while a hospital employee "waves her hand as if to shoo Plaintiff saying, 'Go!…Far!…like Harrodsburg Road!'"
When Trapp again asked for her cane, the lawsuit states that Foster yelled, "Go find a tree branch or something," which was followed by another hospital employee, who shouted, "Go get you a tree branch!" The suit writes that "the individuals and the LPD Officers are laughing and smiling about their concerted behavior towards Plaintiff. Defendant Foster yells to Plaintiff, 'They're [sic] some good trees over there downtown!'"
Soon after, body camera footage shows both officers approaching Trapp, who said, "Oh no, you are not going to hurt me?!" At that moment, Foster "violently grabs Plaintiff's arm and twists it behind her back while forcing her to the ground, face first….After being forcibly slammed to the ground [Trapp] says, 'Because I wanted my cane you broke my knee!'" The complaint adds that "at no time did either officer tell Plaintiff she was under arrest."
The arrest left 61-year-old Trapp with a fractured leg, as well as "abrasions to her face and head." The complaint notes that Foster continued to taunt Trapp, telling her "I don't mess around Linda, or whatever your name is, next time you seem [sic] me you better not act like this. I don't mess around you understand?!"
Eventually, hospital employees, seeing an injured and bloodied Trap, agree to take her back inside the hospital for treatment. During this time, she receives more verbal abuse, with Foster insisting that "Your knee is fine," and a female nurse telling Trapp, "Lord Jesus shut up!" while treating her facial wound. When an emergency room doctor arrived, he "spent approximately 19 seconds" with Trapp, adding that she could get an X-ray "with your doctor at his office" before walking away.
A few minutes later, the suit states that Foster can be heard bragging to another officer about violently arresting Trapp, saying, "She got busted up pretty good…. She was Man-dropped."
The complaint states that Foster told his supervisor that, when he went to arrest Trapp, she "started flailing her arms and kicking and stuff." However, body camera footage doesn't show this—instead, Trapp can be seen simply backing away from the officers with her hands at her sides.
Eventually, the complaint states that Trapp was taken to a local jail, where an X-ray revealed her leg had been fractured. She was taken to another hospital where her injuries were treated, including several corrective surgeries.
Despite the severe injuries resulting from Trapp's arrest, local police have staunchly refused to admit wrongdoing—instead insisting that Trapp was responsible for her injuries.
The Lexington Herald-Leader reports that, in response to the lawsuit, Foster insisted that "after multiple prior warnings were communicated to Plaintiff, she had clear reason to know the basis of her arrest," adding that if Trapp was injured, it was not due to "excessive or unreasonable force."
"She was never told that she was under arrest," John Reynolds, Trapp's lawyer, told LEX 18. "She was never told to put her hands behind her back, she was grabbed and forcefully taken to the ground."
"Defendants violated that duty of reasonable care by using their authority as officers to negligently and forcibly detain, batter, assault, harass, threaten, and humiliate Plaintiff Linda Trapp," the complaint states, adding that Trapp "suffered wrongful arrest, imprisonment, emotional injury severe bodily injuries and delayed medical treatment" as a result of the officers' behavior.
While the lawsuit argues that the officers and the Lexington Police Department have committed a litany of offenses, including assault and battery, negligence, and unlawful arrest, it's unclear if those responsible for Trapp's injuries will ever be held accountable. Wide-ranging qualified immunity often makes it nearly impossible for those abused by police to achieve victory in civil lawsuits, even when officers' conduct is seemingly beyond the pale.
"Linda's part of a marginalized community," said Reynolds. "And you can see that night on the video that she was dismissed, she was literally shooed away from the hospital, and she was wrongfully arrested."