Immigration Should Be as Easy for Everyone As It Is for NBA Players
How many incredible would-be immigrants are being kept out unfairly?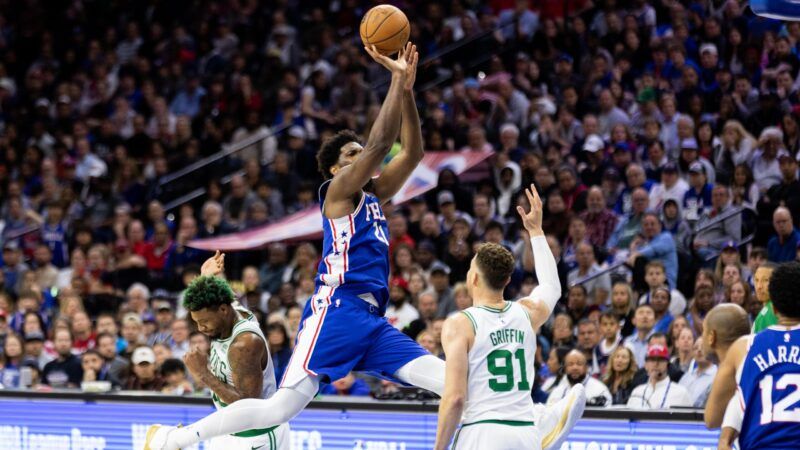 (Sports Press Photo/Colleen Claggett/SPP/Sipa USA/Newscom)
For a fifth straight year, the NBA's Most Valuable Player award will go to someone born outside of the United States. While the league has not yet announced the winner of the Michael Jordan Trophy, the finalists are Joel Embiid, Nikola Jokic, and Giannis Antetokounmpo. Cameroon-born Embiid (the league's leading scorer), Serbia's Jokic (the two-time reigning MVP), and Greek-Nigerian Antetokounmpo (who hoisted the trophy in 2019 and 2020) each turned in a superlative 2022–2023 campaign and has strong claim to the title.
Along with Slovenian guard Luka Doncic, who at the tender age of 24 has already made the All-NBA First Team three years running, Embiid, Jokic, and Antetokounmpo are becoming the defining faces of the NBA's global brand as presiding American titans LeBron James, Stephen Curry, and Kevin Durant approach the twilight of their careers.
These immigrant stars are still in their 20s and are just four of the 120 foreign-born players that now constitute about one-third of the league, a total that is up from just 23 such players 30 seasons ago.
This injection of foreign talent has been a boon for the NBA and, in turn, for American basketball fans. League revenue is at a record high, and quality of play is as well, by many metrics. While their pure hoops talent is key, the NBA's foreign star quartet has accelerated the adoption of new, more free-flowing, all-court playing styles borrowed from the international game that have elevated the league's on-court aesthetic.
The NBA's adoption of talented individuals from around the globe provides a lesson for the wider American economy. While the NBA has been able to poach the best players the world has to offer, other key industries like technology, manufacturing, and finance have seen their available talent pools artificially limited by misguided immigration restrictions.
Major sports leagues can sponsor immigrants from any corner of the world under a dedicated visa just for professional athletes, the P-1A visa. Without much hassle, these players can legally come live and work in the U.S. Alternatively, an internationally recognized athlete could be sponsored by an agent under an O-1A visa. And if they win major international awards while playing in the NBA, they can qualify for a green card under the EB-1 category. None of these categories are subject to any labor market tests to see if Americans are displaced from a job, and they are allowed to be expedited for a fee, making wait times a matter of days.
The result is that American pro basketball is at its zenith.
But key companies in diverse industries don't have the chance to attract the best talent from around the world like the NBA does. In most cases, other for-profit businesses must use the H-1B visa—limited to a mere 85,000 per year—to sponsor college-educated employees to work for them. Demand outstrips supply, so the U.S. government conducts a lottery for the visas which, last season, resulted in fewer than 25 percent of applicants selected. Even if companies can secure an H-1B visa for their desired worker, the green card process takes years, and if the workers happened to have been born in India, then they will never obtain a green card due to arbitrary per-country caps set by Congress.
The consequences of our current anti-merit immigration system is that companies offshore offices to countries where they can attract talent. All major U.S. tech companies have opened offices in neighboring Canada, where they send mostly Indian engineers and programmers. America isn't just missing out on these highly paid immigrants' productivity and tax revenue, but also on the money they would spend at U.S. businesses, for food, haircuts, health care, and everything else. By keeping offices in the U.S., their employers would create jobs here for Americans, such as administrative staff, construction workers, and electricians.
America's population is less than 5 percent of the world's total. There are millions more talented people living outside the U.S. than inside. Attracting the world's top talent in every field isn't just good for America's economy, it's also the most powerful tool to deprive rivals like China of economic brainpower. Welcoming immigrants to work in tech and the rest of the economy, as the NBA does, will have powerful economic benefits.