Anti-Abortion Bills Narrowly Fail in South Carolina and Nebraska
"Once a woman became pregnant for any reason, she would now become property of the state of South Carolina," said one state senator.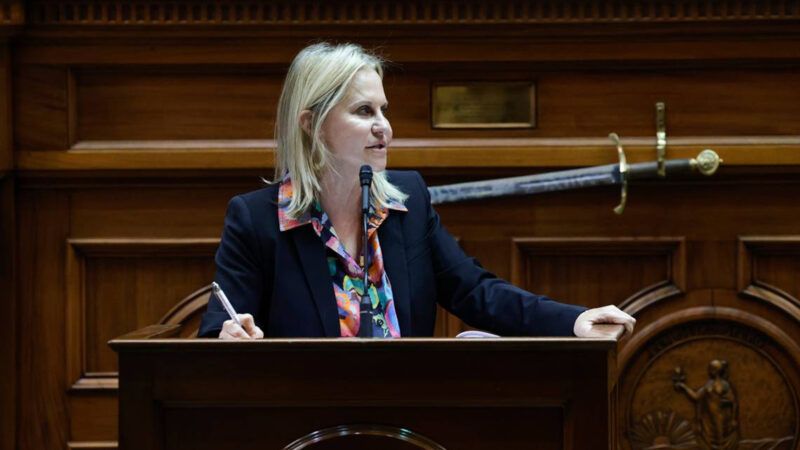 On Thursday, two anti-abortion legislative measures failed in Nebraska and South Carolina. Despite considerable Republican control in both state legislatures, both bills narrowly failed, signaling that support for harsh abortion restrictions could be waning among Republicans.
In Nebraska, the state Senate was considering a "heartbeat bill," which would have banned abortions—except in the case of rape or incest—once fetal cardiac activity can be detected, which typically occurs at around six weeks. The bill failed by a single vote to receive the two-thirds support required to overcome a filibuster.
Republican state Sen. Merv Riepe—who had previously cosponsored the ban—abstained from the vote, citing concerns that too few women would know they had become pregnant by the bill's cutoff. Despite Riepe's previous support for the bill, he changed his mind in March when he proposed an amendment that would move the ban's cutoff from six weeks to 12.
"At the end of the day, I need to look back and be able to say to myself, 'Did you do the best?'" Riepe told the Flatwater Free Press in March. "No group came to me, asking me to do this. This is of my own beliefs, my own commitments."
For his abstention, Riepe attracted the ire of Nebraska Gov. Jim Pillen (R). "I am a staunch defender of Life and supporter of the Nebraska Heartbeat Act," said Pillen in a statement on Thursday. "I am profoundly disappointed in the cloture vote today. It is unacceptable for senators to be present not voting on such a momentous vote. I call on Senator Merv Riepe to make a motion to reconsider and stand by the commitments to Life he has made in the past."
In South Carolina, the state Senate was considering an even stricter measure banning abortion entirely in the state with narrow exceptions for life-threatening medical emergencies. The bill failed by one vote, 22–21, in the Senate, having previously passed in the House. All five of the chamber's women—including three Republicans—voted against the measure.
"Once a woman became pregnant for any reason, she would now become property of the state of South Carolina," warned state Sen. Katrina Frye Shealy (R–Lexington), who voted against the bill, on Wednesday. "She could no longer make decisions on her own or at the advice of her well-trained doctor. Every female, regardless of her age, would suddenly become subject to the power of a code book regarding her health."
The failed measure marks the third time since the overturn of Roe v. Wade (1973) that South Carolina legislators have tried—and failed—to ban abortion in the state.
The failure of both these abortion-restricting measures in otherwise staunchly red states indicates that Republicans' political will to enact strict anti-abortion measures may be waning. While several red states have moved to restrict abortion since Dobbs v. Jackson Women's Health Organization nearly a year ago, harsh anti-abortion measures have proved an ineffective electoral strategy.
On the national level, presidential candidate Nikki Haley has voiced this sentiment, insisting that she is "unapologetic" and "unhesitant" about being pro-life while also encouraging Republicans to try to find "consensus" by advocating for more popular, moderate reforms, like banning late-term abortions and making adoption easier.
"No Republican president will have the ability to ban abortion nationwide," Haley said during a Tuesday campaign event. "We have to face this reality."
In the face of recent legislative setbacks, perhaps more Republicans will shift toward a moderate approach to anti-abortion legislation. If they don't, it very well may cost them at the polls.