Stadium Subsidy Stupidity Hits New Record
Taxpayers are on the hook for $1.26 billion for a new stadium in Nashville.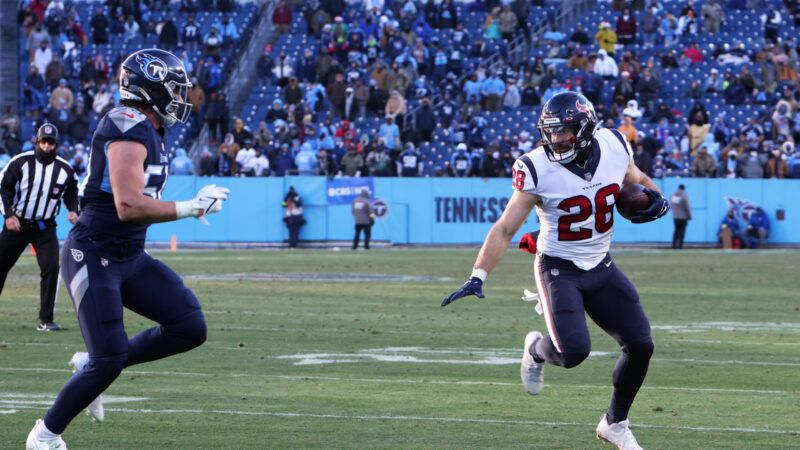 (Matthew Maxey/Icon Sportswire DHH/Matthew Maxey/Icon Sportswire/Newscom)
The Metropolitan Council of Nashville and Davidson County voted in the wee hours on Wednesday morning to spend $1.26 billion in taxpayer money on a new government-owned stadium. That figure not only puts locals on the hook for more than half of the stadium's estimated $2.1 billion cost, but it also sets a new record for the largest stadium subsidy in U.S. history.
Supporters of the new domed stadium say tourists will pay that money back, not locals. The Tennessean reports that Council Member Zulfat Suara "voted in favor because she prefers tourists to bear the tax burden of stadium construction and upkeep (through sales, ticket and hotel taxes) instead of Davidson County taxpayers." On top of a 1 percent hotel tax increase, sales taxes paid in and around the stadium (as well as ticket taxes and fees) will be used to repay $500 million in bonds from the state government and $760 million in bonds from Nashville's Sports Authority.
That logic sounds good until you consider fans of the NFL's Tennessee Titans presumably live in Tennessee, if not mostly in Nashville and Davidson County. The fees and taxes also drive up costs for business travelers and visitors who aren't attending stadium events. Meanwhile, several special events are exempt from the new 3-percent ticket fee: Country Music Association events, Academy of Country Music events, the Grammy Awards, and World Wrestling Entertainment events.
The problem with the new stadium, like the current Nissan Stadium, is not just who pays for it, but who owns it, and that's the The Metropolitan Council of Nashville and Davidson County. It's unclear if the Metropolitan Council ever considered getting out of the stadium business and simply asking the billionaire owner of the Titans to pay for the team's own upgrade. This is not an impossible task: SoFi Stadium outside Los Angeles is the most expensive stadium ever built and reportedly had no direct government subsidies. It's probably the finest stadium in the world and routinely hosts special events.
Supporters say that with Nashville on the hook for the upkeep of the current stadium, it's cheaper to start fresh instead of upgrading Nissan Stadium. But the government never really looked into how much an upgrade that fulfilled Nashville's obligations would cost, only relying on one estimate provided by the Tennessee Titans owner of how much it would cost to build her dream stadium.
It used to be that NFL team owners would threaten to move their teams and local governments would instead open their wallets for a shiny new stadium—now governments are tripping over themselves to give over $1 billion in subsidies to NFL owners who aren't even threatening to move.
Fans won't even get a bigger stadium: The new one will seat 60,000 people, which is about 9,000 seats fewer than the current stadium and will be the smallest capacity in the NFL. The city is building a smaller stadium rather than renovating one the state owes money on through 2029.
Nashville's $1.26 billion football stadium subsidy surpasses the $1 billion taxpayer subsidy for a new Buffalo Bills stadium approved last year. The stadium subsidy arms race never ends.