Delaware Just Became the 22nd State To Legalize Recreational Marijuana
Despite his reservations, Gov. John Carney let the bills become law without his signature.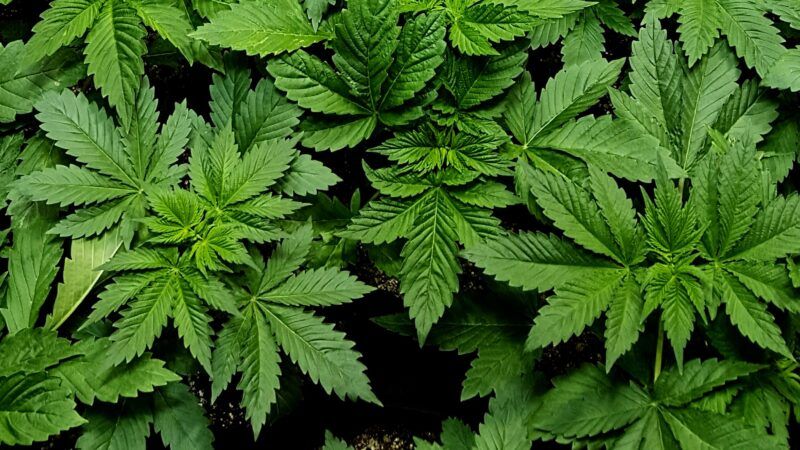 Delaware just became the 22nd state to legalize recreational marijuana. On Friday, Gov. John Carney, a Democrat, said he will allow two legalization bills to take effect without his signature, notwithstanding his continued concerns about the consequences of lifting Delaware's ban on recreational use.
"After years of advocacy, collaboration, and grassroots organizing, we are thrilled to see cannabis legalization become a reality in our state," Laura Sharer, executive director of the Delaware chapter of the National Organization for the Reform of Marijuana Laws, said in a press release. "This victory is a result of the tireless work of thousands of volunteers, dozens of lawmakers, and with the support of a huge majority of our Delaware community. So many have championed this righteous cause and recognized the need for sensible cannabis policy reform."
Delaware has allowed medical use of marijuana since 2011, and in 2015 legislators decriminalized possession of an ounce or less, making it a civil offense punishable by a $100 fine. Carney supports both of those policies but has previously resisted efforts to go further. Last year he vetoed recreational legalization. The Democrat-controlled Delaware General Assembly recently approved essentially the same legislation that Carney blocked last year, this time by larger margins, making it more likely that a veto would be overridden.
"My views on this issue have not changed," Carney said on Friday. "I came to this decision because I believe we've spent far too much time focused on this issue, when Delawareans face more serious and pressing concerns every day. It's time to move on."
H.B. 1, which passed the state House of Representatives by a vote of 28–13 on March 7 and the state Senate by a vote of 16–4 on March 28, eliminates all penalties for possession of an ounce or less of marijuana by adults 21 or older. It also allows adults to share up to an ounce "without remuneration," but it does not allow home cultivation.
Consumption "in an area accessible to the public or in a moving vehicle" will remain a misdemeanor punishable by a maximum fine of $200 and/or up to five days in jail. Driving "under the influence" of marijuana also remains illegal. A driver can be convicted of that offense based on the presence of marijuana metabolites, which can be detected weeks after consumption, even if he does not actually drive while impaired.
H.B. 2, which passed the state House by a vote of 27–13 on March 9 and the state Senate by a vote of 15–5 on March 28, authorizes the appointment of a "marijuana commissioner" who will be charged with licensing and regulating the commercial production and distribution of recreational cannabis. The commissioner is required to begin accepting license applications 13 months after the law takes effect and begin issuing licenses a month later. Retail sales will be subject to a 15 percent tax, and municipalities are authorized to ban marijuana businesses within their borders.
When Delware's governor fails to act on a bill, it takes effect 10 days, excluding Sundays, after it is presented by the General Assembly. That means H.B. 1, which was sent to Carney on April 11, took effect yesterday, and H.B. 2, which was sent to Carney on April 14, will take effect on Wednesday. But since retail sales will not begin for more than a year and home cultivation is not permitted, cannabis consumers will have to continue relying on the black market for the time being, although they will not be subject to civil or criminal penalties as long as they are 21 or older and do not possess more than an ounce.
Delaware is bordered by two states, New Jersey and Maryland, that also have legalized recreational marijuana. So far New Jersey has licensed 13 retailers, which began operating last Thursday. Retail sales are scheduled to begin in Maryland on July 1. Another nearby state, New York, has allowed recreational sales since late last year.
In the preamble to H.B. 2, Delaware legislators express the hope that legalization will "effectively eliminate the illegal market for marijuana" and "address criminal justice concerns related to criminalization and prohibitions on the production, possession, and transportation of the substance." They note that legalization in Colorado and Washington, the first two states to allow recreational use, "has generated a multi-billion dollar industry and yielded more than 38,000 well-paying jobs in Colorado and 22,000 jobs in Washington."
Carney is unswayed by such arguments. "I remain concerned about the consequences of a recreational marijuana industry in our state," he said. "I'm concerned especially about the potential effects on Delaware's children, on the safety of our roadways, and on our poorest neighborhoods, where I believe a legal marijuana industry will have a disproportionately negative impact. Those concerns are why I could not put my signature to either House Bill 1 or House Bill 2."
There is not much evidence to support Carney's fear about an increase in underage consumption. "In the United States," National Institute on Drug Abuse Director Nora Volkow noted in congressional testimony last year, "legalization by some states of marijuana has not been associated with an increase in adolescents' marijuana use."
A 2019 systematic review and meta-analysis in BMJ Open found the studies suggested "a small increase in cannabis use among adolescents and young adults following legalisation of cannabis for recreational purposes." But it noted that "studies characterised by a very low/low risk of bias showed no evidence of changes in cannabis use following policy modifications."
According to a 2021 analysis published in the Journal of Adolescent Health, survey data "suggest minimal short-term effects of [recreational legalization] on adolescent substance use, with small declines in marijuana use and increase in the likelihood of any e-cigarette use." Another study based on the same survey, reported the same year in JAMA Network Open, found "there were no significant associations between enactment of [recreational or medical legalization] and marijuana use among high school students."
The evidence concerning the impact of marijuana legalization on road safety is mixed but mostly reassuring. A 2023 review of the evidence published by the Journal of Economic Literature notes that three studies have found that legalization of medical marijuana was associated with a decline in fatal crashes. That makes sense if that policy change resulted in less consumption of alcohol, which has a bigger impact on driving ability than marijuana does.
A 2017 study found "no significant association between recreational marijuana legalization in Washington and Colorado [the first two states to legalize recreational use] and subsequent changes in motor vehicle crash fatality rates in the first 3 years after recreational marijuana legalization." A 2020 study found that traffic-fatality trends in Washington and Colorado were similar to trends in states that had not legalized marijuana. Another study published the same year found that recreational legalization was associated with increased traffic fatalities in Colorado but not in Washington.
A 2022 study compared five states that had legalized recreational marijuana as of 2019 (California, Colorado, Nevada, Oregon, and Washington) with six states that had not (Arizona, Idaho, Montana, New Mexico, Utah, and Wyoming). Overall, it found,  "legalization of recreational marijuana use was associated with a slight increase in fatal crash rates (+2.3%), whereas the subsequent legalization of retail sales was associated with another slight increase (+1.8%)," meaning "the combined effect of legalizing use and sales was a 4.1% increase in fatal crash rates." The authors noted that "the effects on fatal crash rates ranged from a 10% decrease [in Nevada] to a 4% increase [in Oregon]."