These Members of Congress Have a Revolutionary Idea: Write and Pass a Budget the Old-Fashioned Way
A return to so-called normal order wouldn't fix all of Washington's many problems, but it would be a step in the right direction.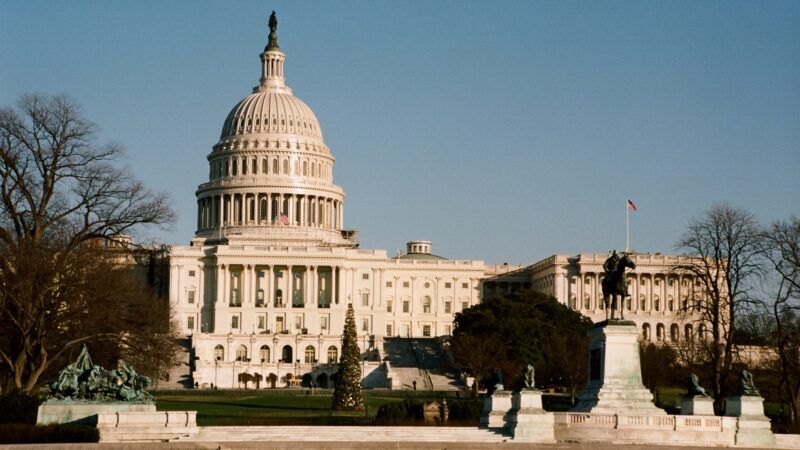 (Photo by Chad Stembridge on Unsplash)
Amid the ongoing fracas over the federal government's debt limit and possible debt default, there's a group of 63 lawmakers pushing an idea that's so simple it might be revolutionary: have Congress do its job.
The bipartisan Problem Solvers Caucus—made up of 31 Republicans and 32 Democrats—has reportedly crafted a debt limit proposal that calls for Congress to return to so-called regular order for the passage of annual budget bills. That means the dozen appropriation bills that make up the federal budget would go through the full congressional process, including committee hearings and individual votes for each, rather than being rolled together in the massive omnibus packages that Congress has relied upon in recent years.
According to a draft proposal from the caucus published Wednesday by Axios, a return to regular order would be one of several changes the lawmakers in the group would demand as part of a debt ceiling deal. They're also asking for the creation of a new fiscal commission to make recommendations on stabilizing the federal government's dangerously high levels of debt, and the adoption of budget controls (similar to those that were in place between 2011 and 2018) to limit future spending increases.
If those terms are agreed to, the group's framework would raise the debt ceiling to a level that won't be reached until after 2025—in other words, until after the next election.
On their own, those proposals won't solve America's serious fiscal challenges. But they would be a series of good first steps toward taking the mess seriously and would avert the potentially catastrophic debt default that looms over everything in Washington right now.
While the Problem Solvers Caucus is mostly made up of centrist members of Congress, there's at least some overlap with the right-wing House Freedom Caucus, whose approval is essential to getting any proposal out of the chamber right now. In January, as part of its effort to hold up the election of House Speaker Kevin McCarthy (R–Calif.), the Freedom Caucus demanded that McCarthy allow lawmakers to offer amendments to spending bills on the House floor—a practice that has been effectively banned by recent speakers from both sides of the aisle.
That's not quite the same as a return to "regular order" but it's the same sort of idea. Both would empower individual lawmakers to exert greater control over the budget-making process. It would, in short, let legislators be legislators. As it stands now, most rank-and-file members of Congress have little say in the process and can offer only up-or-down votes on the finished product.
That so many observers have identified this problem as being fundamental to what's broken in Congress ought to mean something. Shortly before retiring at the beginning of the year, then-Sen. Pat Toomey (R–Pa.) told Reason that the "dysfunction" caused by the lack of regular order "is the biggest thing that I would hope my colleagues would fix." Former Republican-turned-Libertarian congressman Justin Amash for years has been advocating a return to regular order as a first step toward fixing Congress' broken budget process.
It's probably right to be skeptical that the Problem Solvers Caucus' proposal will gain much traction right now, amid a partisan battle over the debt ceiling. McCarthy on Wednesday said the House will pass a bill next week raising the debt ceiling until mid-2024, rolling back federal spending to last year's levels, and placing stricter work requirements on food stamp and Medicaid recipients. It's unclear whether he has the votes to pass it, but it's pretty clear that the package won't go far in the Democratic-controlled Senate. President Joe Biden, meanwhile, has been steadfastly refusing to negotiate with McCarthy over the looming debt limit.
Everything is pointing toward a continued partisan stalemate as the leaders of the House, Senate, and White House try to bang out a last-minute deal to avert a major problem. And that does a great job of illustrating why Congress would benefit from a committed return to doing things the way it is supposed to do them.