Death of 'Cop City' Protester Ruled a Homicide
Plus: The EARN IT Act is back (again), SCOTUS postpones abortion pill decision until Friday, and more...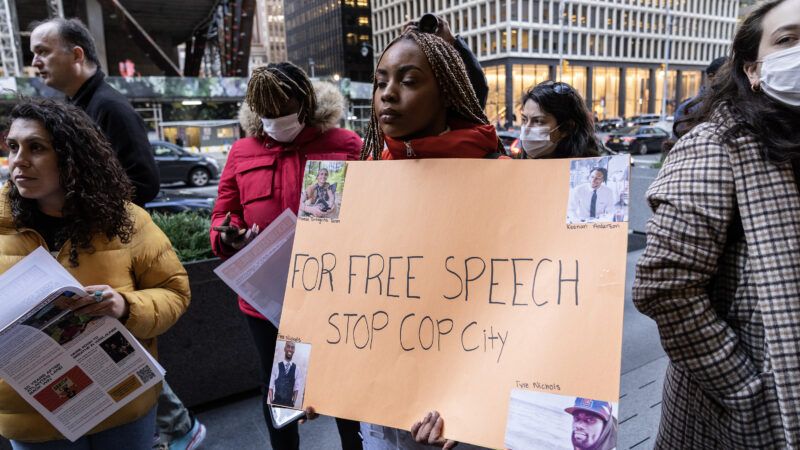 (Lev Radin/ZUMAPRESS/Newscom)
Medical examiner rules police shooting a homicide. Police say they were forced to shoot Manuel Esteban Paez Terán after the 26-year-old environmental protester—who went by the nickname Tortugita—shot at them first. But "gunpowder residue is not seen" on Terán's hands, according to the Georgia's DeKalb County Medical Examiner.**
The office has ruled the death of Terán (who used they/them pronouns) a homicide.
Terán was part of a group protesting the building of the Atlanta Public Safety Training Center, a 265-acre property that opponents have nicknamed "Cop City." The protesters were camped out on the property in January when state troopers showed up.
According to law enforcement officials, Terán shot at a state trooper, prompting police to respond with a barrage of gunfire.
"The individual who fired upon law enforcement and shot the trooper was killed in an exchange of gunfire," Georgia Bureau of Investigation (GBI) Director Mike Register told the media in January. A GBI press release said officers "located a man inside a tent in the woods" and "gave verbal commands to the man who did not comply and shot a Georgia State Patrol Trooper. Other law enforcement officers returned fire, hitting the man." The GBI also said that a handgun and shell casings had been found.
But an official autopsy report said no gunpowder was visible on Terán's hands.
According to multiple news outlets, a subsequent forensics report from the GBI (released after the initial version of this story ran) said that further testing did reveal particles characteristic of gunshot residue on Terán's hand. GBI would not share a copy of that report with Reason. According to WBS-TV, "the report notes that it is possible for victims of gunshot wounds, both self-inflicted and non-self-inflicted, to have GSR on their hands."
The DeKalb County Medical Examiner's report also revealed that they had at least 57 gunshot wounds*, including gunshot wounds to the head, chest, arms, hands, pelvis, thigh, buttocks, and abdomen.
"Collectively, the gunshots resulted in [Terán's] death and therefore the cause of death is designated as multiple gunshot wounds," states the report. "However, the gunshot wound to the head would have been fatal by itself as would have some of the other gunshots."
An independent autopsy ordered by Terán's family found they had their hands up when they were shot. The Dekalb County report said "there are too many variables with respect to movement of the decedent and the shooters to draw definitive conclusions concerning Mr. Teran's body position."
At the time of Terán's killing, the media largely ran with the narrative supplied by the GBI.
Now we have evidence that this widely reported narrative was false. It's yet one more reminder that no one—and especially not members of the press—should simply take it as a given that police narratives about events are factual.
Since Terán's death, protests at the future police training site have continued. In March, 23 people were arrested and charged with domestic terrorism.
---
FREE MINDS
The EARN IT Act is back. The EARN IT Act—a bill that could destroy encrypted communications—has been introduced in the past two Congresses and thankfully gone nowhere. Now it's back for a third time. A bill draft has not yet been publicly released, but the Senate Committee on the Judiciary has announced that it will mark up the bill today.
Techdirt's Mike Masnick has a copy of the bill, however, and reports that "it's got all the same problems as the bill from last session. Specifically, it includes what appears to be nearly identical misleading language from the last EARN IT regarding encryption. It includes language that pretends that it is not an attack on encryption," while making it that "encrypting content and messages is a liability. The only thing the bill limits is the finding of liability just for encryption alone. However, as long as anyone argues some other factor, they can then bolt on encryption and say that the use of encryption supports the argument that the service is up to no good." More here.
---
FREE MARKETS
Supreme Court postpones abortion pill decision until Friday. The court initially said it would rule on Wednesday on an emergency petition to stay orders restricting the distribution of the abortion drug mifepristone.
UPDATE: #SCOTUS extends the stay in the mifepristone case — keeping medication abortion access under current terms — for 48 hours, until 11:59p Friday night. pic.twitter.com/1hPvrm1hg1

— Chris Geidner (@chrisgeidner) April 19, 2023
Meanwhile, GenBioPro, which makes a generic form of mifepristone, is suing the Food and Drug Administration (FDA) in an attempt to preserve access to the pill. "In a federal lawsuit filed today in Maryland, drug manufacturer GenBioPro asks a judge to prohibit the FDA from taking any action that would disrupt access to the pills," reports NPR.
---
QUICK HITS
• "The number of federal sentences for low-level marijuana possession has plummeted in recent years, thanks mainly to a dramatic drop in prosecutions of people arrested in Arizona," reports Reason's Jacob Sullum. "But prior state convictions for simple possession are still boosting federal penalties for other offenses by increasing the number of 'criminal history points' considered under sentencing guidelines."
• The metal band Machine Head has canceled U.S. tour plans, citing the "lengthy, costly and complicated" process of getting work visas for members who live outside the United States. "It must be said, that the post-Covid touring world has complicated this process tenfold and unfortunately, we are feeling the effects of it," the group wrote in a statement.
• The American Civil Liberties Union is rallying in support of musician Afroman, whose house was raided for seemingly no reason by Ohio police. The police now say he can't publicize footage of the raid:
BREAKING: We just filed a proposed amicus brief supporting Afroman, who is being sued by police officers for using footage of a botched raid of his home in two of his music videos.

Afroman has a First Amendment right to use this footage to criticize the officers.

— ACLU (@ACLU) April 19, 2023
• Neo-Nazis hacked a porn star's account and are using it to call for "capital punishment for pornographers":
The neo-Nazis that hacked the account are now calling for "pornographers" to be killed.

This doesn't happen in a vacuum. For years, antiporn groups have been painting the industry as a hotbed of violence, rape, trafficking and CSAM. It feeds extremism.https://t.co/mpbZQmDvQH

— Mike Stabile (@mikestabile) April 19, 2023
• The Florida Board of Education has approved regulations that ban teachers from instructing students of any age about issues surrounding sexual orientation and gender identity. The move "expand[s] censorship of LGBT issues far beyond the stated goals of conservative politicians that they wanted only to protect very young children from overly sexualized discussions," notes Scott Shackford of Reason Foundation, the nonprofit that publishes Reason.
• What other politicians can learn from former President Donald Trump: At Semafor, Benjy Sarlin makes the case for politicians saying plainly what they mean about their opponents.
• Ohio Republicans are ushering through a resolution to make it harder to amend the state's constitution.
• Sen. Mike Lee (R–Utah) is wrong about defamation.
---
* CORRECTION: Terán had 57 gunshot wounds; it's unclear how many times Terán was shot.
** CLARIFICATION: This piece has been updated to add further information about the gunpowder residue testing.