Ron DeSantis Signs Florida Law Setting Lowest Threshold for Death Penalty Sentences in the Country
Florida will now only require an 8–4 majority for a jury to recommend a death sentence. Alabama is the only other state that allows split juries to recommend death sentences.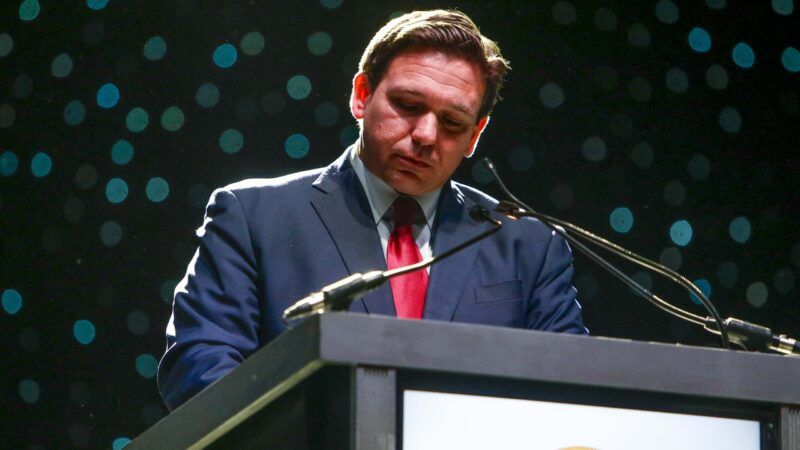 (Ivy Ceballo/ZUMA Press/Newscom)
Republican Florida Gov. Ron DeSantis signed legislation into law today lowering the threshold for a jury to recommend a death penalty sentence from unanimity to an 8–4 majority, the lowest standard in the country.
Alabama is the only other state that allows split juries to recommend death sentences, and it requires a 10–2 majority.
DeSantis began pushing for the legislation this year after three jurors refused to vote for the death penalty for Nikolas Cruz, who killed 17 people at Marjory Stoneman Douglas High School in 2018. Cruz was instead sentenced to life in prison.
"If just one juror vetoes it, then you end up not getting the sentence," DeSantis said earlier this year. "Maybe eight out of 12 have to agree, or something, but we can't be in a situation where one person can just derail this."
The legislation, S.B. 450, did not pass along a straight party-line vote. Some Democrats, most of them from South Florida where the Stoneman Douglas shooting took place, voted in favor, and some Republicans broke ranks to oppose it.
The change is the latest development in years of legal wrangling over Florida's death penalty. In 2016, the U.S. Supreme Court struck down Florida's death penalty law on Sixth Amendment grounds because it relied too heavily on determinations by judges rather than juries. At that point, the state allowed juries to impose the death penalty with as little as a 7–5 majority.
In response to the Supreme Court ruling, state legislators rewrote the law to require 10 out of 12 jurors to recommend the death penalty. The Florida Supreme Court then invalidated the new legislation, writing that unanimous juries were required for death penalty sentences to comport with the Eighth Amendment's prohibition on cruel and unusual punishments.
But in 2020, a more conservative-leaning Florida Supreme Court reversed that 2016 ruling and declared that split juries could indeed impose death sentences.
Opponents of returning to split-jury recommendations for death sentences point to the number of capital sentences that have been overturned in Florida. Thirty people have been exonerated from Florida's death row, more than any other state. 
One of those men, Herman Lindsey, was Florida's 23rd death-row exoneree. He was sentenced to death by an 8–4 vote for murdering a pawn shop employee. But in 2009, the Florida Supreme Court unanimously overturned his sentence, ruling that there was inadequate evidence tying him to the crime and that prosecutors had made inflammatory and inappropriate comments to the jury.
"My jury got it wrong then, and allowing non-unanimity in the penalty phase diminished the jury's responsibility and deliberative process," Lindsey, who is now the board vice chair of Floridians for Alternatives to the Death Penalty, said in a statement. "We need to find a way to fix our system, not continue to break it."
Florida will still allow judges to override death penalty recommendations from juries, although judges may not overturn a jury's decision to impose a life sentence instead.
Tiffani Lennon, executive director of the American Civil Liberties Union of Florida, called the signing of the law a "dark day in Florida history."
"The death penalty is racially and disproportionately applied against people experiencing poverty," Lennon said. "Nonunanimous juries, a vestige of Jim Crow, only perpetuate the harm done to innocent Black and impoverished Floridians."
The Florida Legislature also passed a bill this week, which DeSantis is expected to sign, making sexual battery against children a capital crime. That bill is an explicit effort to tee up a case for the conservative Supreme Court to overturn a 2008 ruling that found death sentences for the crime of raping a child violated the Eighth Amendment's ban on cruel and unusual punishment.