She Told Jail Employees That She Was 'Throwing Up Blood.' They Ignored Her. The Next Day, She Was Dead.
"They had a duty to protect her," says Ta'Neasha Chappell's sister. "She was not attended to because she was a Black woman and they didn't feel like she was worth getting any attention."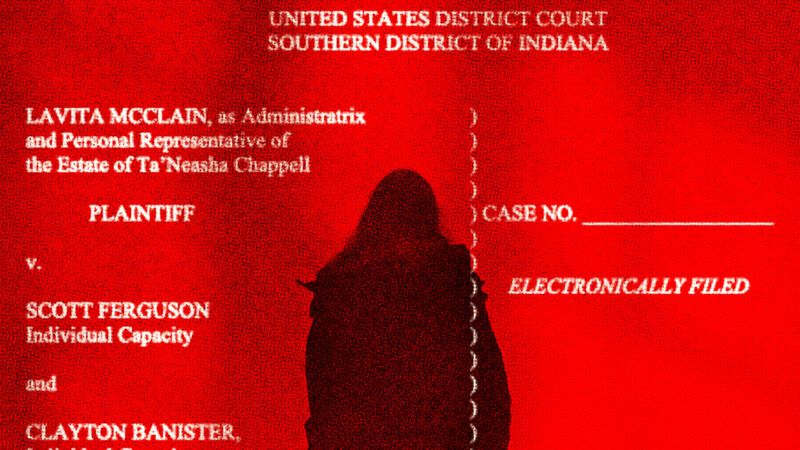 (Illustration: Lex Villena)
Ta'Neasha Chappell was arrested for theft in Brownstown, Indiana, in May 2021. Less than two months later, she was dead from an apparent poisoning in a local jail. Despite repeatedly calling for help, jail employees ignored her pleas—and even accused her of faking her symptoms.
Chappell's family has since filed a lawsuit against the jail employees who ignored her obvious need for medical attention—and the case is set to go to trial later this year.
Chappell was pulled over on May 26, 2021, on suspicion of stealing $3,000 of merchandise from a clothing store. During the stop, Chappell fled the scene, leading police in a high-speed chase that ended with Chappell crashing her car into a ditch. According to a Rolling Stone investigation of the incident published last month, she was charged with a litany of crimes, including resisting law enforcement, theft, leaving the scene of an accident, and possession of marijuana. Her bail was set at $4,000—an amount too high for her family to pay.
Chappell—who pled not guilty—would be forced to wait the six months before her trial date in the Jackson County Jail. According to Rolling Stone, Chappell faced a litany of racist abuse from her fellow inmates, who "described heated interactions, admitting to hurling racist slurs. One inmate said she called Chappell a 'n—-r bitch' after a dispute over a breakfast tray, and that she called Chappell the n-word some 50 times in all."
On July 15, Chappell became mysteriously and violently ill. According to audio files obtained by the Rolling Stone, she called for help repeatedly throughout the night. She first called for help at 8:30 p.m., saying she was throwing up blood. During the night she became increasingly incoherent, stripping off her clothes and soiling herself. The Rolling Stone reports that while jail workers did visit Chappell's cell, no one provided medical care or called an ambulance.
At 12:30 p.m. on July 16, Chappell was taken to a holding cell, where the Rolling Stone reports that officers "could see her on camera stumbling, falling, and hitting her head on a metal bunk with a bang." At 3:12, a jail employee told Chappell—who was lying on the floor moaning, "This just makes us think you're faking it," adding, "If you're not gonna get up and get dressed, we're just gonna leave you alone. And you can just sit there and suffer." Chappell responded by saying that she felt like she was "on fire."
Three minutes later, jail workers called an ambulance—though the Rolling Stone notes that jail employees did not say it was an emergency. Despite being placed on a ventilator at the hospital, she was pronounced dead at 5:45 that evening.
According to the Rolling Stone, Chappell's death was "probable toxicity from an unknown substance," based upon "a green liquid in Chappell's abdomen and her altered mental state, among others." However, Chappell's body fluids tested negative for narcotics and several other chemicals. The Rolling Stone reports that police documents found several inmates who said that Chappell had been poisoned by other prisoners, who "had allegedly been slipping a cleaning product, which they called 'the green cleaner,' into her food and drink," though police were unable to find a lab that would test Chappell's body fluids for traces of the cleaner.
In the aftermath of Chappell's death, her family has filed a lawsuit against the jail employees who ignored her cries for help. The case is set to go to trial in June.
Jail workers "failed to perform their respective duties to care for Ta'Neasha and took grossly negligent actions that effectively negated her chances of survival," the lawsuit states. "As a direct and proximate result of the Defendants indifferent, willful, wanton, reckless, grossly negligent, and negligent acts as set out above, Ta'Neasha suffered physically and emotionally."
Chappell is not the first person to die under mysterious circumstances in the Jackson County Jail. In August 2021, Joshua McLemore, a man with untreated schizophrenia died of multiple organ failure after he was left in a solitary cell for three weeks—during which time he refused to eat and became increasingly delirious. McLemore's family has also filed a lawsuit against the jail.
"They had a duty to protect her," Chappell's sister told the Rolling Stone. "She was not attended to because she was a Black woman and they didn't feel like she was worth getting any attention."