Oklahoma Almost Killed Him 3 Times. Now, the State Is Trying To Vacate His Conviction.
"It is critical that Oklahomans have absolute faith that the death penalty is administered fairly and with certainty," said the state's attorney general in a Thursday press release.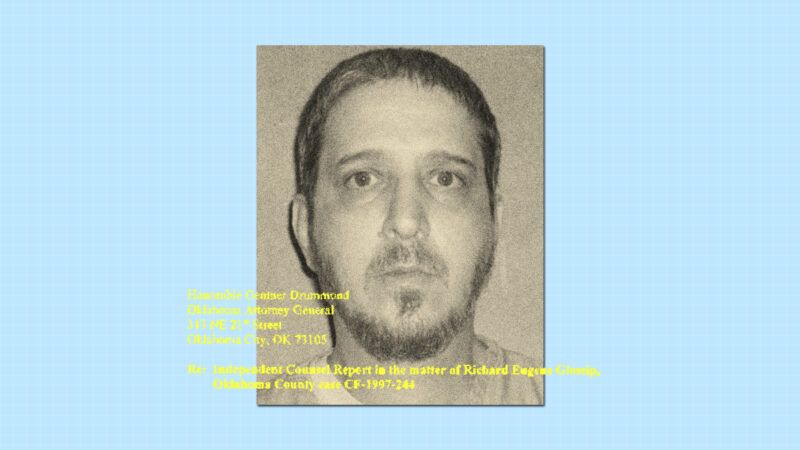 (Splash News/Newscom; Illustration: Lex Villena)
Oklahoma's attorney general has filed a motion to overturn the capital murder conviction of Richard Glossip, who has spent almost 26 years on death row. The move comes after the release of a new report detailing considerable issues in the state's case against Glossip, concluding that he was "deprived of a fair trial."
Richard Glossip was convicted in 1998 for the murder of his boss, Barry Van Treese, the year prior. Another man, Justin Sneed, had confessed to the murder, but testified during Glossip's trial that he killed Van Treese in a murder-for-hire scheme set up by Glossip. In exchange for his testimony against Glossip, Sneed avoided the death penalty and received a life sentence.
Cracks in the case against Glossip—who has long claimed innocence—began to show soon after his conviction. In particular, Sneed's testimony against him was the only direct evidence tying Glossip to the murder.
In 2001, an Oklahoma court overturned Glossip's conviction, writing that "the evidence at trial tending to corroborate Sneed's testimony was extremely weak." However, in 2004, another jury yet again convicted Glossip of murder, sentencing him to death. Over the years, Glossip has received four separate stays of execution.
In 2021, a group of over 30 lawmakers requested an independent investigation into Glossip's case. When the 343-page report was released in 2022, it revealed that the state had intentionally destroyed evidence before Glossip's trial and "uncovered police contamination of the state's star witness, Justin Sneed, the actual killer, who implicated Glossip only after the detectives mentioned Glossip's name to Sneed six times during his interrogation." Most damning of all, the investigation "uncovered additional evidence, never presented to the jury or to any court, that would likely have led to a different outcome in the case in the estimation of the Reed Smith team."
On Thursday, Oklahoma Attorney General Gentner Drummond announced that he had filed a motion to vacate Glossip's conviction. The development comes just three days after the conclusion of another independent investigation into Glossip's case—this one ordered by Drummond himself in January.
"After thorough and serious deliberation, I have concluded that I cannot stand behind the murder conviction and death sentence of Richard Glossip," Drummond said in a Thursday press release. "This is not to say I believe he is innocent. However, it is critical that Oklahomans have absolute faith that the death penalty is administered fairly and with certainty. Considering everything I know about this case, I do not believe that justice is served by executing a man based on the testimony of a compromised witness."
The attorney general "confirms in his report what we have long known: Richard Glossip's conviction is unreliable and granting him a new trial is required," wrote Don Knight, Glossip's attorney, in a statement.
While this is a major victory for Glossip, his case should serve as a reminder of how often death row inmates are executed before their cases get the reexaminations they deserve.