New Mexico Cops Fatally Shoot Homeowner After Showing Up at the Wrong House
Plus: Los Angeles sues journalist who published police photos, IRS releases $80 billion budget plan, and more...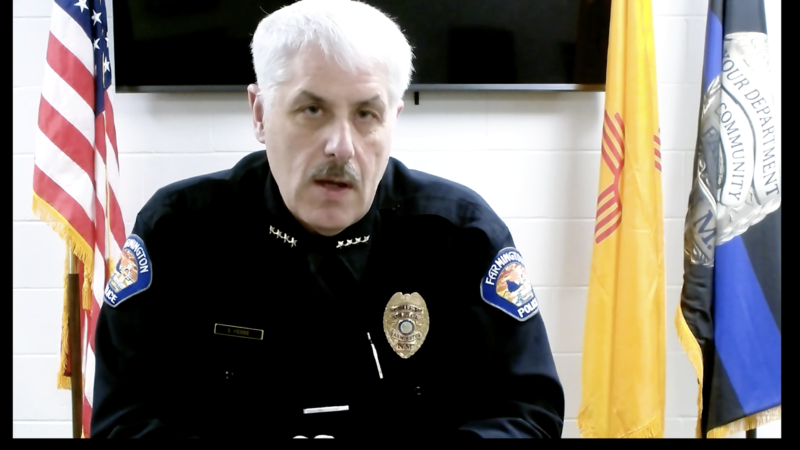 (Farmington Police Department/Facebook)
Police in Farmington, New Mexico, fatally shot a man while responding to a domestic disturbance call at the wrong house. The man killed lived across the street from the house police had been called to.
"On April 5, 2023, at around 11:30 p.m., the Farmington Police Department received a call for a domestic violence incident occurring at 5308 Valley View Avenue," according to the New Mexico State Police Investigations Bureau, which is now investigating the incident. "Once on scene, officers mistakenly approached 5305 Valley View Avenue instead of 5308 Valley View Avenue." Police knocked on the (wrong) door, no one answered, and "officers asked their dispatch to call the reporting party back and have them come to the front door."
As they started to leave, 52-year-old homeowner Robert Dotson opened his front door holding a handgun—not an entirely unreasonable thing for someone to do when they get a strange knock on their door late at night.
No one alleges that Dotson pointed the gun at the police officers or threatened them.
Nonetheless, "at this point in the encounter, officer(s) fired at least one round from their duty weapon(s) striking Mr. Dotson," the state police report. The Farmington officers did not even tell the man who answered the door to drop his weapon nor give him time to comply with their order before firing upon him, according to the statement from state police.
This would be an insane overreaction even if the police had been at the right house. That police weren't even at the right house of course makes the shooting all the more senseless.
Dotson was pronounced dead at the scene.
"Mr. Dotson was not the subject of the call that our officers were responding to, and this ending is just unbelievably tragic," Farmington Police Chief Steve Hebbe said in a video posted to Facebook. "I'm extremely sorry that we're in this position. We'll find more facts as we go through the investigation."
Police say they will release body camera footage of the incident within a week.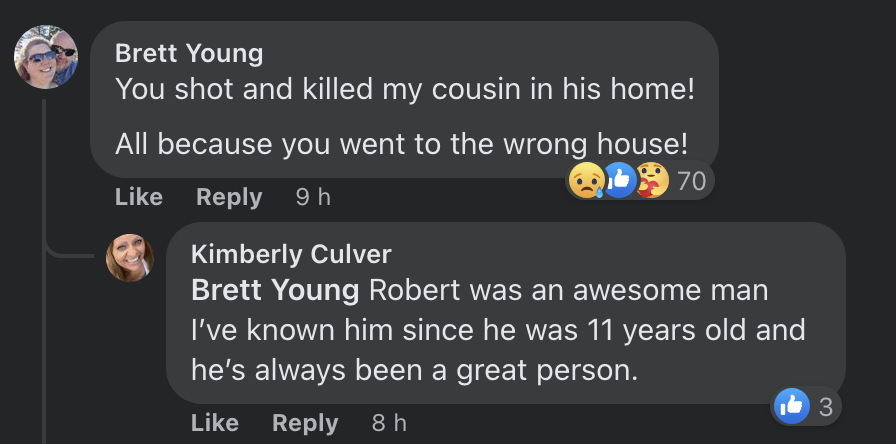 People claiming to know Dotson reacted in disbelief and anger to Hebbe's Facebook announcement. "This was a good man. He had two kids in the home he was protecting. I hope they all are fired," posted RJ Brown. Another commenter responded, "Fired? They need prison time. No mercy."
"What a terrible loss to our community," posted Gregg Tradup. "He was a good man who worked hard to provide for his family and was a genuine great guy. All he was doing was what anyone of us would do when someone knocks on our door at that time of night."

---
FREE MINDS
Los Angeles sues journalist over photos of police officers. In response to a public records request from journalist Ben Camacho, the Los Angeles Police Department (LAPD) sent Camacho photos of undercover officers. Camacho gave the images to the Stop LAPD Spying Coalition, which published them on its website. But—whoops!—the LAPD now says it didn't mean to send the photos. So the city is suing Camacho and the Stop LAPD Spying Coalition to get them back. "The City seeks the return of these inadvertently produced photos to protect the lives and work of these undercover officers," city lawyers wrote.
"Susan Seager, an attorney for Camacho, said in a written statement that her client 'will fight the City's effort to censor his journalism about police, which is a matter of paramount concern,'" reports the Los Angeles Times:
Legal experts uniformly rejected the lawsuit as baseless and ripe for dismissal under the 1st Amendment and other well-established legal protections for journalists.

"This is a Hail Mary, desperation play by the city," said David Loy, legal director of the California First Amendment Coalition.

"The city is on very weak legal grounds," said Erwin Chemerinsky, dean of the UC Berkeley School of Law.

"This isn't even a close call," said Ken Paulson, former editor in chief of USA Today and now director of the Free Speech Center at Middle Tennessee State University.
Taxpayer services may be goal 1 and 2 but only gets a few billion dollars; enforcement gets $45 billion pic.twitter.com/eaDpTYKdDK

— Joe Bishop-Henchman (@jbhenchman) April 6, 2023
"The $80 billion is the largest single infusion of funds in the agency's history and was included in the Inflation Reduction Act, the sweeping climate and energy legislation that Democrats pushed through last year," notes The New York Times.
"The I.R.S. plan repeatedly emphasizes that it will honor [Treasury Secretary Janet] Yellen's directive that the new money not be aimed at increasing audit rates for taxpayers who earn less than $400,000 a year," the Times points out. "The plan echoes Ms. Yellen's assurance that those audit rates will not rise above 'historical levels,' but does not specify the levels, suggesting that audit rates could rise above their existing levels."
---
QUICK HITS
• The Treasury Department is trying to lay the groundwork for greater regulation of cryptocurrency by citing concerns about (what else?) national security. A new report "sketches out how the Treasury Department plans to bring the market under greater federal oversight, suggesting that platforms that fail to establish sufficient vetting policies risk enforcement action," The Wall Street Journal reports.
• The U.S. Supreme Court won't intervene to immediately stop a 12-year-old transgender girl in West Virginia from competing as part of the girl's track team at her middle school. The girl's "case was the Supreme Court's first examination of restrictions on transgender athletes, and it came on an emergency application from the state," notes The Washington Post. The decision not to get involved leaves intact a lower court's order pausing enforcement of a state law defining eligibility for sex-specific sports teams to "be based solely on the individual's reproductive biology and genetics at birth."
• TikTok's parent company, ByteDance, is introducing a new social media app in the United States. Called Lemon8, it's "a photo-based app that resembles a mixture of Instagram and Pinterest, and is sprinkled with videos that look like the ones posted on TikTok," notes the Associated Press.
• Members of a federal board in charge of reviewing exterior changes to homes and businesses in D.C.'s Georgetown Historic District "unanimously voted Thursday to deny a Georgetown University neuroscientist's request to keep a pair of massive Transformers sculptures posted outside his historic rowhouse in the neighborhood."