Study: Around the World, Internet Use Linked to Greater Well-Being
Plus: Tennessee drag law halted, the FTC's proposed ban on negative option marketing, and more...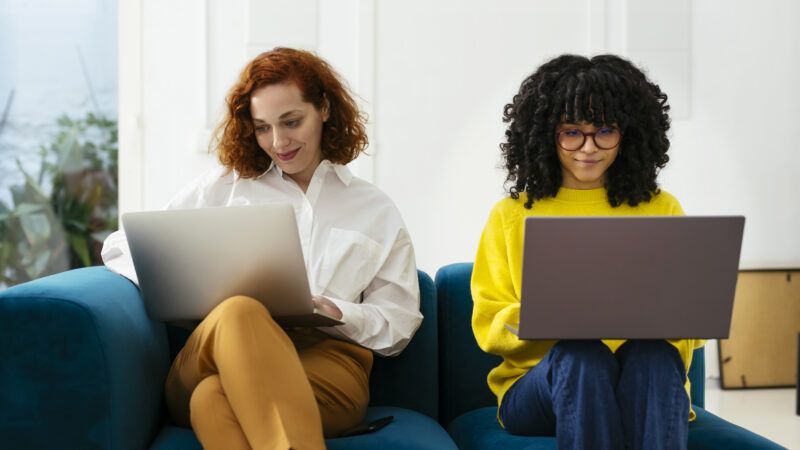 (Bonninstudio/Westend61 GmbH/Newscom)
Research links internet use to global well-being. In a new paper, researchers from Tilburg University and the University of Oxford look at how internet access and use are linked to well-being in countries around the world. Overall, their results showed that across eight well-being outcomes, "individuals who had access to, or actively used the internet reported meaningfully greater well-being than those who did not," the authors wrote.
For the study, authors, Matti Vuorre and Andrew K. Przybylski examined measures of well-being across more than 2.4 million people for the time period of 2006 through 2021. Their data come from the Gallup World Poll, a nationally representative annual survey of about 1,000 people from each of 164 countries.
The key questions for the purposes of this research were whether respondents had home internet access (a question Gallup asked in the 2006 through 2015 surveys) or whether they had "access to the internet in any way, whether on a mobile phone, a computer, or some other device" (asked from 2016 onward). From 2017, Gallup also asked, "Can your mobile phone be used to access the Internet?" Additionally, later surveys looked at internet use by asking respondents if they had used the internet in the past seven days.
In all of the Gallup World Poll surveys, respondents were asked about life satisfaction, reports of daily negative and positive experiences, and two measures of social support ("someone in your life always encourages you to be healthy" and "your friends and family give you positive energy every day"). The researchers also used data from the Gallup-Sharecare Global Well-being Index taken in 2013–2015. These included questions related to purpose ("liking what one does each day and being motivated to achieve one's goals"), community well-being ("liking where one lives, feeling safe and having pride in one's community"), physical well-being ("having good health and enough energy to get things done daily"), and social well-being ("having supportive relationships and love in your life").
"The associations between internet access and well-being were consistently positive," reported Vuorre and Przybylski:
For the average country, individuals who had access to the internet reported on average approximately 0.08 units greater life satisfaction, positive experiences, and social life satisfaction, and 0.06 units lower negative experiences than individuals who did not have access. Results regarding the more temporally restricted (2013-2015) GWBI outcomes portrayed a similar picture: Individuals with internet access reported approximately 0.08 units greater experiences of purpose, 0.1 unit greater physical, 0.02 units greater community, and 0.08 units greater social well-being than individuals without access.
One big confounding factor here is obviously income—those with lower incomes may be less likely to have internet access and less likely to report positively on measures of well-being. For what it's worth, the authors attempted to adjust for income and other potentially confounding variables, including education status, work status, relationship status, whether they had health problems, and whether they were able to meet basic food and shelter needs.
The researchers also found strong links between active internet use and other measures of well-being. "Being an active internet user was associated with 0.03 to 0.08 unit increases in life satisfaction, positive experiences, social well-being and physical well-being, and with a 0.04 unit decrease in negative experiences," they reported.
The amount of internet use is less obviously linked to socioeconomic status, so these results may be more compelling.
The authors note that the magnitude of the difference between internet users and nonusers was not huge, but it was also "not negligible" ("e.g. the median life satisfaction difference was 0.36 standard deviations between individuals who had access to the internet and those who did not"). And the links held across different types of analyses ("in a multiverse of 33,792 analysis specifications. 84.9% of these resulted in positive and statistically significant associations between internet connectivity and well-being") and across demographic groups.
If nothing else, the results suggest that internet access doesn't cause an overall decrease in well-being.
The only "notable group of negative associations" between internet use and well-being was found in the category of community well-being ("liking where one lives, feeling safe and having pride in one's community"). Among 15-to-24-year-olds, and particularly women in this age group, the association between internet access or usage and perceptions of community well-being was negative.
The authors expressed caution about making too much of their results for several reasons, including the fact that self-reported technology usage isn't terribly reliable and the fact that "there are likely myriad other features about the human condition that are associated with both uptake of internet technologies and well-being in such a manner that they might cause positive associations to be observed." While a causal relationship between internet access or usage and well-being cannot be assumed, "we nevertheless remain hopeful that the clarity with which we hoped to address this issue will provide a solid foundation for future work on internet technologies causal effect," they wrote.
---
FREE MINDS 
Federal judge halts Tennessee drag law. Tennessee's anti–drag performance law has been temporarily halted. Judge Thomas L. Parker of the U.S. District Court for the Western District of Tennessee ruled in favor of the LGBTQ theater group Friends of George's, which sought a temporary injunction against enforcement of the law as it challenges the law's constitutionality. "Drag is not a new art form; nor is it inherently – or even frequently – indecent," the group argued.
The new Tennessee law deems "male or female impersonators who provide entertainment that appeals to a prurient interest, or similar entertainers" to be adult cabaret performers, a category that also includes "topless dancers, go-go dancers, exotic dancers, [and] strippers." The law also bans "adult-oriented performances that are harmful to minors" from taking place on public property or in places where they may be viewed by kids. Violators are subject to misdemeanor charges on a first offense and felony charges for subsequent offenses.
"The inclusion of 'male and female impersonators' is intended to block children from attending drag performances, but the addition of the clause 'that appeals to a prurient interest' makes the meaning vague," noted Scott Shackford for Reason in March. The Volokh Conspiracy's Eugene Volokh has more on the legal issues pertaining to the law here.
"The Court can think of at least three scenarios in which Plaintiff is likely to succeed on the merits," wrote Parker in his decision. These include Friends of George's arguments that "the regulation here is content-based," which means it's presumptively unconstitutional unless "it is justified by a compelling government interest, and it is narrowly drawn to serve that interest."
"If Tennessee wishes to exercise its police power in restricting speech it considers obscene, it must do so within the constraints and framework of the United States Constitution," Parker wrote in his conclusion. "The Court finds that, as it stands, the record here suggests that when the legislature passed this Statute, it missed the mark."
---
FREE MARKETS 
More micromanaging business from Biden's FTC. Continuing President Joe Biden's fixation with managing the minutiae of the American consumer experience, his administration is now turning its attention to subscription services that are hard to cancel. The Federal Trade Commission (FTC) wants "to penalize overly complicated subscription cancellations at $50,000 a pop," reports Reason's Matt Welch. A proposed FTC rule "requires negative-option sellers to provide, under maximum penalty of $50,120 per violation per day, a mechanism for cancellation that's 'at least as simple as the one used to initiate the charge,' via the same medium (app, website, phone, mail, etc.)."
Negative option marketing refers to transactions in which a failure to take proactive action represents consent to continue services or purchase an item, such as in the case where a free trial must be canceled within a given time frame or else a consumer will be charged.
"The click-to-cancel rule is guaranteed to jack up compliance costs (which hurt small entities hardest) and drive some current practitioners out of the negative-option market altogether," warns Welch. "No more easy-peasy renewals for your favorite poetry magazine or coffee roaster."
Christine Wilson, the FTC's only Republican appointee (who stepped down at the end of March), voted against the proposed rule, noting that it went way beyond the way FTC Chair Lina Khan and other proponents were portraying it:
The Notice explains that "the proposed Rule prohibits any person from misrepresenting, expressly or by implication, any material fact regarding the entire agreement—not just facts related to a negative option feature." It further explains that "[s]uch deceptive practices may involve misrepresentations related to costs, product efficacy, free trial claims, processing or shipping fees, billing information use, deadlines, consumer authorization, refunds, cancellation, or any other material representation."

Consequently, marketers using negative option features in conjunction with the sale of a good or service could be liable for civil penalties or redress under this Rule for product efficacy claims or any other material representation even if the negative option terms are clearly described, informed consent is obtained, and cancellation is simple.
The federal government getting overly involved in small details of consumer transactions may seem eyeroll-worthy but not much of a big deal. But it's a sign of a bigger problem, suggests Welch: "Governments that are big enough to police the language of magazine auto-renewals are guaranteed to intrude on personal consumption choices in ways that even corporationophobes find uncomfortable."
Welch points out that the Biden FTC has also been guilty of "asking Twitter to rat out the names of all journalists involved in working on the #TwitterFiles series of investigations," proposing a near-total ban on noncompete contracts in the workplace, "attempting (before being thwarted by a federal judge) to block Meta's acquisition of a virtual reality company on the legally adventurous grounds that in doing so the Facebook owner would prevent itself from innovating in the virtual reality space," and investigating Amazon for dubious reasons, among other overreach.
---
QUICK HITS
• A report released last Friday reveals that Social Security will be insolvent even sooner than was previously thought, "with automatic benefit cuts now projected to occur in 2033," notes Reason's Eric Boehm.
• Former Arkansas Gov. Asa Hutchinson is running for the 2024 Republican presidential nomination.
• Reason's latest Peter Bagge comic deals with Maria Montessori and "the freedom to learn."
• On the same day that House members interrogated TikTok's CEO about whether the app and its parent company were a national security threat, the White House "embraced another popular app owned by the same Chinese company," reports NBC News. "Last week the White House's official Instagram account posted a flashy video of Biden and former President Barack Obama…created using the app CapCut, which, like TikTok, is owned by the Chinese company ByteDance."