The FTC Is Closing In on Amazon
Plus: "No such thing" as a "harmless drag show" says university president, aggressive code enforcement in Florida, and more...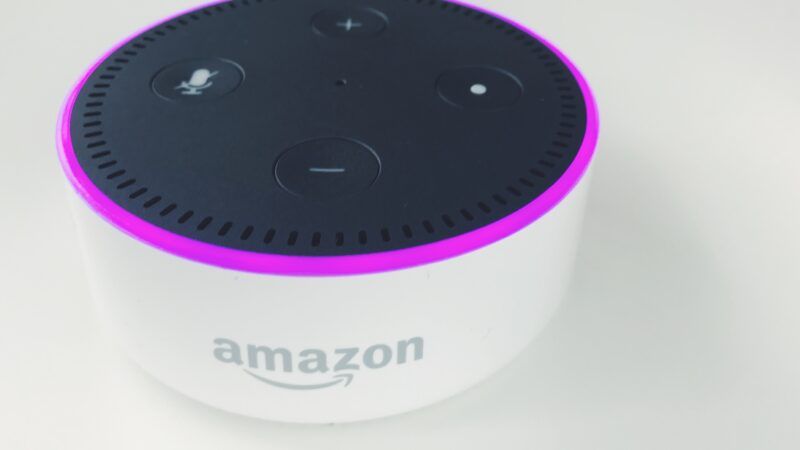 A look at the federal government's expansive designs to pin some sort of wrongdoing on Amazon leaves little doubt this crusade is based in something stronger than a simple quest for justice or consumer protection. Like other big tech companies, Amazon has been branded a "monopolist" by both Democrats and Republicans who—for different reasons—seem to see it as good politics to aim at taking the company down a peg.
Unlike monopolists of yore, Amazon is mostly beloved by consumers. Poll after poll has shown Americans give the company a high approval rating, with one 2021 poll finding Amazon ranked more highly than all but one of the 18 institutions asked about, including Twitter, Facebook, the FBI, the Centers for Disease Control and Prevention, and the U.S. Supreme Court.
Indeed, anti-Amazon crusaders have had a hard time articulating a cogent theory of consumer harm. Rather, some suggest we should abandon the consumer welfare standard—a mainstay of antitrust law enforcement—and instead focus on the fact that companies like Amazon are very big and this bigness may harm business competitors. Others appear intent on fishing for something that could be massaged into allegations that Amazon's size and reach harms consumers.
Politico's Josh Sisco details the multipronged effort in Washington to find some reason to wage war with Amazon. "The Biden administration is planning to take action soon on at least three of its half-dozen investigations of Amazon — moves that could lead to a blitz of litigation to rein in the iconic tech-industry giant," Sisco writes.
The scope of the Federal Trade Commission's investigations into Amazon is massive, touching on everything from its purchase of the robot vacuum maker iRobot to whether digital voice assistant Alexa violates the Children's Online Privacy Protection Act and how it decides which marketplace products to give the "Amazon Choice" label.
"The FTC is currently weighing whether to challenge Amazon's $1.7 billion acquisition of robot vacuum maker iRobot, with the agency's staff attorneys leaning toward suing to stop the deal according to three people with knowledge of that investigation," reports Sisco. In addition, the FTC "has at least two open privacy investigations, one into Amazon's Ring camera and security system business, and the other into its Alexa voice assistant over potential violations of the Children's Online Privacy Protection Act, according to four people with knowledge of those cases." And that's not all:
Also potentially coming in the next few months is a wide-ranging antitrust case targeting Amazon's retail operations, multiple people with knowledge of the probe said. Though the details of a complaint are not known, it could include the bundling of services through its Prime subscription business and its use of competitor data to out-muscle rival retailers on its platform, according to some of those people. The FTC has been investigating nearly every aspect of the company's business since 2019, and a lawsuit has long been expected. The Wall Street Journal previously reported that an antitrust case could be filed against Amazon in the coming months.

The FTC is pursuing a so-called "dark pattern" probe into the difficulty customers have unsubscribing from Prime and other services. Dark patterns are deceptive tactics used by websites to trick users into doing things like subscribing to a more expensive service than they intended.

It is also conducting a deceptive advertising probe into the "Amazon Choice" label the company gives certain products on its marketplace. The FTC is investigating how that label is used to promote products that appear in search results, including whether it is pay-to-play. Amazon maintains it is not.
Politico lays out more details about these investigations here. Reading through them, it seems clear that the FTC is—at least in many cases—reaching.
For instance, "the agency is concerned that Amazon will favor iRobot's Roombas over competing brands of automated vacuums such as Samsung," notes Sisco. Note that this isn't about what Amazon is doing, just a concern over what it could do in the future—and that the FTC sees this theoretical action as potential grounds to nix Amazon's acquisition of iRobot entirely.
And even if Amazon does preference its products over Samsung's—so what? Samsung is a huge company itself, perfectly capable of reaching customers without a boost from Amazon. Besides, trying to advantage one's own products over a competitor's is kind of what businesses do. We don't ban supermarkets from pricing or placing store-brand products in a way that makes them stand out against competing brands. Why shouldn't Amazon be allowed to favor Roombas over Samsung's robot vacuums?
The FTC's war on Amazon makes sadly apparent how regulators feel the need to guide and control all markets, even when no criminal wrongdoing is involved.
---
FREE MINDS
"No such thing" as a "harmless drag show," says university president. Walter V. Wendler, president of West Texas A&M University, announced yesterday that the school would not allow a drag show to take place on campus. The show was being organized by several student groups and was supposed to be a fundraiser for The Trevor Project, a nonprofit group focused on suicide prevention among LGBTQ youth.
In an astounding letter to students, faculty, and staff of West Texas A&M, this president of a public university admitted that the ban was due to his religious convictions. "I believe every human being is created in the image of God and, therefore, a person of dignity," wrote Wendler. "Does a drag show preserve a single thread of human dignity? I think not." Wendler went on to liken drag shows to blackface, and accuse them of "stereotyp[ing] womanhood in cartoon-like extremes for the amusement of others and discriminat[ing] against womanhood."
Regardless of Wendler's personal feelings on drag shows, they are a form of protected speech. And singling out drag shows for a ban—while allowing other sorts of performances and fundraisers—violates students' First Amendment rights.
"Drag shows are a form of artistic expression protected on a public university campus just like any other expressive activity. This is settled First Amendment law — even if a university president doesn't like it," tweeted Alex Morey, a lawyer with the Foundation for Individual Rights and Expression (FIRE). "We @TheFIREorg have picked our jaws up off the floor and are getting to work on this one."

---
FREE MARKETS
Florida homeowners are losing houses to aggressive code enforcement. Cities across Florida have "begun to aggressively foreclose on homes in the city for violations ranging from unmowed lawns to unsafe structures," reports the Miami Herald. "The foreclosures have brought in millions for the cities, but have taken away homes that have been in families for generations, particularly in heavily Black and lower income neighborhoods."
In 2021, one such city, Fort Pierce, "signed a contract with an outside attorney named Matt Weidner to file lawsuits against the owners of these properties. Weidner is trying to get several South Florida cities, including Davie and Boca Raton, to join in, calling homes subject to foreclosure because of aggressive enforcement of code violations a potential goldmine of untapped revenue," the Herald reports. "Fort Pierce is the ninth jurisdiction in Florida that hired Weidner to file these kinds of cases."
A massive Herald investigation into Weidner's cases reveals "the lawsuits have undoubtedly targeted some properties that deserved to be foreclosed upon" but "also had collateral damage."
---
QUICK HITS
• Read an excerpt from Bottoms Up and the Devil Laughs: A Journey Through the Deep State, the latest book from former Reason editor Kerry Howley.
• The U.S. Supreme Court this week will hear its first cryptocurrency case.
• "Idaho is poised to allow firing squads to execute condemned inmates when the state can't get lethal-injection drugs, under a bill the Legislature passed Monday with a veto-proof majority," notes the Associated Press.
• "Homeland Security's fusion centers show the dangers of mission creep," suggests a Hill op-ed by Rutgers law professor Jonathan Hafetz. "Fusion centers were intended to serve as hubs capable of sharing information to help detect and prevent future terrorist attacks. But the centers quickly morphed into vast systems of data collection to address any perceived crimes or hazards."
• Reminder: Section 230 protects your email forwards.
• The price of gold is spiking amid concerns about bank stability.
• Philadelphia will pay nearly $10 million "to settle a class-action lawsuit with civil rights groups that claimed the police department used excessive force against hundreds of Black residents and other protesters during social justice demonstrations in 2020," reports The Washington Post.