Internet Archive Loses Lawsuit Over National Emergency Library, Will Appeal
Plus: "Sensitivity readers" rewrite Agatha Christie, a Little Free Library battle, and more...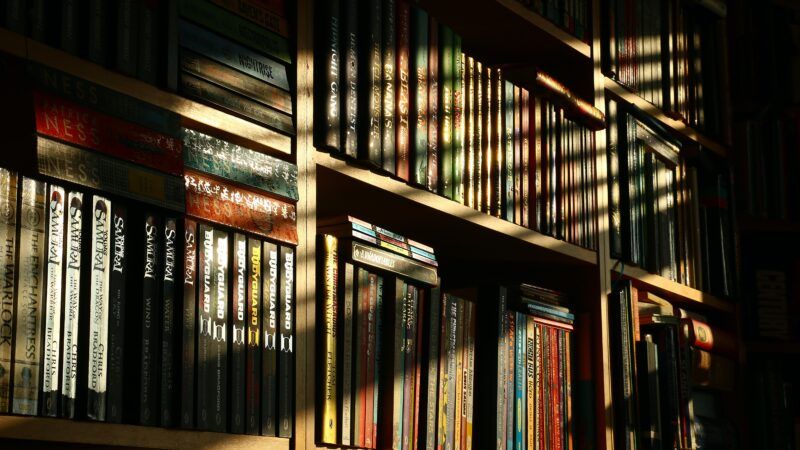 As Americans coped with lockdowns and isolation in the early days of the COVID-19 pandemic, the Internet Archive—a platform devoted to preserving digital history—hit on a novel way to help people stay sane. The company temporarily lent out free digital copies of books, calling the service the National Emergency Library. The service operated from March 24 through mid-June 2020.
The four biggest U.S. publishers—Hachette Book Group, HarperCollins, John Wiley & Sons, and Penguin Random House—sued, calling this "mass copyright infringement." The companies pointed to 127 books digitized and loaned out as part of the National Emergency Library, declaring that they owned the rights to them and had not granted the Internet Archive permission to lend them.
The Internet Archive claimed fair use, a doctrine that allows unlicensed use of copyrighted works in certain circumstances, such as when it's being used as part of criticism, commentary, news reporting, or research purposes.
On Friday, a federal court sided with the publishers.
The Internet Archive's "fair use defense rests on the notion that lawfully acquiring a copyrighted print book entitles the recipient to make an unauthorized copy and distribute it in place of the print book, so long as it does not simultaneously lend the print book," wrote Judge John G. Koeltl of the U.S. District Court for the Southern District of New York in his opinion. "But no case or legal principle supports that notion. Every authority points the other direction."
"We are thrilled by the decision in the Internet Archive/Open Library lawsuit. As we have long argued, scanning & lending books w/out permission or compensation is NOT fair use—it is theft & it devalues authors' works," the Authors Guild tweeted.

The Internet Archive says it will appeal Koeltl's decision, calling it "a blow to all libraries & the communities we serve." 
"Libraries are more than the customer service departments for corporate database products," Internet Archive founder Brewster Kahle said in a blog post. "For democracy to thrive at global scale, libraries must be able to sustain their historic role in society—owning, preserving, and lending books."
For more on battles over free digital access to copyrighted books, see  "You Can't Stop Pirate Libraries," from Reason's August/September 2022 issue.
---
FREE MINDS
Agatha Christie is the latest deceased author to fall victim to "sensitivity readers," who were tasked by publisher HarperCollins with removing potentially offensive language from the great mystery writer's Poirot and Miss Marple novels.
The edits—which will appear in all new editions of the books—are supposedly meant "to preserve their relevance to modern readers," reports The Guardian, giving the news a positive spin. But sensitivity readers can also be accused of warping an author's intentions, rewriting and sugarcoating history, and depriving modern readers of a chance to ponder how language and thinking has changed. They also seem to ignore the fact that some characters are meant to use offensive words or have offensive thoughts—that these may be functions of the story, rather than simply offhanded descriptions.
In the case of the Poirot and Miss Marple mysteries, some of the changes seem downright arbitrary. In the 1964 book A Caribbean Mystery, for instance, a description of someone having "such lovely white teeth" was removed.
---
FREE MARKETS
San Francisco versus a Little Free Library. Little Free Libraries are a lovely phenomenon in which homeowners or communities install a very small outdoor structure where people can leave or take books for free. The city of San Francisco has given Susan and Joe Meyer 30 days to either remove the little library outside their home or pay the city $1,402 for a "Minor Sidewalk Encroachment Permit."
The Wall Street Journal—and a number of San Francisco residents—questions the city's priorities, noting that perhaps the city's streets have bigger problems than unpermitted lending libraries. "The fact that we live in a city where they would rather fight someone that is doing something positive is what I find so disheartening," the Meyers' neighbor, Geoff Claus, told the paper.
The problem goes beyond the Meyers' library and beyond San Francisco:
Encroachment permits are common in California, where cities require them for everything from mailboxes to vegetation planting along public roadways. San Francisco officials say they average 893 minor-encroachment complaints a year, and that their policies give them no choice but to act on the complaints, which often are filed anonymously via the city's 311 call line.

San Francisco's call line, reviled by many local residents, can tangle the most simple facet of neighborhood life in bureaucracy. A few weeks before Operation Little Free Library, the city, also acting on anonymous 311 complaints, distributed at least three similar notices on a quiet street in the Bernal Heights neighborhood.
Outrage over the attack on the Meyers' Little Free Library may be prompting some positive change:
The Board of Supervisors is now working on a plan to let all the free libraries and benches get low-cost permits—"like $5 maximum"—with little hassle, said supervisor Hillary Ronen. She said the encroachment rule was intended to make sure no one puts up anything that can impede public access on a sidewalk, but she added these neighborhood amenities don't.

"This is a situation of a well-intentioned rule gone wrong," Ms. Ronen said.
---
FOLLOWUP
AOC comes out against TikTok ban, McCarthy says ban bill will go forward. "This is not only my first TikTok, but it is a TikTok about TikTok. Do I believe TikTok should be banned? No," said Rep. Alexandria Ocasio-Cortez in a video posted to the app on Saturday.
Last week, the House grilled TikTok's CEO for hours, amid increasing pressure in Washington to ban the app.
Meanwhile, House Speaker Kevin McCarthy (R-Calif.) "said that the House will move forward with a proposed TikTok ban bill," reports The Hill.
"The House will be moving forward with legislation to protect Americans from the technological tentacles of the Chinese Communist Party," McCarthy tweeted Sunday, repeating the common—but untrue—claim that we "know" the Chinese government "has access to TikTok user data."
---
QUICK HITS
• "Biden's Justice Department is fighting vigorously in courts to maintain the sentences of death row inmates, even after Attorney General Merrick Garland temporarily paused executions," reports the Associated Press. "Lawyers for some of the over 40 death row inmates say they've seen no meaningful changes to the Justice Department's approach under Biden and Trump."
• The U.S. Food and Drug Administration seems to have learned nothing from last year's baby formula troubles.
• First Citizens BancShares is acquiring Silicon Valley Bank, the Federal Deposit Insurance Corporation announced yesterday.
• More U.S. children are being diagnosed with autism, according to new data from the Centers for Disease Control and Prevention. "In 2020, an estimated one in 36 8-year-olds had autism, up from one in 44 in 2018," reports The New York Times. "The prevalence was roughly 4 percent in boys and 1 percent in girls."
• It's simultaneously two different times in Lebanon, where the government can't decide whether to honor daylight savings time.