Even After Bodycam Footage Release, Questions Remain Around Alleged Shoplifter Killed by Virginia Police
One officer was fired and another was placed on restricted duty this week, but there are still a lot of unanswered questions.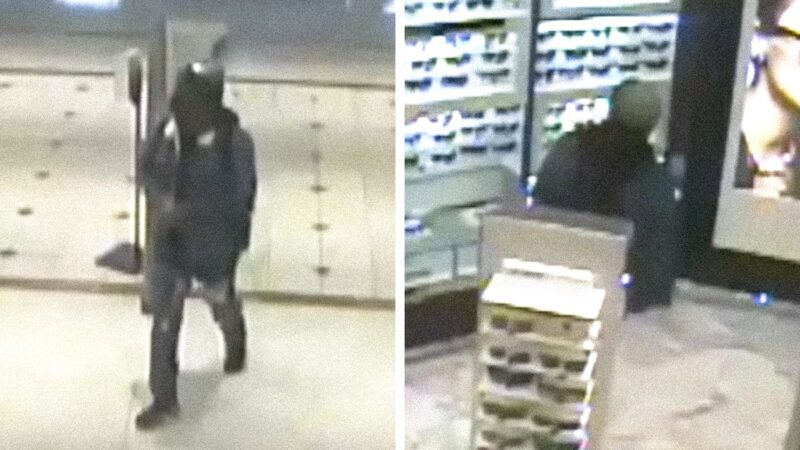 (Illustration: Lex Villena; Fairfax County Police Department)
Last month, police in Virginia's Fairfax County shot and killed a man suspected of shoplifting sunglasses. This week, the department released body camera footage and fired an officer involved, but questions remain over why a suspected thief had to die.
On February 22, officers responded to reports of a shoplifter at Tysons Corner Center, a large mall outside Washington, D.C. The officers in question were part of the Tysons Urban Team (TUT), a specialized division of the Fairfax County Police Department (FCPD) assigned to the mall around the clock.
Asset protection had alerted police to a shopper, later identified as 37-year-old Timothy Johnson, whom they suspected of swiping some designer sunglasses at Nordstrom with the intent to steal them. Responding officers saw Johnson set off multiple anti-theft alarms and followed him outside to the parking garage. One uniformed and one plainclothes officer chased Johnson into a nearby wooded area where they each discharged their weapons. Johnson was struck once in the chest and later pronounced dead at the hospital.
On Thursday, the FCPD released the full body camera footage of the encounter, plus a shorter narrated video that included both body camera and security camera footage. Chief Kevin Davis also announced that one of the officers who fired his weapon, Sergeant Wesley Shifflett, had been fired, citing "a failure to live up to the expectations of our agency, in particular use of force policies." The other officer is on restricted duty until the investigation concludes, though Davis did not specify why only one officer was fired or which one wore the body camera.
In the body camera video, as the officers pursue Johnson through the parking lot and into the woods, the scene is too dark to easily make out what's going on. The uniformed officer yells "get on the ground" several times before shots are fired; at that point, he dives to the ground and shouts "Stop reaching!" Moments later, he tells another officer, "He didn't get any rounds off. I don't know if he's armed. He was continually reaching in his waistband, I told him to 'let me see your hands, let me see your hands.'"
But it's clear from the footage that during the chase, the officer only ever said "get on the ground." He didn't say anything about Johnson reaching until after shots were fired.
At a press conference this week, Davis said, "More often than not, the police body camera footage speaks for itself. This time, it does not." He acknowledged that state authorities and the department's Internal Affairs Bureau were still investigating.
Davis told reporters at the time of the shooting that he didn't know whether Johnson was armed and wouldn't "speculate why the officers discharged their firearms," but he did note that Johnson was "very well known to law enforcement in the National Capital Region; he, in fact, has a significant violent criminal history." This week, Davis admitted, "At the time of the officer-involved shooting, they did not [know his criminal history]. They didn't even know who he was." Davis also apologized to Johnson's family and admitted, "I should have answered that question differently…I should have answered it with much greater sensitivity than I did."
While body camera footage is certainly a good thing in any case involving an officer's use of force (and for that matter, most any other case), there are still a lot of unanswered questions. For one, Johnson is barely visible in the moments leading up to the shooting. For another, Davis declined to answer a reporter's question of whether "the use of force in this case matched the situation," and it's still unclear whether Johnson had a weapon. (For her part, Johnson's mother told The Washington Post that he did not own a gun.)
It's also not clear why Johnson should ever have been in a position to lose his life over some sunglasses. Davis said in his press conference that the Police Executive Research Forum, a policing research think tank, could only find 18 police departments in the country that have policies regarding foot pursuits. But regardless of policy, when stealing some sunglasses and running away ends in getting shot by the police, it's hard to argue that the punishment fits the crime.