Pennsylvania Governor Says He Won't Sign Execution Warrants
"This is a fundamental statement of morality, of what's right and wrong," Democratic Gov. Josh Shapiro said Thursday. "And I believe Pennsylvania must be on the right side of this issue."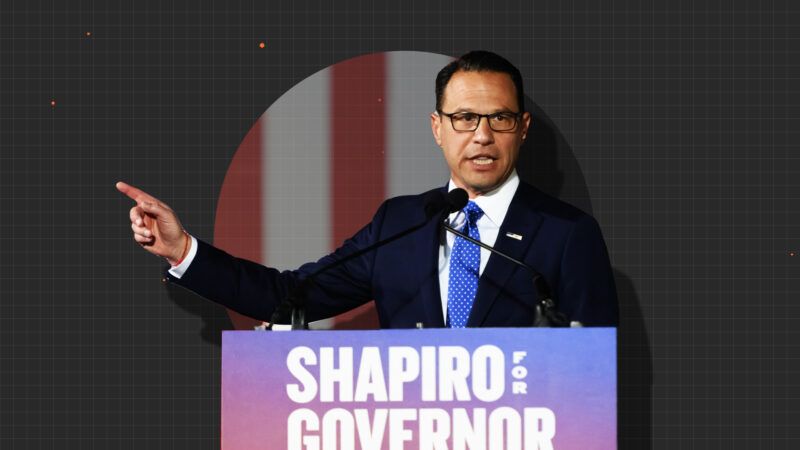 (Illustration: Lex Villena; Ricky Fitchett/ZUMAPRESS/Newscom)
On Thursday, Democratic Pennsylvania Gov. Josh Shapiro announced that he would not grant any execution warrants during his tenure as governor—continuing a trend set by his predecessor. He also called on Pennsylvania lawmakers to pass legislation banning the death penalty in the state.
"I will not issue any execution warrants during my term as Governor," Shapiro wrote on Twitter. "When one comes to my desk, I will sign a reprieve every time—and I'm asking the General Assembly to send me a bill abolishing the death penalty in Pennsylvania once and for all." He added, "This is a fundamental statement of morality. Of what's right and wrong. And I believe Pennsylvania must be on the right side of this issue."
Shapiro was sworn in as governor in January. During his campaign, he voiced support for abolishing the death penalty, though he previously supported capital punishment for the most "heinous crimes."
"For more than a decade, including when I assumed office as Attorney General, I believed that the death penalty should be reserved for the most heinous crimes – but that it was, indeed, a just punishment for those crimes," Shapiro said in a Thursday press release. "However, when the first capital cases came to my desk in the AG's office, I found myself repeatedly unwilling to seek the death penalty. When my son asked me why it as OK to kill someone as a punishment for killing someone, I couldn't look him in the eye and explain why."
The governor noted that his decision to not allow for executions during his tenure was not a "statement on the integrity of individual capital convictions in Pennsylvania." However, he said that during his tenure as the state's attorney general, "two critical truths became clear to me about the capital sentencing system in our Commonwealth: The system is fallible, and the outcome is irreversible."
The announcement comes in the wake of increasing pressure for states to drop the death penalty entirely. Even in states like Alabama and Oklahoma, where support of the death penalty has long been high, a moratorium and a slowdown on the pace of executions, respectively, have been ordered in recent months. So far, 23 states have abolished the death penalty, according to the Death Penalty Information Center. 
This is not the first time Pennsylvania's governor has placed a moratorium on executions in the state. In 2015, Shapiro's predecessor, Gov. Tom Wolf (D), declared a formal moratorium on any future executions. Pennsylvania has not had an execution since 1999.
"Pennsylvania should do what 25 other states have done in outlawing the death penalty or refusing to impose it – including many of our neighbors such as New Jersey, Maryland, and West Virginia," Shapiro said. "We shouldn't aim to just fix the system. The Commonwealth shouldn't be in the business of putting people to death. Period."