Oklahoma Pulls Back the Relentless Pace of Planned Executions
A plan to put 25 inmates to death over two years is reconsidered.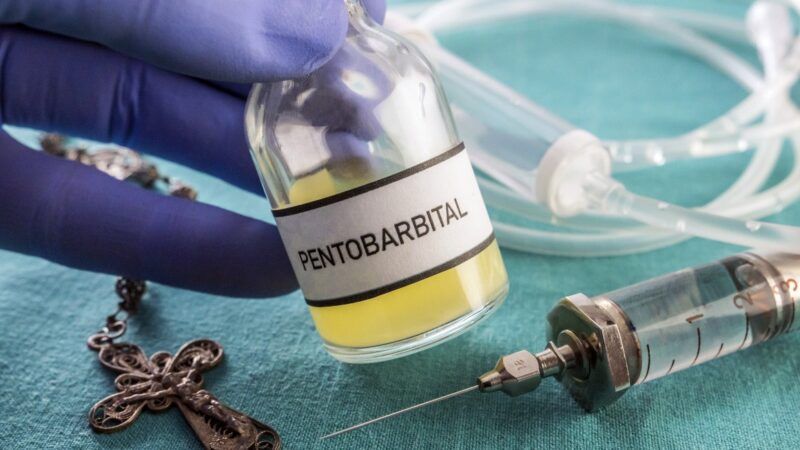 (Felipe Caparros Cruz | Dreamstime.com)
Oklahoma's attorney general has gotten permission from the courts to slow down and push back the state's intense schedule of executions, spacing them at least two months apart.
Last June, then-Attorney General John O'Connor arranged for 25 of the state's death row inmates (more than half of the total number of people in the state facing capital punishment) to be executed over the course of 29 months.
But O'Connor was defeated by Gentner Drummond in last year's Republican primaries in Oklahoma, and Drummond took office earlier this month. He attended the first execution of the year, that of Scott Eizember, convicted of killing an elderly couple 20 years ago, and apparently came away concerned after meeting with Department of Corrections staff. He's not concerned about whether the state should be in the business of killing prisoners but rather how the tight schedule may negatively impact corrections staff.
"One aspect that has become clear over time is that the current pace of executions is unsustainable in the long run, as it is unduly burdening the (Department of Corrections) and its personnel," he wrote to the Oklahoma Court of Criminal Appeals. "This is especially true given the extensive and intensive nature of the training DOC personnel undergo to prepare for each execution."
And so, instead, he wants these executions to be 60 days apart instead of 30 days apart. The court agreed, and several executions that were planned for the winter and early spring have been pushed to summer and fall.
While providing corrections staff with more time to prepare for executions doesn't stop the state from ending the lives of prisoners, it may prevent death row inmates from needless suffering and botched executions.
For death row inmate Richard Glossip, this is the ninth time he has been given a date for execution. Glossip was last scheduled to be executed on February 16, but this new schedule moves his execution date to May 18.
Glossip's case has garnered attention from death penalty opponents, because he's on death row for a murder he did not commit. Glossip was convicted and sentenced to death for allegedly masterminding the murder of Barry Van Treese, the owner of a hotel where Glossip worked, in 1997. Glossip allegedly convinced Justin Sneed, a 19-year-old maintenance man at the hotel at the time, to kill Van Treese, and in exchange the two would split the victim's money.
Glossip has insisted on his innocence, and there is no corroborating evidence tying him to the crime. Once Sneed confessed to the killing and pointed the finger at Glossip, he was convicted and sentenced to death based upon the testimony of Sneed alone. Sneed avoided the death penalty. Since then, Glossip and his attorneys have been fighting to get the state to reconsider its plans to execute him.
Then in 2015, the state suspended executions entirely over problems with the procurement of the drugs they use. (One inmate, Charles Warner, was executed using the wrong drugs. The year before, Clayton Lockett's execution went awry, with the man writhing around and speaking long after the drugs were supposed to have knocked him out.) And so, Glossip was spared execution then.
In 2021, Oklahoma resumed its executions, and the very first of them went badly, with inmate John Marion Grant reportedly convulsing and vomiting as he was dying. Since the state has resumed the executions, it has put eight men to death via lethal injections.
Glossip has received support from a bipartisan pack of state lawmakers who are increasingly concerned the state may be about to execute an innocent man and have been pushing the attorney general's office and the courts to allow for new hearings to reconsider the evidence. Republican Gov. Kevin Stitt has ordered stays of execution for Glossip's team to try to get new evidentiary hearings, but the Oklahoma Court of Criminal Appeals rejected them.
Then on January 26, Drummond directed an independent counsel to review Glossip's conviction and sentencing, hiring former prosecutor Rex Duncan to "ensure that we are appropriately responding to all evidence that has been presented through Mr. Glossip's conviction and incarceration."
This isn't a promise of any particular outcome, but it is yet another chance for Glossip and council to try to convince the state that he didn't orchestrate Van Treese's death.
In any event, Drummond may not be slowing down the frequency of executions because he is concerned about the pain the state might inflict on death row prisoners. Nevertheless, making sure the corrections staff has enough time to prepare properly for each execution may reduce the likelihood of mishaps or unnecessary suffering. Contrast Oklahoma's move with Alabama's, where the state's Supreme Court has responded to the issue of corrections officials botching the execution process and actually failing to properly prepare inmates for lethal injection by giving staff wider latitude to prolong the process.