Homeland Security Wants To Protect Us From Foreign Bands
A new proposal to more than triple visa entry fees for performers will harm American audiences and culture.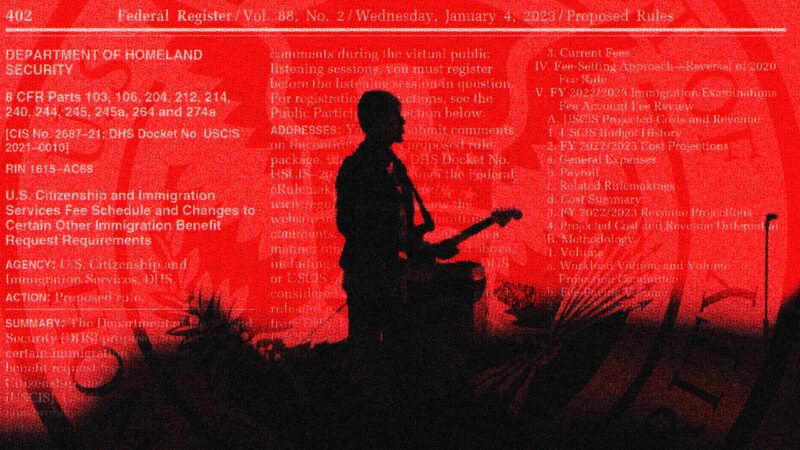 (Illustration: Lex Villena; Jenta Wong)
From the Beatles to the Sex Pistols, the chance to see foreign performing acts on U.S. soil has brought joy, insight, inspiration, and culture-expanding experiences to American kids from ages 9 to 90. Now, our Department of Homeland Security (DHS) is proposing to make it much harder for Americans to experience performers from beyond our border.
In a proposal published in the Federal Register last month, DHS wants to, among suggested fee hikes for many dozens of categories of entrance to the U.S., raise the entrance fee for what is known as a "P visa," for temporary stays in the U.S. to perform, from $460 to $1,615, a more than threefold increase.
The "O visa" for longer-term working stays for performers would jump slightly more, from $460 to $1,655. The two visa categories have in addition to their costs, naturally, a lot of other complicated rules.
This comes at a time when inflationary pressure on the equipment and personnel needed to tour is already making many mid- and lower-level performing acts wonder if touring, especially in countries other than your home one, is still a viable business at prices audiences seem prepared to pay.
A big portion of the new fees is allegedly designed to help spread the costs of asylum applications across the entire body of people seeking entrance to the U.S. for whatever reason.
British music magazine New Music Express reports that:
Some Canadian acts have spoken out against the proposed changes, citing it being "a huge hardship to pay such high visa fees".

The Weather Station's Tamara Lindeman said on Twitter: "If you are a US citizen or Organisation, please make an official comment on this – instructions below – For context we already spend thousands of dollars just on visas to enter the US; it's the only country we tour to with these prohibitive visa costs."

Lindeman wrote in a subsequent tweet: "It's a huge hardship to pay such high visa fees, in addition to a 30% withholding tax when we play in the US. It is hard enough to make money on tour as it is."

In an email to Stereogum, Tom McGreevy of Ducks Ltd. said: "This is a pretty big deal for bands from other countries, as it's a significant burden on newer bands especially, but is also something that would impact American audiences in a significant way, as it's going to discourage an awful lot of bands from touring and taking the first steps in building an audience here."
The proposed rule change is still in comment phase until March 6. The artist visa fees have been the same since 2016.
The ways of government financing are strange and complex: While the proposed rule change will, DHS asserts, "result in annualized transfer payments from
applicants/petitioners to USCIS [United States Citizenship and Immigration Services] of approximately $1,612,133,742," at the same time "DHS estimates the annualized net costs to the public [of the changes] would be $532,379,138."
DHS' visa requirements and its inability to manage them smartly have lately been bedeviling tourists, students, and guest workers, as previously reported in January 2022 and November 2021 by Fiona Harrigan here at Reason.