More Cracks in the FTC's Aggressive Antitrust Plans, as Court Refuses To Ban Meta From Buying V.R. Fitness App
Plus: Trump teases new avenues of authoritarianism, interest rates raised again, and more...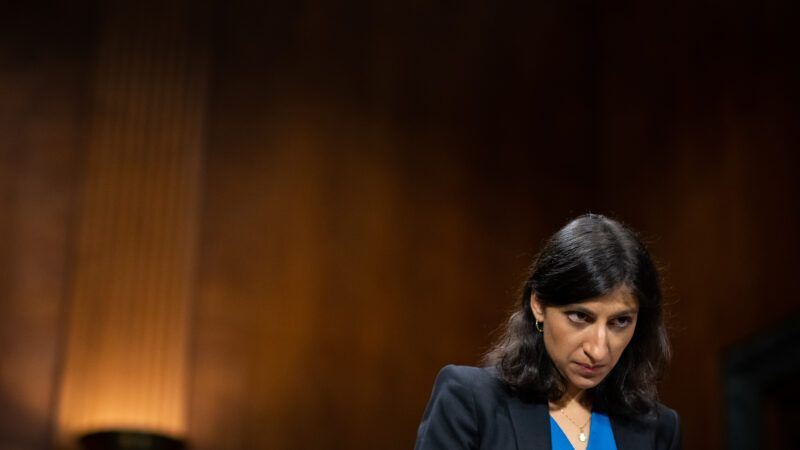 (Graeme Sloan/Sipa USA/Newscom)
Meta's bid to buy the virtual reality (V.R.) company Within Unlimited may proceed, a federal judge says—notwithstanding the objections of the Federal Trade Commission (FTC).
Meta—the parent company of Facebook, Instagram, and WhatsApp—has been betting big on V.R. with the launch of its "Metaverse." Within Unlimited fits into that plan because of its popular V.R. fitness app Supernatural. But the FTC objected to this purchase, calling it an illegal acquisition.
If Meta wants a virtual reality fitness app, it should develop its own, the FTC said. Buying an existing app "would eliminate the prospect of such entry, dampening future innovation and competitive rivalry," in violation of U.S. antitrust law.
It was a very silly argument, albeit one very much in line with the antitrust philosophy of the Biden administration and FTC Chair Lina Khan. Both have taken an aggressive stance toward antitrust action in general—conceiving of it as a way to cut big businesses down to size, rather than merely protect consumer welfare—and particularly antitrust action against Big Tech companies.
So, the FTC sued to stop Meta from acquiring Within Unlimited. And far from merely determining whether Meta could buy the Supernatural app or must develop its own V.R. fitness platform, the case also served as something of a test case for a contentious Khan FTC proposition.
The case tests "the FTC's argument that potential future concentration in the still-developing market for virtual reality fitness applications is enough to stall the merger of Meta and Within," noted Max Gulker, senior policy analyst at Reason Foundation, the nonprofit that publishes Reason, in December:
[Khan] and others belonging to the New Brandeisian school of antitrust advocate a more aggressive stance toward mergers than has been seen in decades. This advocacy is making the FTC's case against Meta a case to watch as it may offer a preview of the FTC's new strategy, as well as its potential success in court….

A large tech company acquiring a niche startup in a nascent, fast-developing market is not an unusual event. Along with fitting Meta's strategy, startups like Within often consider such buyouts successful outcomes of their entrepreneurial ventures.

The Federal Trade Commission's July 2022 announcement that it was blocking the acquisition reflects the more aggressive antitrust approach Khan is taking.
Yesterday's decision, from U.S. District Judge Edward Davila, strikes a blow against the Khan approach.
Davila declined to issue an injunction against the acquisition, reports The Wall Street Journal. As of now, the decision is still under seal.
This isn't the end of the battle, however.
"The FTC could continue to try to block the deal through a separate lawsuit filed in its in-house administrative court, where a trial is scheduled to begin on Feb. 13," the Journal points out. "But antitrust enforcers have in the past often abandoned such administrative litigation once a federal judge denies the request for an injunction."
An FTC lawsuit against Meta's alleged "monopoly" on social media services is still ongoing as well.
---
FREE MINDS
Trump is teasing out new avenues of authoritarianism. The former president and 2024 presidential candidate's education plan would give the federal government even more control over what can be taught in schools around the country. His plans include treating what he calls "the Marxism being preached in our schools" (a.k.a. anything Trumpian conservatives don't like) as both a violation of the separation between church and state and a violation of freedom of religion. In a video speech last week, Trump also pledged to create a "new credentialing body" for teachers who "embrace patriotic values," and said he would cut federal funding for schools or education programs that push "critical race theory, gender ideology, or other inappropriate racial, sexual, or political content onto our children"—vague terms that can also mean whatever people in power want them to mean.

In a new video this week, Trump said that "as part of our new credentialing body for teachers, we will promote positive education about the nuclear family, the roles of mothers and fathers," and sex differences. He vowed to ban transgender student athletes anywhere in the country from playing on sports teams that correspond with their gender identity, and pledged to sic the Department of Justice on teachers who talk to kids about being transgender ("they will be faced with severe consequences, including potential civil rights violations").
Trump said he would "ask Congress to pass a bill establishing that the only genders recognized by the United States government are male and female, and they are assigned at birth." He also vowed to cut hospitals or health care providers from Medicare and Medicaid eligibility if they allow any sort of gender transition treatments (including things like puberty blockers or hormone treatments) for minors, and said he would create a private right of action for people to sue doctors who do so.
Trump's promises are part of a larger Republican strategy for 2024 that Axios describes as a "'Protect the children' platform," which centers on "aggressively target[ing] school policies on gender identity and how racial issues are taught."
---
FREE MARKETS
Interest rates raised again. "The Federal Reserve on Wednesday raised its benchmark interest rate by a quarter percentage point and gave little indication it is nearing the end of this hiking cycle," notes CNBC:
Aligning with market expectations, the rate-setting Federal Open Market Committee boosted the federal funds rate by 0.25 percentage point. That takes it to a target range of 4.5%-4.75%, the highest since October 2007.

The move marked the eighth increase in a process that began in March 2022. By itself, the funds rate sets what banks charge each other for overnight borrowing, but it also spills through to many consumer debt products.
---
QUICK HITS
Ben Crump announces at Tyre Nichols' funeral that Rep. Shelia Jackson Lee intends to re-introduce to Congress a new version of the George Floyd Justice in Policing Act that includes the Tyre Nichols Duty to Intervene Act

— Wesley (@WesleyLowery) February 1, 2023
• Did Florida Gov. Ron DeSantis really just change the A.P. African American Studies curriculum?
• Friends of self-proclaimed sex trafficking survivor and right-wing darling Eliza Bleu say she's lying about key elements of her story.
• Southwest and the Federal Aviation Administration (FAA) both royally screwed up holiday travel. Southwest has already lost hundreds of millions of dollars. But what about the FAA?
• Stripper Web, a longtime web forum for exotic dancers, is mysteriously shutting down.
• Ross Douthat examines the roots and meaning of "spiritual experience" untethered to religion.
• Atlanta is charging nonviolent protesters as terrorists.