Oklahoma Is Going to Execute a Plausibly Innocent Man Today
Despite significant doubts about Richard Glossip's guilt, Oklahoma is moving forward with its plan to execute him Wednesday afternoon.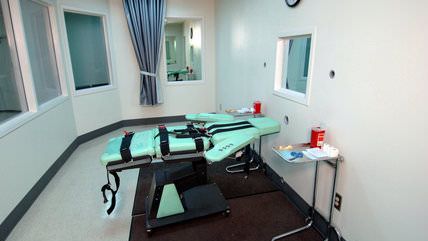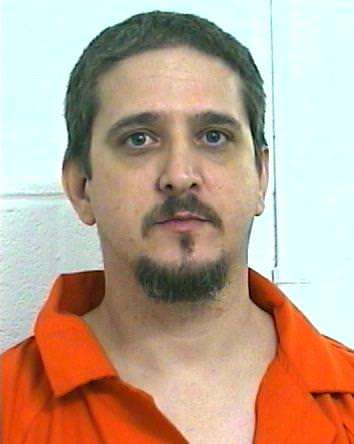 At 3 p.m. Wednesday, Oklahoma will administer a lethal cocktail of drugs into the arm of Richard Glossip, a man who is likely innocent of the crime he was condemned for. A number of well known figures and celebrities, including Susan Sarandon (who appeared on Dr. Phil to talk about Glossip's case), former University of Oklahoma football coach Barry Switzer, and Sen. Tom Coburn (R-Okla.), have publicly pleaded with Gov. Mary Fallin to spare Glossip's life.
Some brief history: Glossip was tried twice, convicted, and sentenced to death for the 1997 murder of his boss, motel owner Barry Van Treese. The state argued that it was a murder for hire, committed by 19-year-old Justin Sneed at the behest of Glossip. Sneed, also an employee of the hotel, admitted to beating Van Treese to death with a baseball bat, but claimed Glossip ordered him to do it in exchange for money and the opportunity to manage one of Van Treese's motels.
However, there was no corroborating evidence tying Glossip to the crime—no fingerprints, no DNA, nothing. He was convicted and sentenced to death based upon the testimony of Sneed alone. What's worse, there's video evidence, which Glossip's lawyer failed to introduce to the court and therefore the jury never saw, that shows Detective Bob Bemo pushing Sneed to implicate Glossip. In exchange for this testimony, Sneed was able to avoid the death penalty.
Liliana Segura and Jordan Smith at The Intercept summarized what's on the tape:
"Had members of the jury watched the tape, they would have heard [Detective] Bemo tell Sneed that before he decided whether or not to waive his rights and talk to the cops, he should consider the situation. "Before you make your mind up on anything," Bemo cautioned him, "I want you to hear some of the things that we've got to say to you."

Sneed was read his rights, and then Bemo leaned in: "We know this involves more than just you, okay?" Sneed told Bemo that he didn't "really know what to say about" what happened to Van Treese. Well, Bemo said, "everybody is saying you're the one that did this and you did it by yourself and I don't believe that. You know Rich is under arrest, don't you?" No, Sneed said, he didn't know that. "So he's the one," Bemo replied. "He's putting it on you the worst."

If Sneed didn't want to talk about the involvement of anyone else, Bemo said he would be happy to walk Sneed into the jail and book him for Van Treese's murder, "and you would be facing this thing on your own," Bemo said. "And I don't think it's just you."

Sneed obliged, confessing to the murder and blaming Glossip for it."
Even Justin Sneed's daughter, O'Ryan Justine Sneed, wrote a letter to the Oklahoma Pardon and Parole Board last year saying she believed her dad's conscience was eating at him and that he had begun to consider recanting his testimony. She asked the board to spare Glossip's life.
So why is this man, whose guilt has now been brought into question, still facing execution Wednesday? Because Glossip has exhausted all of his appeals. Since he was convicted and his sentence upheld multiple times, the burden of proof shifts from guilt to innocence. Before his conviction, the burden of proof was on the state—it had to prove that Glossip was guilty of hiring Sneed to murder Van Treese. Now, the burden of proof has shifted to Glossip; he must now show "actual innocence," which is a much higher bar to reach than "reasonable doubt" of guilt.
Unless Glossip's lawyers are able to find a piece of evidence that proves Glossip's "actual innocence," it is likely that Oklahoma will kill him Wednesday at 3 p.m.
There are two other possible means in which Glossip's execution may be halted tomorrow, both of which seem very unlikely. First, the U.S. Supreme Court could intervene on the basis of innocence, which seems unlikely since his lawyers do not have evidence that proves his actual innocence.
His very last hope is to have his death sentence commuted to life in prison by Gov. Mary Fallin. However, she's already indicated she will not be exercising that executive power. The likelihood of this happening decreased further Tuesday evening when Falin rejected Glossip's request for a stay of execution and issued this statement.
Glossip's case will not be the first time a man has been executed for a crime he likely did not commit. In 2004, Texas executed Cameron Todd Willingham for setting fire to his home and killing his three daughters—a fire scientists say was started accidentally by a faulty electrical wire in the attic. There's also the case of Carlos DeLuna, executed by the state of Texas in 1989 for a crime many believe was committed by a similar looking man from a nearby neighborhood.
Many convictions that have resulted in death sentences have relied, at least in part, on witness testimony, or "snitch" testimony. In 2005, the Northwestern Law School's Center on Wrongful Convictions found that false testimony was the leading cause of known wrongful convictions in death penalty cases. False testimony was used in nearly half of all death row exonerations at that time.
So, this is our justice system in 2015, folks. Despite all we know about wrongful convictions, and the fact that a likely innocent person has been put to death before, we still require a person who is about to be murdered by the state to prove his innocence, not just reasonable doubt of guilt. States are so eager to administer the highest form of punishment—death—that they're willing to rely on the shoddiest of evidence and overlook even the most glaring examples of possible innocence to get the job done.
*Updated Wednesday, September 16, at 1:15 p.m.: The Oklahoma Court of Criminal Appeals issued an emergency stay of execution just four hours before Glossip was scheduled to be executed in order "to give fair consideration to the materials included in his subsequent application for post-conviction relief […]". The full court order can be read here. His execution has been rescheduled to September 30, 2015.