FDA OKs Abortion Pills at Retail Pharmacies
Plus: House speaker still uncertain, teacher's MAGA hat protected by the First Amendment, and more...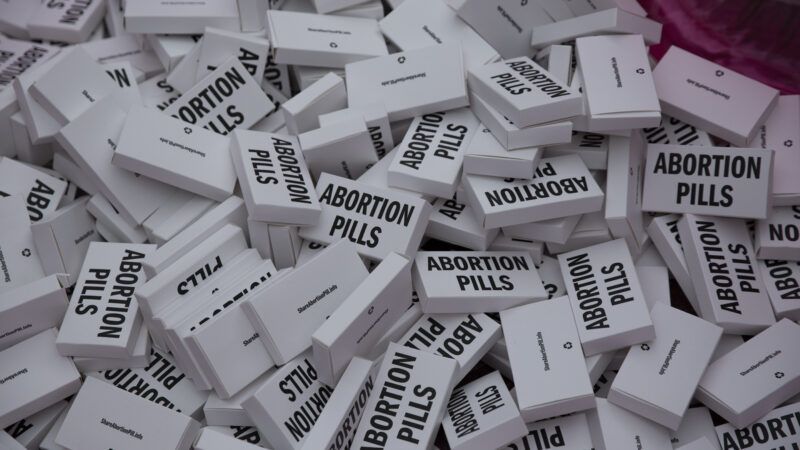 (Gina M Randazzo/ZUMAPRESS/Newscom)
The Food and Drug Administration (FDA) on Tuesday paved the way for retail pharmacies to dispense abortion pills. Previous requirements said that mifepristone—part of the two-drug regimen approved in the U.S. to induce abortion—could only be dispensed at a specially certified health care provider's office or, in recent years, via mail-order pharmacies.
An FDA policy change in 2021 removed this in-person requirement and said pharmacies could dispense the drug if they were certified. But the agency did not then put in place a process for actually certifying pharmacies to do so.
As of January 3, the pharmacy certification process is in place. Patients will still need a prescription to access abortion medication. But they could have a much wider range of options for filling that prescription—something that could make a big difference to people in rural or remote areas or those who (for privacy or other reasons) do not want to obtain the drugs by mail.
Overall, the policy change paves the way for greater access to what is known as "medical abortion"—that is, abortion induced through drugs, not via surgical procedures. And it's part of a spate of recent actions expanding access to abortion drugs.
In July 2020, a federal court said that an FDA requirement that abortion pills be prescribed and dispensed in person at a certified doctor's office, hospital, or clinic presented a "substantial obstacle" during the pandemic and was likely unconstitutional. It blocked enforcement of the in-person rule for 30 days after the U.S. Department of Health and Human Services declared the public health emergency over.
This ruling paved the way for telemedicine prescription of abortion drugs fulfilled through mail-order pharmacies.
The Trump administration appealed that decision. But as the legal battle over it continued, the FDA in 2021 first said it would pause enforcement of the in-person requirement and then that it would permanently alter the rules.
Of course, some states responded to the loosening of these rules by imposing their own new burdens on obtaining abortion drugs. And that's only increased since the Supreme Court overturned Roe v. Wade and upended abortion law last year. But remote prescription of abortion pills coupled with expanded options for actually obtaining the drugs makes it much easier for women in states that ban or restrict abortion to access them.
"Tuesday's action is a result of an agreement between the F.D.A. and the companies that make the pills," notes The New York Times:
The agreement was worked out in negotiations that took about a year and considered issues such as whether to allow pharmacies to offer the pills in stores or only via mail order and how to keep the identity of prescribing doctors confidential to protect their privacy and safety, according to people familiar with the discussions.
It's still unclear whether pharmacy and drugstore chains will opt to offer mifepristone.  Misoprostol, the second drug in the medical abortion regimen, is used for many other purposes and already available at most pharmacies. The decision to offer mifepristone is politically charged and could result in anger and protests either way.
---
FOLLOW-UP
House speaker still uncertain. Through three rounds of voting yesterday, California Rep. Kevin McCarthy, ranking Republican in the House of Representatives, failed to gain enough votes to become the next speaker of the House. To become the next speaker, McCarthy needs a majority of the House to vote for him. That's 218 votes if all members are present and voting. And since Democrats aren't likely to vote for him anytime soon, that means McCarthy needs most of the 222 House Republicans to go his way. But more than a dozen Republicans instead rallied around the likes of Reps. Andy Biggs (Ariz.), Jim Jordan (Ohio), and others. Lawmakers will be back to voting again today.
---
FREE MINDS
Teacher's MAGA hat protected by the First Amendment. Evergreen Public Schools science teacher Eric Dodge was allegedly reprimanded for bringing a MAGA hat to a cultural sensitivity training session. Dodge sued, claiming retaliation, and a federal district court sided with Evergreen. But the 9th Circuit Court of Appeals just handed a win to Dodge, saying that in wearing the hat he "was engaged in speech protected by the First Amendment." The 9th Circuit said Dodge deserved a retrial in district court to consider whether the school's principal had engaged in illegal retaliation against him, while clearing the district and the district's chief human resources officer of any wrongdoing.
---
FREE MARKETS
TikTok's dark future. The tech newsletter Platformer considers the future of TikTok, saying it has "never been so cloudy." TikTok parent company ByteDance recently admitted that an internal audit team had tracked the location of Forbes journalists reporting on the company to try and determine who their inside sources were. "It's difficult to overstate the degree to which the TikTok spying scandal has undermined the goodwill the company spent the past few years cultivating through its transparency centers, public research APIs, and similar industry-leading measures," writes Platformer's Casey Newton.
TikTok executives have condemned the audit team's moves. "I was deeply disappointed when I was notified of the situation," ByteDance CEO Rubo Liang wrote in an internal email viewed by Forbes. In an email to Platformer, the company said:
The misconduct of certain individuals, who are no longer employed at ByteDance, was an egregious misuse of their authority to obtain access to user data. This misbehavior is unacceptable, and not in line with our efforts across TikTok to earn the trust of our users. We take data security incredibly seriously, and we will continue to enhance our access protocols, which have already been significantly improved and hardened since this incident took place.
But at a time when both Republicans and Democrats want to ban TikTok, the "misconduct of a few individuals" could cost the whole company—and the many Americans who enjoy the video-sharing app, too.
---
QUICK HITS
• "Microsoft is preparing to launch a version of its Bing search engine that uses the artificial intelligence behind ChatGPT to answer some search queries rather than just showing a list of links," according to The Information.
• Hallucinogen legalization begins in Oregon this week—but that doesn't mean Oregonians can just take mushrooms legally wherever they want. "Measure 109, as it's called, authorized the creation of psilocybin service centers where anyone over 21 can consume the mushrooms in a supervised setting," notes The New York Times. "One key requirement is that a state-certified facilitator must be present during drug-induced journeys" and "a single session is likely to cost hundreds, if not thousands, of dollars."
• Twitter will once again allow political ads after banning them in 2019.
We believe that cause-based advertising can facilitate public conversation around important topics. Today, we're relaxing our ads policy for cause-based ads in the US. We also plan to expand the political advertising we permit in the coming weeks.

— Twitter Safety (@TwitterSafety) January 3, 2023
• "Millennials are roughly equal in wealth per capita to Baby Boomers and Gen X at the same age," according to University of Central Arkansas economist Jeremy Horpedahl.
• Population growth still isn't a problem, but anti-immigrant groups still think it is, writes Reason's Fiona Harrigan.
• How a federal adoption law is leading states to prematurely separate families.
• The New Republic looks at extended-state DMT "psychonauts": "Advocates of extended-state [DMT] programs want to know whether these experiences illuminate a new corner of the mind, even another dimension—or whether users are just getting really high."