Biden Administration To Protect Afghans in the U.S. From Deportation
Those already in the U.S. as of March 15 may also work legally for the next 18 months.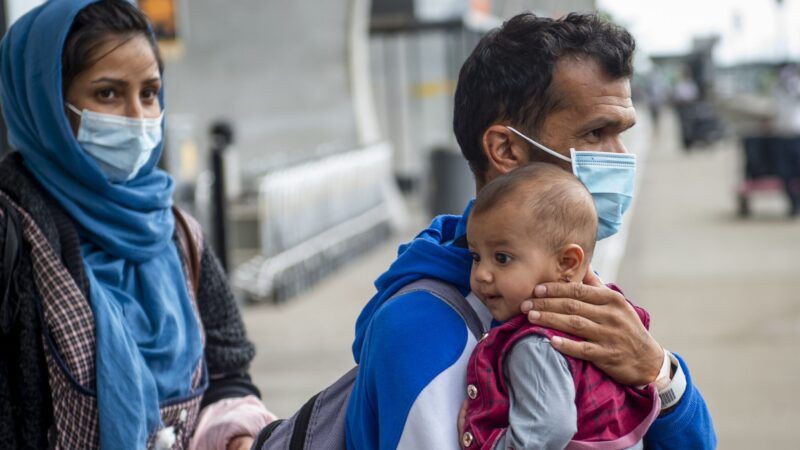 (CNP/AdMedia/SIPA/Newscom)
The Department of Homeland Security (DHS) announced today that Afghans in the United States are now eligible for temporary protected status (TPS), an immigration protection that shields people from deportation and allows them to work in the U.S. legally for the next 18 months.
"This TPS designation will help to protect Afghan nationals who have already been living in the United States from returning to unsafe conditions," said Homeland Security Secretary Alejandro Mayorkas. "Under this designation, TPS will also provide additional protections and assurances to trusted partners and vulnerable Afghans who supported the U.S. military, diplomatic, and humanitarian missions in Afghanistan over the last 20 years."
The designation pertains most directly to the 76,000 Afghans who were resettled in the U.S. after the American military withdrawal from Afghanistan last year. They entered the country under parole, a temporary classification that does not involve a pathway to citizenship or permanent residency. Though TPS is also a temporary designation, it prevents deportation in the event that an asylum claim is rejected.
The DHS may designate a country for TPS if it is facing conditions "that temporarily prevent the country's nationals from returning safely, or in certain circumstances, where the country is unable to handle the return of its nationals adequately." Grounds for a TPS designation may involve "ongoing armed conflict," "an environmental disaster," or "other extraordinary and temporary conditions." TPS is limited to Afghans who were already in the U.S. as of March 15, and those convicted of certain crimes are ineligible.
The situation in Afghanistan has deteriorated drastically since the country fell to the Taliban in August 2021. Women are barred from pursuing higher education and careers, food insecurity and malnutrition threaten millions, and the country is on the brink of economic collapse. Afghans who assisted U.S. troops as interpreters, engineers, and in other key roles have always been at unique risk of Taliban persecution—something Mayorkas rightly stressed in the TPS announcement.
It's great news that the Biden administration is taking steps to protect Afghans from deportation to their ailing country, but it's unclear why it took until now for officials to offer the TPS designation. Immigration advocates have been pressuring the administration to do so since the country fell to the Taliban. The Hill reported last month that Biden was weighing the designation for Afghans, along with several other countries. And earlier this month, Mayorkas added Ukraine to the list of TPS-eligible countries.
Many politicians and immigration advocacy groups will now set their sights on securing a pathway to lawful permanent residence and citizenship for resettled Afghans. Roughly half of all evacuees do not have a clear legal pathway to permanent residency, leaving their future in the U.S. ambiguous unless Congress acts or they receive asylum. While the TPS designation is an important recognition that Afghans could face harm if forced to return home, more must be done to protect their ability to live in the U.S.