Biden Administration To Protect Ukrainians in the U.S. From Deportation
But more still needs to be done to address the refugee crisis mounting in Eastern Europe.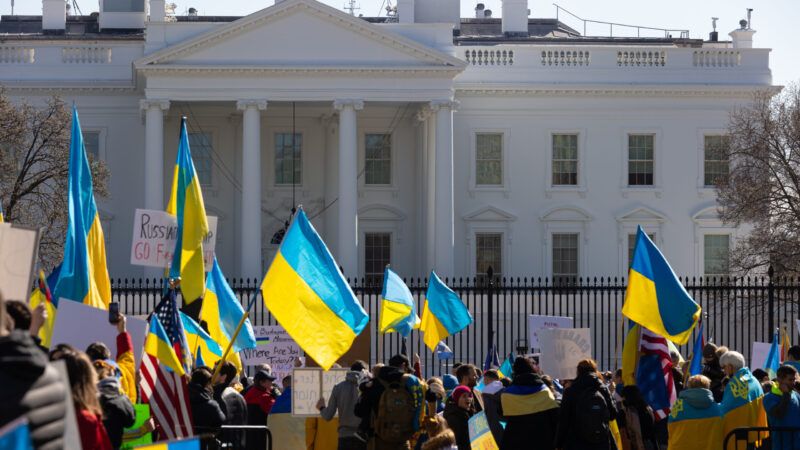 (Aurora Samperio/ZUMAPRESS/Newscom)
The Department of Homeland Security (DHS) announced yesterday that it would designate Ukraine for temporary protected status (TPS). The designation, which is active for the next 18 months, will prevent Ukrainian nationals from being deported back to Ukraine. Ukrainian TPS recipients may also obtain employment authorization in the United States.
"Russia's premeditated and unprovoked attack on Ukraine has resulted in an ongoing war, senseless violence, and Ukrainians forced to seek refuge in other countries," said DHS Secretary Alejandro Mayorkas. "In these extraordinary times, we will continue to offer our support and protection to Ukrainian nationals in the United States."
Some 4,000 Ukrainians are facing deportation proceedings, nearly 3,000 of whom are asylum seekers, according to Syracuse University researchers. The Migration Policy Institute estimates that 30,000 Ukrainians are residing in the United States on temporary visas or without legal status, though DHS officials note that as many as 75,000 people may be eligible to apply for TPS. Ukrainians eligible for TPS must have been in the U.S. continuously since March 1 of this year.
The Ukrainians who are eligible for TPS are highly educated and already largely involved in the American work force. "The potentially TPS eligible population of Ukrainians is highly educated compared with the overall population of the United States," wrote the American Immigration Council (AIC) in a fact sheet. "While about one-third of all foreign-born (32.7 percent) and U.S.-born Americans (33.1 percent) hold at least a bachelor's degree, about one-half (49.6 percent) of Ukrainians who could benefit from TPS hold at least a bachelor's degree." The AIC also noted that nearly three-quarters of potential TPS recipients are active in the labor force, and of those active, 97.1 percent are employed.
Yesterday's TPS designation, while welcome, leaves many questions unanswered when it comes to immigration relief for Ukrainians. Those who arrive in the U.S. after March 1 will not be eligible for TPS and will be at risk of deportation. And the designation only applies to Ukrainians already on American soil, with no efficient pathway available to Ukrainian refugees hoping to come here from Europe. One million Ukrainians have now fled their country, and there is no clear path for them to come here thanks to limited immigration opportunities, backlogs in application processing, and a lack of guidance from the Biden administration.
At the very least, TPS for Ukrainians and the Biden administration's decision to suspend deportation flights to Ukraine, Russia, and seven neighboring nations mean that the U.S. is providing a degree of relief to the Ukrainians living here. More still needs to be done to address the refugee crisis mounting in Eastern Europe.