Compassionate Releases of Federal Prisoners Surged During the Pandemic
The record number of reduced sentences still represented a tiny share of the federal prison population.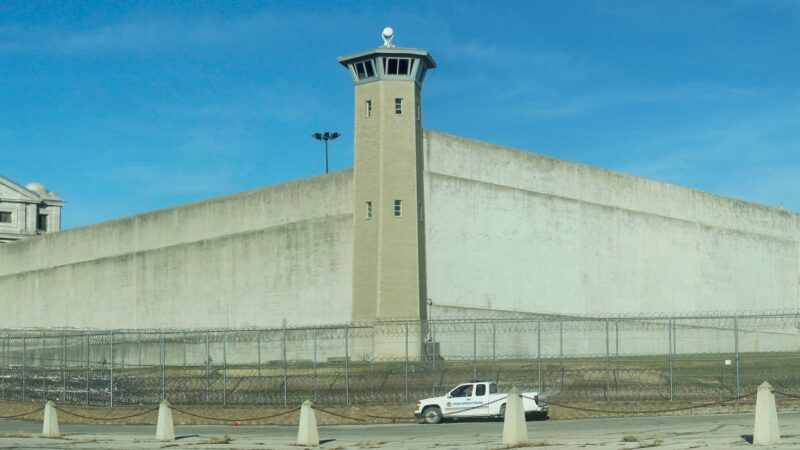 A new report from the U.S. Sentencing Commission (USSC) shows that "compassionate release" of federal prisoners rose dramatically in 2020, mainly because the COVID-19 pandemic provided a compelling reason to free offenders whose age or medical condition made them especially likely to die from the disease. In fiscal year 2020 (October 2019 through September 2020), 1,805 prisoners were granted compassionate release, more than 12 times the number in 2019. Nearly all of that increase happened in the second half of the fiscal year as the coronavirus spread and presented a growing threat to vulnerable prisoners.
One of those prisoners was Atilano Dominguez, who had served 27 years of a life sentence for marijuana offenses. As Reason's C.J. Ciaramella reported in 2020, Dominguez was 80 years old and "mostly confined to a wheelchair due to advanced arthritis in both knees." Yet federal prosecutors argued that he "was a recidivism risk and that his life sentence was imposed with the knowledge that he could die of any number of illnesses in prison." As they saw it, COVID-19 was just "one more way to perish in prison." U.S. District Judge Donald Graham rejected that argument and ordered Dominguez's release on September 22, 2020, shortly before a nationwide surge in coronavirus cases.
Federal law allows courts to reduce a prisoner's sentence for "extraordinary and compelling reasons" or if the prisoner is at least 70 years old and has served at least 30 years of his sentence, provided the Bureau of Prisons determines he is "not a danger to the safety of any other person or the community." Prior to the FIRST STEP Act, the package of criminal justice reforms that Congress enacted in 2018, judges could reduce a sentence only in response to a motion from the Bureau of Prisons. The FIRST STEP Act allowed prisoners to file motions directly after they have "fully exhausted" administrative appeals.
That change had an immediate impact. Although the number of compassionate releases granted in 2019 (145) was tiny in the context of a system that incarcerates more than 150,000 people, it was still five times the number in FY 2018. The pandemic led to a surge in motions from prisoners who worried that they might die from COVID-19 contracted in the crowded conditions of their confinement. Courts received more than 7,000 motions, 96 percent of which were filed by the prisoners themselves, and granted a quarter of them. Judges cited the risks posed by COVID-19 as a reason for granting relief in 72 percent of those cases.
On average, prisoners granted relief had served 80 months (6.7 years) and half of their sentences. The success rate was 57 percent for prisoners who had been sentenced to a year or less, 20 percent for prisoners with sentences between 120 and 240 months, and 30 percent for those who had been sentenced to 20 years or more. The average reduction was about five years, which on average amounted to 43 percent of the original sentence.
Age is one of the factors that can qualify a prisoner for compassionate release, and that consideration became especially important during the pandemic, since the COVID-19 infection fatality rate rises sharply with age. The average age of prisoners granted relief was 52, compared to 45 for those whose motions were denied. Older prisoners like Dominguez were more likely to seek shorter sentences and more likely to receive them. Inmates 75 or older, for example, represented just 0.4 percent of the federal prison population but accounted for 2 percent of motions, 62 percent of which were granted. Inmates older than 44 but younger than 55, by contrast, accounted for 22 percent of all prisoners and 25 percent of motions, which were granted 28 percent of the time.
Inmates convicted of drug offenses, who represent 45 percent of the federal prison population, accounted for 52 percent of those granted relief and 50 percent of those whose motions were denied. The next most common category was firearm offenses, which accounted for 12 percent of motions and 13 percent of early releases. In other words, nearly two-thirds of the prisoners whose sentences were shortened had been convicted of crimes, such as drug dealing or illegal gun possession, that did not necessarily involve any identifiable victims.
Guidelines from the sentencing commission say "extraordinary and compelling reasons" can include a "serious physical or medical condition," a "serious functional or cognitive impairment," or "deteriorating physical or mental health because
of the aging process" that "substantially diminishes the ability of the defendant to provide self-care within the environment of a correctional facility and from which he or she is not expected to recover." The guidelines also mention the prisoner's age as a potential factor, provided he is at least 65, "experiencing a serious deterioration in physical or mental health because of the aging process," and has served either 10 years or 75 percent of his original sentence.
Another consideration is "family circumstances," including "death or incapacitation of the caregiver of the defendant's minor child" or "the incapacitation of the defendant's spouse or registered partner" when the defendant is the only available caregiver. The guidelines say other factors can be considered if the Bureau of Prisons deems them "extraordinary and compelling."
COVID-19 risks, which figured in nearly three-quarters of compassionate releases, were far and away the reason most commonly cited for granting prisoners relief. Courts mentioned terminal illness in 4 percent of the cases and other medical conditions in 11 percent. Age and rehabilitation each were mentioned in less than 3 percent of compassionate releases, while "family circumstances" were cited about 2 percent of the time. In 3 percent of cases, judges cited sentence-related reasons, most commonly based on the concern that the prisoner's sentence would have been shorter under subsequently enacted reforms that were not retroactive.
The most common reason for denying relief was failure to demonstrate an "extraordinary and compelling" reason, which courts cited two-thirds of the time. Failure to exhaust administrative remedies, cited in a third of cases, was the next most common reason. Notably, "danger to the public" was cited less than a quarter of the time, which makes you wonder about the public safety rationale for keeping most of these prisoners behind bars.
The ages of many federal prisoners cast further doubt on that rationale, since recidivism declines sharply with age. According to a 2017 USSC report, about 65 percent of federal prisoners who were younger than 30 upon release were rearrested within eight years. The rearrest rate for prisoners who were 60 or older when they were released was about 16 percent, one quarter as high. Furthermore, the younger offenders were most commonly arrested for assault after release, while the older ones were most commonly arrested for "public order offenses" such as probation violations.
Reconviction rates were likewise strongly correlated with age: about 48 percent for offenders who were younger than 25 when they were released, for example, vs. 22 percent for 45- to 49-year-olds, 16 percent for 50- to 54-year-olds, 12 percent for 55- to 59-year-olds, 11 percent for 60- to 64-year-olds, and less than 7 percent for those who were 65 or older.
Since the average age of the prisoners who were denied compassionate release was 45, many of them fell into those relatively low-risk age groups. Overall, according to the new USSC report, more than a third of federal prisoners are 45 or older. And keep in mind that drug offenders, who may be guilty of nothing more than engaging in peaceful transactions that the government has arbitrarily proscribed, account for nearly half of the federal prison population.
The number of compassionate releases in 2020 was anomalously high because of the pandemic. "After the study period ended," the USSC notes, "the number of
offenders granted compassionate release substantially decreased." Yet the 1,805 people who were granted compassionate release in 2020 represented just 1 percent of the federal prison population. Congress, which sets federal penalties, and President Joe Biden, who has the power to free any prisoner whose punishment he deems unjust and promised to "broadly use" that power but has not used it at all yet, might want to consider the possibility that there is room for a bit more compassion.