Libertarian Candidate Faces Uphill Ballot Battle To Challenge Marjorie Taylor Greene
Before she can make her case to the voters, Angela Pence has to collect signatures that she would not need if she were a Democrat or a Republican.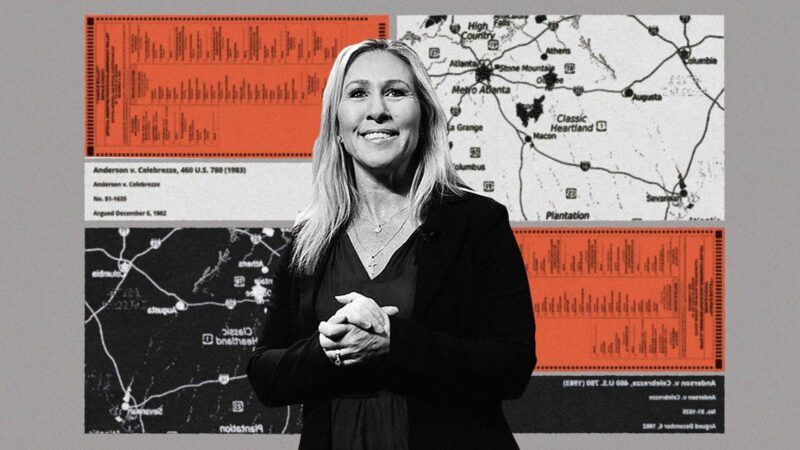 (Illustration: Lex Villena; Gage Skidmore, Peter Fitzgerald)
After finding herself unable to support either Donald Trump or Hillary Clinton for president in 2016, Angela Pence (no relation to the former vice president) started looking outside the confines of either Republican or Democratic politics. That led her to the Libertarian Party (L.P.). In 2020, she started volunteering for Jo Jorgensen's campaign and serving as political director for the Georgia L.P.
For the 2022 election cycle, Pence decided to throw her own hat into the ring, by running against Republican Marjorie Taylor Greene in the race to represent Georgia's 14th Congressional District in the House of Representatives. Greene, in just a single term, has garnered a reputation as a kook, spreading outlandish conspiracy theories ranging from defending QAnon, to suggesting that California wildfires were intentionally caused by lasers from outer space. Just last month, Greene appeared as a speaker at a white nationalist political conference. There would seem to be plenty of room for a competitor.
But before someone like Pence can make her case to voters, she has to clear another hurdle: Georgia's ballot access laws.
Georgia's laws are quite onerous: To qualify for the ballot in a race for a districted position, a candidate needs to collect the signatures of 5 percent of all registered voters in their district—for the U.S. House, that means between 20,000 and 25,000 signatures. Conveniently, the two major parties are exempt from this rule, by virtue of having been on the ballot previously.
The law was initially passed in 1943, at a time when the state was also barring Communists from running for office. Perhaps not surprisingly, since 1943, not one single third-party candidate has made it onto the ballot for a districted race in Georgia. Last year, on a challenge from the Georgia L.P., a district court tossed the 5-percent rule, replacing it with a rule only requiring signatures from one-percent of registered voters. But earlier this year, the 11th Circuit Court of Appeals reinstated the requirement.
Ryan Graham, chair of the Georgia L.P., tells Reason that the steep signature requirement handicaps the party's ability to "build the bench," recruiting candidates for local races who can gain political experience and potentially go on to higher office. Pence says that after the appeals court reinstated the 5-percent rule, at least five Georgia L.P. candidates for office dropped out, citing the difficulty in obtaining that many signatures.
Greene benefited from some good fortune in her initial run for Congress: After initially intending to campaign in the more competitive 6th Congressional District, the incumbent in the 14th retired, and Greene instead became the first candidate to sign up to run for his seat. Despite losing the state as a whole, former President Donald Trump won GA-14 by nearly 50 points. The less competitive a district is, the more likely it will attract fringe candidates like Greene. And Greene's Democratic opponent, Kevin Van Ausdal, moved out of state during the campaign but stayed on the ballot, allowing her to run functionally unopposed.
Now, Georgia's ballot access laws are performing a similar function. While it is possible that Greene could lose to a Republican primary challenger—and she faces several—Greene coasted to victory in the 2016 primary and took in an impressive amount of individual campaign contributions, even after already receiving criticism for anti-Semitic and Islamophobic comments. And with an electorate tilted so heavily to the right, any Democratic candidate faces little chance of success, especially against a well-funded incumbent with national name recognition. Pence realizes this. "A Democrat is never gonna win here," she says, while remaining hopeful that Republican voters, soured on Greene but unwilling to ever vote for a Democrat, will find her positions appealing.
But to get to that point, she has to jump through hoops that neither Greene nor her eventual Democratic opponent had to contend with. Ultimately, this unfairness impacts more than just libertarians: In Georgia, any potential alternative parties—the Green Party, the Constitution Party, Democratic Socialists of America, the still-extant Prohibition Party—face the same seemingly insurmountable task just to qualify. That disparity makes it that much more difficult for a fringe candidate in a safe seat like Greene to face a serious challenger.