Man Receives 3 Years in Federal Prison for Using COVID Relief Funds on a Pokémon Card
The punishment is a bit rich considering the government's own mishandling of pandemic cash.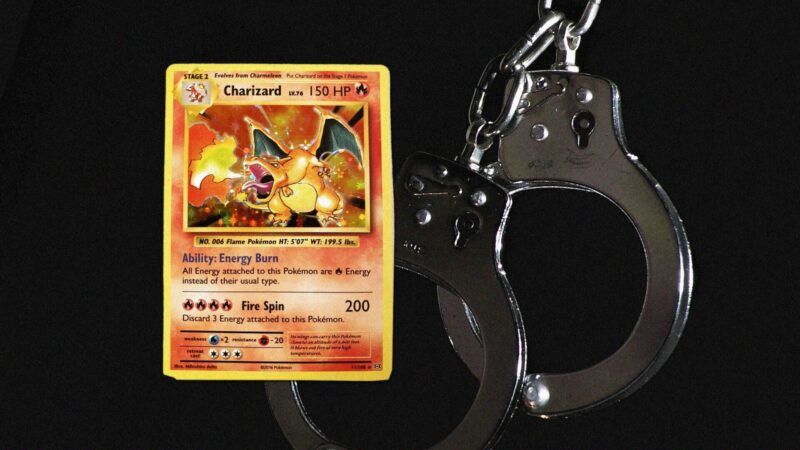 (Creative Commons; Siarhei Fedarenka | Dreamstime.com)
A Georgia man on Monday was sentenced to three years in federal prison and three years of supervised release, along with $85,000 in restitution and a $10,000 fine. His crime: using COVID-19 relief funds to buy a collectible Pokémon card.
It wasn't just any Pokémon card; it was a "Charizard," which is apparently quite the find—valued at $57,789.
In July 2020, Vinath Oudomsine applied for COVID-19 disaster relief funds to be disbursed through the Small Business Administration (SBA), claiming that the $85,000 he ultimately received would help bulk up his entertainment business hit hard by the pandemic. Instead, it went to Charizard.
"COVID-19 disaster relief loans are issued by the government to help businesses struggling to survive during a pandemic, not to use for trivial collectible items," said Philip Wislar, Acting Special Agent in Charge of FBI Atlanta, in a statement. "This sentence highlights the FBI's commitment to aggressively pursue anyone who would abuse taxpayer dollars and divert them from citizens who desperately need them."
That's a bit rich when considering the success rate of similar relief initiatives, like the Paycheck Protection Program, which was far more likely to legally fatten the pockets of business owners and shareholders than it was to actually help workers. And what about the COVID stimulus checks sent out in the summer of 2020? The government gave a whopping $1.4 billion to the deceased.
That's not to say that what Oudomsine did wasn't thoroughly immoral and plainly dumb. But a three-year stay in federal lock-up (where there is no parole) is absurdly harsh, particularly when considering that he already forfeited the card to law enforcement, that he will have to pay almost $100,000 in restitution and fines, and that the federal government also cannot be trusted to be adequate stewards of the same funds Oudomsine deceitfully pulled from.
"This was a stupid act for which he should be held accountable, but three years in prison is absolutely overkill," Kevin Ring, president of Families Against Mandatory Minimums, tells Reason. "A year is a long time. People don't get that. Three years for this after paying restitution and a fine? It only makes sense in a country like ours where we use prison so frequently, where that is the default punishment… It only makes sense because we're addicted to it."
President Joe Biden promised on the campaign trail to be a criminal justice reformer, to roll back mass incarceration, to be less punitive than he was during his many years in the legislature. Yet in his State of the Union address last week—which made no mention of criminal justice reform—Biden noted that he would be going hard after pandemic fraud. Kevin Chambers has already been appointed as chief prosecutor for those cases, which he says he'll be pursuing zealously. It's an apt reminder that much party-line talk about criminal justice reform is not based on principle, but on political expediency.