Man Suffers Heart Attack, Dies, After Being Cuffed For Cussing at Officer and Trying to Shut his Door
Cops in Caddo Parish, Louisiana, were searching for a theft suspect on the property who was not there when they arrested William Walls and caused his death.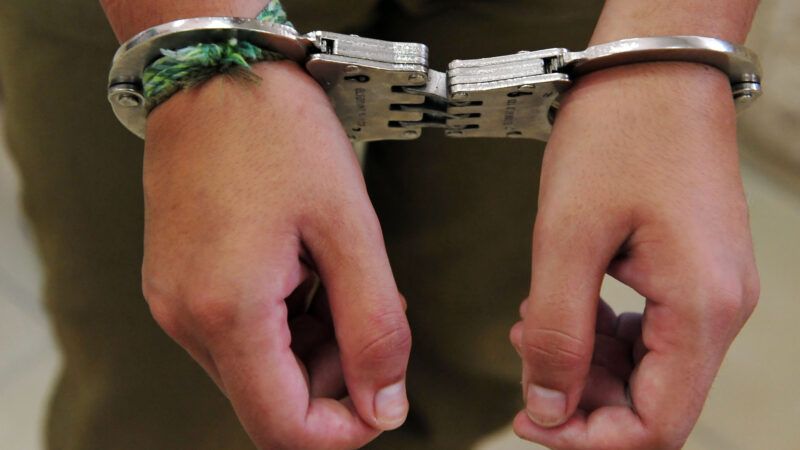 (: Rafael Ben-Ari/Chameleons Eye/Newscom)
Getting annoyed with police who had already searched and failed to find a theft suspect on his property led an innocent 68-year-old man to be cuffed and shoved in the back of a police car in March 2021, where he had a heart attack and later died at a hospital. The officers did attempt some basic CPR when they found him without an apparent pulse slumped over in the back of their car where they'd stored him.
Two sons of William Walls are suing the Caddo Parish Sheriff's Office in Louisiana (and two specific deputies) under 42 U.S. Code §1983, which holds government agencies and agents liable for "the deprivation of any rights, privileges, or immunities secured by the Constitution." That wrongful death lawsuit was shifted from state to federal court this week. An officer involved, Deputy Ryan Chapman, is also facing criminal charges for his role in Walls' death.
The officer had no warrant to enter Walls' specific residence, nor reasonable probable cause to have cuffed him and put him in the police car where he suffered his heart attack.
As can be seen in officer bodycam footage featured in a news segment on local TV news channel KTBS, Walls at first willingly allowed the police to search his mobile home to look for a theft suspect who had indeed spent the night on the larger property the night before in one of Walls' son's mobile homes. But the suspect was no longer on the property when the search that led to Walls' death happened.
Walls became annoyed the officers were still nosing around the larger property and came out of his mobile home offering them a phone, apparently so they could talk to one of his sons about the fugitive, and said they could then "get the fuck out of here."
As seen in the video, Walls was walking back into his own mobile home, doing nothing to obstruct the officers besides having asked them to leave, when they followed him in, pushed him against a bit of furniture, and cuffed him in his own home—his invitation for them to enter obviously rescinded by then.
At the time, as seen in the video, the reasons for Walls being cuffed and dragged out of his home were expressed by Chapman as "cuss[ing]" at him and "slam[ming a] door in his face." (As the video shows, Walls did not succeed in even shutting the door, which an officer had his hand on as he tried.) Given that they'd already searched the home, neither offense can be reasonably seen as criminal obstruction.
"I have not obstructed justice, sir," spoken quietly, were among Walls' last words.
While the officers insist he was a threat to their safety, that is not a conclusion a reasonable non-cop is likely to glean from the footage. Although an internal investigation (surprise) exonerated the officers, the Caddo Parish district attorney's office sent the case to a grand jury, where Chapman was indicted.
The indictment states Chapman faces "one count of malfeasance in office stemming from a March 18, 2021, in-custody death. The charge is a felony that carries up to five years with or without hard labor and a possible fine of up to $5,000."
In part of their lawsuit, the family stated "William E. Walls was a senior citizen who spent his entire life as a law-abiding citizen, and was trying to cooperate with law enforcement – until Deputy Chapman began acting unreasonably."
As always, and terrifyingly, even being completely innocent can be meaningless once a police officer crosses your path. The police's own procedures and investigatory powers seldom prevent or even punish unreasonable police behavior that causes harm and death.