Anthony Fauci Says It's 'Too Soon To Tell' Whether Christmas Parties Will Be Allowed
Overcautious health officials are living on another planet.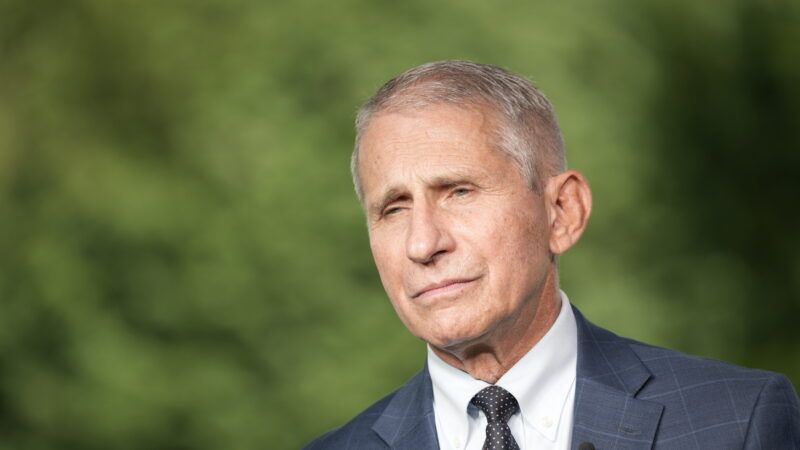 (Chris Kleponis - CNP/Newscom)
Anthony Fauci is not sure whether Christmas might have to be canceled yet again this year. On Sunday, the White House's top coronavirus adviser told CBS News host Margaret Brennan that it was "too soon to tell" whether Americans will receive the public health bureaucracy's permission to celebrate the holidays with friends and family members.
"We can gather for Christmas, or it's just too soon to tell?" Brennan asked.
"You know, Margaret, it's just too soon to tell," said Fauci. "We just got to concentrate on continuing to get those numbers down and not try to jump ahead by weeks or months and say what we're going to do at a particular time. Let's focus like a laser on continuing to get those cases down."
Margaret Brennan: "We can gather for Christmas, or it's just too soon to tell?"

Fauci: "You know, Margaret, it's just too soon to tell. We've just gotta concentrating on continuing to get those numbers down, & not try to jump ahead by weeks or months…"pic.twitter.com/535eSKq8aN

— Jerry Dunleavy (@JerryDunleavy) October 3, 2021
Here's another question for Fauci: What planet are you living on?
Many modelers now believe that we have surpassed the peak of the delta variant's wave, and expect that COVID-19 cases will fall precipitously in the coming weeks and months. That's great news: Widespread vaccination is working to counter delta's increased transmissibility while significantly decreasing severe disease and death.
But even if cases remain higher in the winter months than we are hoping for, it's simply not realistic to expect Americans to skip Christmas parties for another year in a row. Indeed, except for pockets of extreme restrictions and compliance—elite college campuses, for instance—many if not most Americans have already gone back to something resembling normal life. People are socially gathering, attending sports games and concerts, and traveling for leisure. Some individuals practice greater caution than others—the number of (presumably) vaccinated outdoor mask-wearers in Washington, D.C., is fairly high—but the country has opened up again. Parties are taking place right now, and this is not exactly a secret: America's social elites are practically flaunting their pandemic-is-over status.
Of course, there remains one group that is stubbornly scared of doing normal things: epidemiologists. Throughout the pandemic, infectious disease experts have urged their fellow Americans to avoid virtually all social contact; surveys of epidemiologists routinely reveal that they are afraid of many normal activities, even post-vaccination. As recently as May, most of them would have refused a hug.
According to a recent, informal poll of 27 health experts, they are still incredibly wary.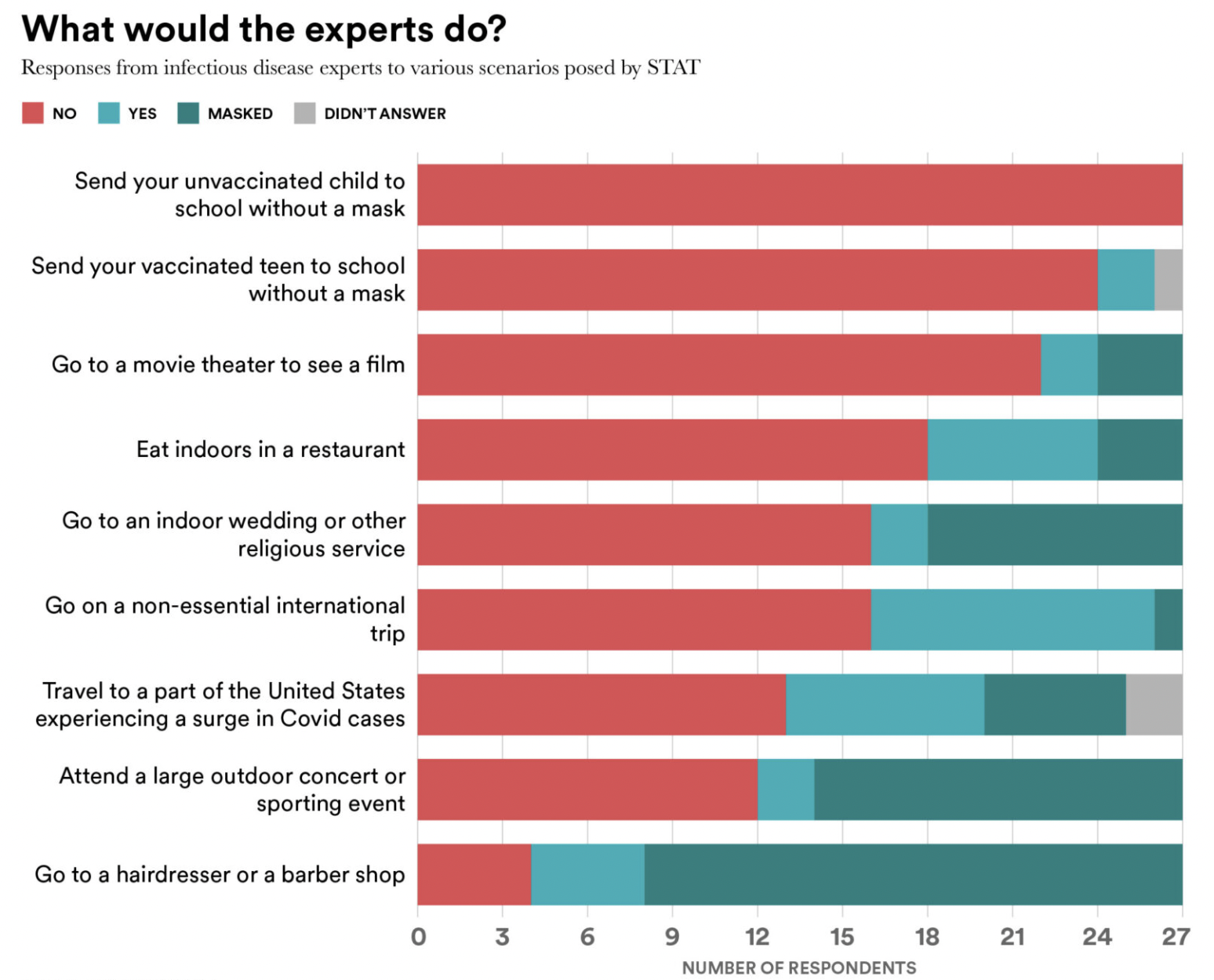 Of the 27 surveyed health experts—all of whom are presumably vaccinated—22 would refuse to see a movie, and 18 would decline to eat at an indoor restaurant. More than half would skip a wedding.
The experts can exercise whatever level of caution they deem appropriate for themselves. If Fauci would like to spend Christmas by himself, that is his right. But we should not allow the most risk-averse government health bureaucrats to set the standards for everyone else. The vaccinated have done everything that was asked of them, and are incredibly protected from negative COVID-19 health outcomes. The idea that it's an open question whether we will be celebrating Christmas this year is laughable.