Oberlin College Will Require Students To Be Masked Indoors and Outdoors, Unless Eating Alone
There is one positive case of COVID-19 on campus.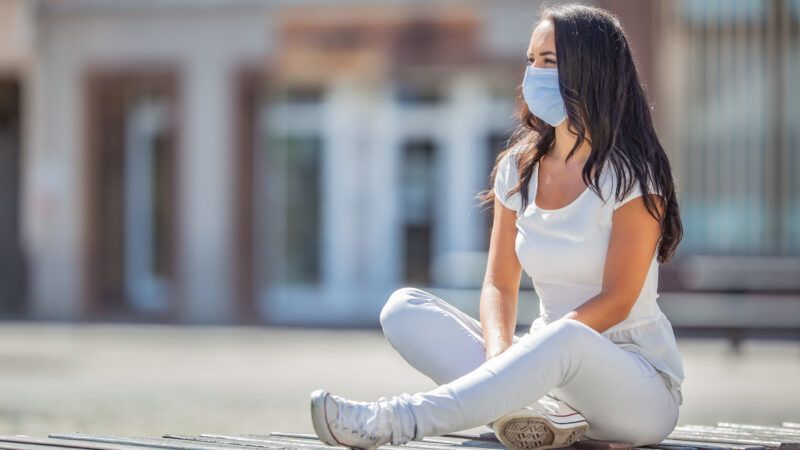 (Marian Vejcik | Dreamstime.com)
Not to be outdone by Brown, Columbia, and the University of Southern California, Oberlin College is prepared to implement the most ridiculous COVID-19 mitigation policy of all: a near-universal masking requirement in all indoor and outdoor spaces.
The policy will go into effect on September 27 and last until October 18.
"Masks are required indoors and outdoors," the college noted in an announcement. "The only time you may take off your mask is when you are in your room alone or with your roommate. Masks may be removed while eating outdoors or alone in your room with your roommate."
That's it: No other exceptions. Students should eat outside, or alone in their rooms, and only under those two circumstances should they even think about de-masking.
You might expect Oberlin College to be reeling from a pretty serious outbreak if it's resorting to such heavy-handed measures. In reality, the college has reported just one positive case. The campus experienced 21 positive cases during the Spring 2021 semester, 13 during the winter semester, and 28 last fall, before the vaccines were available. The campus's vaccination rate is currently 88 percent, meaning it's very unlikely that Oberlin is about to be crippled by a wave of severe disease and death. Yet it's moving ahead with a masking policy vastly more restrictive than what the Centers for Disease Control and Prevention (CDC) recommend.
Or consider Stanford University, which recently informed basketball players that they needed to keep their masks on at all times, except for quick sips of water.
"If players do not abide, we will cancel Open Rec basketball to be in compliance with the indoor mask policy," said the administration. "Please adapt your intensity as needed or play outside."
Contrast that policy with the one practiced by San Francisco Mayor London Breed (D), who was recently caught maskless at an indoor jazz club. She defended herself by essentially pointing out that it was stupid for vaccinated people to be so aggressively pro-mask. Yet her city's executive order requires people to wear masks indoors unless actively eating or drinking.
Much of the country is currently operating under very few COVID-19 restrictions. But the enclaves of Team Blue—where vaccination rates are the very highest—have implemented policies that in some cases exceed the recommendations of even the most cautious government health officials. Liberal cities like Washington, D.C., (where I live) are actually more enthusiastic about masks than about the vaccines. Elite college campuses are telling students that if exercising while masked is such a problem, maybe try getting less exercise.
This isn't healthy. And it's not pro-science.