San Francisco's Chain Store Restrictions Targeted Starbucks. They're Now Screwing Over a Local Burrito Joint.
Family-owned burrito chain El Farolito will have to change its branding or pick a new neighborhood to open up its 12th location if it wants to avoid being ensnared in the city's restrictions on "formula retail."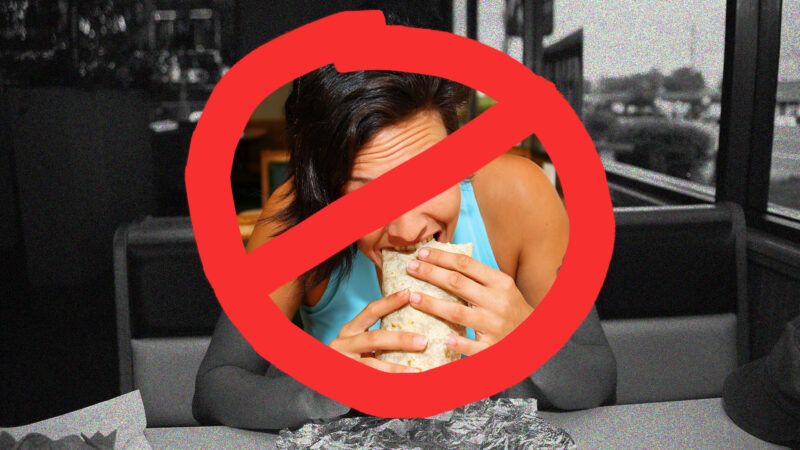 ((Illustration: Lex Villena)(Peter Kim/Dreamstime.com))
Well, that's a wrap. San Francisco's restrictions on chain stores will stop a local burrito business from opening another location unless it makes sufficient changes to its signs, menus, or other branding materials.
On Thursday, the San Francisco Chronicle reported that the city's Planning Department had ruled that El Farolito—which has been serving up its "Mission-style" burritos since the 1980s—can't open its planned 12th store in San Francisco's North Beach neighborhood.
That's because the city's "formula retail" restrictions prevent businesses with 11 or more locations from opening in some of San Francisco's designated Neighborhood Commercial Districts—including North Beach.
There was an open question of whether El Farolito—whose owners have 11 locations throughout the Bay Area—met the definition of formula retail, which turns on whether a business has standardized menus, signage, facades, employee uniforms, color schemes, interior décor, or trademarks.
(A business is considered formula retail if it has two or more of those features standardized across at least 11 locations.)
El Farolito's owners had argued in a document submitted to the Planning Department that several of its locations were called El Favorito. Their planned North Beach location would only be the ninth El Farolito, and thus under the formula retail threshold.
A Mission Local article from August pointed out that some of the El Farolito–branded locations had different signage as well.
That apparently wasn't enough to clear the high hurdle established by the city's exacting chain store restrictions.
"Given the code's prohibition of formula retail uses in North Beach, this new El Farolito would not be allowed," Dan Sider, the Planning Department's chief of staff, told the Chronicle in an email.
The department, per the Chronicle article, did tell El Farolito's owners that if they made sufficient changes to one of their locations, "such as changing the menu or the signage, it would no longer be considered a chain," making an opening in North Beach possible.
That, however, raises the question of whether the city's formula retail restrictions violate the First Amendment's free speech protections. Whether or not a business can open a new location in the city hinges on the words it has on its signs and menus.
"The government doesn't have the right to be the speech police and to say lawful businesses can't open because they don't like how they describe themselves," said Robert Frommer, an attorney with the Institute for Justice, to Reason earlier this month. "A burrito by any other name is just as tasty."
El Farolito may not have to make a federal case out of its sign to get permission to open its 12th location. Neighborhood activists have already started a movement to amend the city's formula retail restrictions so that smaller family businesses like El Farolito aren't tripped up by this red tape.
"We should reshape these outdated rules to help fill empty storefronts and allow small businesses that are growing, but are not yet truly chains, to open in North Beach and neighborhoods across San Francisco," reads a petition started by local activist Danny Sauter.
Some of the city's politicians are also getting on board, with Supervisor Matt Haney saying, "El Farolito and Starbucks shouldn't be treated the same."
Let's change this law.

El Farolito and Starbucks shouldn't be treated the same. https://t.co/O1aaLwBM1G

— Matt Haney (@MattHaneySF) September 24, 2021
The El Farolito case is a good example of how the city's regulation of small businesses comes with all manner of unintended consequences. Fiddling with definitions until "actual" chain stores are prohibited but beloved local businesses can operate freely is going to be a difficult, near-impossible task (and one that will likely require a ballot initiative to implement).
Even if you can clearly distinguish between the El Farolitos and Starbucks in the city's code, that's likely going to require an even lengthier, more exacting definition of "formula retail" that will, in turn, require more paperwork from businesses applying for permits.
One other alternative would be for the city to stop micromanaging which businesses can operate where and what they can look like. That would probably require giving more freedom to entrepreneurs and customers than the city's current leaders are comfortable with.