Biden: You Will Get a Booster Shot When the CDC Says So
If the government is going to approve them for everyone eventually, why wait?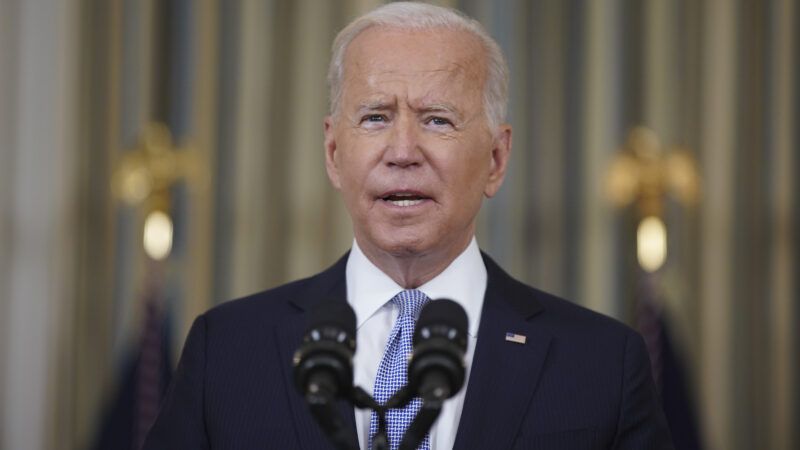 Millions of vaccinated Americans are now eligible to receive booster shots that offer additional protection against COVID-19, President Joe Biden announced at a press conference on Friday.
"If you got the Pfizer vaccine in January, February, or March of this year and you're over 65 years of age, go get the booster," said Biden. "Or if you have a medical condition like diabetes, or are a frontline worker, you can get your booster shot."
Biden's statement came hours after a late-night decree by Centers for Disease Control and Prevention (CDC) Director Rochelle Walensky, who approved booster shots despite her own agency's experts advising against this plan. There seems to have been much internal disagreement between the White House and health officials about which groups of people, if any, actually need booster shots. Ultimately, boosters are now approved for recipients of the Pfizer vaccine who got the shot more than six months ago, and are either elderly, a frontline worker, or in an at-risk health group.
"That group makes up 60 million Americans who are now eligible," said Biden.
This level of specificity with respect to who qualifies for booster shots is profoundly silly, and calls to mind the excessive queue sorting of the earliest stage of mass vaccination, when the CDC foolishly considered prioritizing so-called essential workers ahead of elderly Americans. In reality, many people who could benefit from booster shots might not ever get them, while many people who don't actually need them are already seeking them out, regardless of what the government says. Indeed, after Biden had finished speaking, a reporter asked the president about all the Americans who are receiving illicit booster shots, simply by going to a pharmacy and claiming that they are not yet vaccinated.
Biden's response was telling.
"What's going to happen is you're going to see that in the near term we're going to open this up anyway," said Biden. "We're also looking to the time when we're going to expand the booster shots across the board."
Biden outlined an incredibly specific and detailed set of criteria that dictate whether a person can get a booster shot. But he's not overly concerned about people who don't qualify jumping the line, because, well, government health officials will probably approve boosters for everyone else when they get around to it. That doesn't make very much sense: If the White House knows boosters are perfectly safe, and a good—though by no means strictly necessary—health measure for pretty much everybody, then it should really just open up the process right now.
It's fairly clear that the CDC's internal hesitance over booster shots was not grounded in any actual concern about the safety of booster shots. Health officials had concerns that were political rather than scientific: They were worried about increasing vaccine hesitancy, putting the country's vaccine supply to inefficient use, and also the unfairness of recommending boosters for Pfizer recipients only.
"I just don't understand how, later this afternoon, we can say to people 65 and older, 'You're at risk for severe disease and death, but only half of you can protect yourselves right now,'" Sarah Long, a pediatrician and infectious diseases expert at Drexel University, told The New York Times.
The obvious answer to this conundrum would be for the CDC to allow anybody who wants a booster to get one right now, but federal health bureaucrats place deference to their authority on a higher pedestal than public health. Biden seems fully aware that this delay serves no legitimate medical purpose, but isn't doing anything about it.