Proposed Local Facial Recognition Technology Ban Draws Fire
Protecting citizens from intrusive government surveillance is a virtue well worth signaling.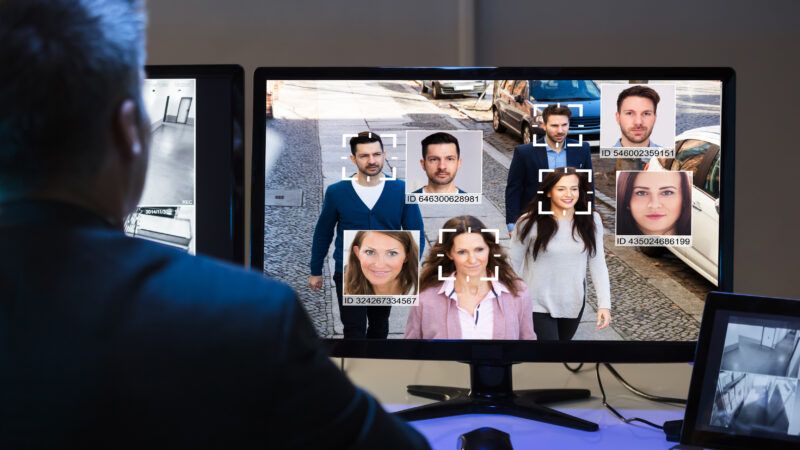 (Andrey Popov/Dreamstime)
Around 20 different state and local governments have so far banned some uses of facial recognition technologies by law enforcement. The Town of Hamden (population around 61,000) in Connecticut is considering joining those jurisdictions by adopting an ordinance that would prohibit all town officials from obtaining, retaining, accessing or using "any facial recognition system or any information obtained from a facial recognition system."
The proposed ordinance prompted the Washington, D.C.-based Information Technology Innovation Foundation (ITIF) think tank to issue a press release opposing the ban and accusing the town council of "virtue signaling" and suggesting that the ordinance "might accidentally ban its local officials from using iPhones." The proposed Hamden ordinance appears to be a somewhat truncated version of the American Civil Liberties Union's (ACLU) Northern California model facial recognition ban ordinance.
The ITIF has a minor point that Hamden's inartfully crafted proposed ordinance could be interpreted as banning such security features such as the iPhone's facial recognition unlocking technology. However, that specific issue could easily be fixed if the city council members simply looked a bit further north and modeled their prohibition on Boston's facial surveillance technology ban ordinance. That ordinance explicitly makes exceptions for personal authentication technologies such as iPhone facial recognition.
Of course, the ITIF is actually against banning the government use of facial recognition technologies. The think tank is correct that facial recognition could be quite useful in helping police to verify people's identities (they are who they say they are) by matching a current scan of their faces with previously taken photos or identify an unknown person by comparing his or her photo with a database of known faces.
The ITIF is also correct that the accuracy of many facial recognition systems has greatly improved. That is all very well, but that's not the major concern of ban proponents.
The real worry behind the bans is the amassing of vast databases of face prints that could enable pervasive real-time video tracking of citizens as they visit their doctors, attend religious services, engage in private sexual activity, and participate in political meetings, gatherings, and protests. The proposed ordinance explicitly finds "that facial recognition poses unique and significant civil rights and civil liberties threats to the residents and visitors of the Town of Hamden" and that "the public use of facial recognition can chill the exercise of constitutionality protected free speech."
Many privacy advocacy groups concur with these findings. "Face surveillance is profoundly dangerous for many reasons," argues the Electronic Frontier Foundation (EFF)  in its letter supporting the Boston ordinance.  The letter continues:
First, it invades our privacy, by tracking a unique marker we show everywhere we go and cannot change: our own faces. Surveillance cameras in public spaces are proliferating, operated by myriad government and private entities. These cameras are increasingly networked into unified systems. Face surveillance technologies are growing increasingly powerful. In combination, these technologies can track everyone who lives and works in public. We must not build an infrastructure that empowers government to easily track where everyone is going, what they are doing, and who they are with.
The EFF letter further notes that "once government builds a face surveillance infrastructure, there is the inherent risk that thieves will steal its sensitive data, employees will misuse it, and policy makers will redeploy it in new unforeseen manners. Thus, face surveillance is so dangerous that governments must not use it at all."
State and local officials are not alone in their worries about the massive risks to privacy posed by facial surveillance technologies. In June, a group of congressional Democrats re-introduced the Facial Recognition and Biometric Technology Moratorium Act of 2021. That Act would make it "unlawful for any Federal agency or Federal official, in an official capacity, to acquire, possess, access, or use in the United States—(1) any biometric surveillance system; or (2) information derived from a biometric surveillance system operated by another entity."
Protecting citizens from intrusive government surveillance is a virtue well worth signaling.