New York City's Jails See Two Deaths in Single Week
One at Rikers, one at a nearby jail barge, marking 12 deaths this year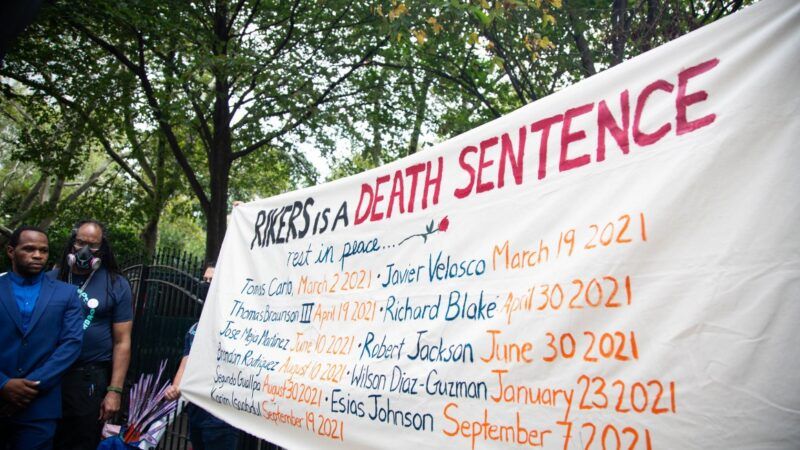 (Karla Ann Cote/ZUMAPRESS/Newscom)
In less than a week, two men have died in custody in New York City's jails.
On Sunday, Isaabdul Karim, 42, died in an infirmary while in detention on Rikers Island. Officials say they believe he died of "natural causes," but the medical examiner has yet to make an official determination. According to The Intercept, Karim became infected with COVID-19 while held in the jail's intake pens. It's not clear whether he was vaccinated, but he also had underlying medical conditions and was in a wheelchair. He reportedly appeared to be recovering from COVID but then suddenly collapsed. CPR was not able to revive him.
On Wednesday, Stephan Khadu, 24, died while being held at the Vernon C. Bain Center, a floating barge-turned-jail docked near Rikers. Khadu's death is still under investigation. A representative from the jail wardens' union has said that Khadu had a history of seizures at the jail. He told The New York Times that medical staff responded quickly to his latest seizure even though an elevator at the jail wasn't working.
Karim and Khadu mark the 11th and 12th deaths at Rikers this year. Reason's J.D. Tuccille noted on Monday—before Karim's death was widely reported—the many bad problems in Rikers' operations.
The two deaths also highlight other endemic problems with how New York City's entire criminal justice system operates. Khadu was arrested in 2019 for some very serious crimes: He was charged with conspiracy to commit murder in the second degree, assault, grand larceny, and other offenses. But though he was charged nearly two years ago, he had not had his trial at his time of death. Obviously, the pandemic shut down court systems for some time, but New York City's justice system already operated at a crawl; there's a good chance the trial wouldn't have started even without COVID-19 in the picture. So he was in jail on serious charges, was denied bail because of the seriousness of the charges, but also hadn't actually been convicted of the crime.
Karim arguably shouldn't have been at Rikers in the first place. He was arrested in August for technical violations of his probation. So he didn't break any new laws; he had missed meetings with his parole officer and "improperly changing his address," according to prison officials, by living in New Jersey. He had previously served two years and six months for selling cocaine to an undercover cop.
So Karim went to jail in the first place for a non-violent drug crime and his probation violations were for technical reasons. He had pre-existing health problems, and yet New York decided the right thing to do was to lock him up in a jail with a miserable reputation for danger and mismanagement.
Under a newly passed sentencing reform law in New York, the Less Is More Act, some of these "technical violations" will no longer lead to imprisonment, and there will be a cap of 30 days for violations that still qualify. Gov. Kathy Hochul announced last Friday that nearly 200 people who were there on technical violations would be released. But Karim had been in the jail for 29 days, so he was excluded from the list.
It's a miserable state of affairs in a jail that is dangerous and understaffed, yet also extremely expensive. The city is now suing the union that represents prison workers, accusing it of organizing a campaign that has led to thousands of employee absences each month—nearly a third of the work force.
Karim's partner, Felicia Huff Bullock, told The New York Times that she had talked to Karim on the phone and that he had told her he was being denied food and medication.
"They're not feeding us," he reportedly said. "I don't know what's going on. They are treating us like animals; worse than animals."