White House Offers Clemency for Drug Offenders on Home Confinement, but Advocates Say Plan Will Still Send Thousands Back to Prison
Clemency for nonviolent offenders would still send white-collar and other offenders back to prison after they've started putting their lives together again.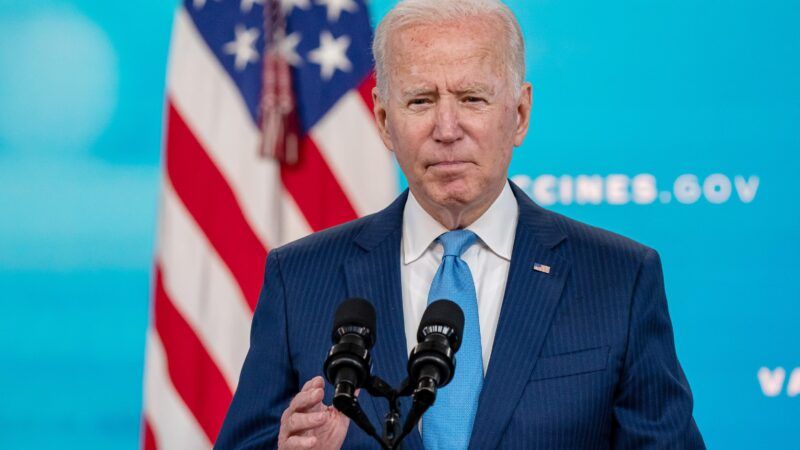 (Ken Cedeno/Pool via CNP/INSTARimages/Cover Images/Newscom)
President Joe Biden's White House has started sending out clemency applications to thousands of federal drug offenders currently on home confinement due to the COVID-19 pandemic, Politico reported on Monday, but criminal justice advocates say the plan would still send thousands of offenders back to prison after they started putting their lives together again.
The federal Bureau of Prisons (BOP) released more than 20,000 inmates on home confinement last year under pandemic legislation called the CARES Act, but since then, it's been an open question of if and when they would have to return to prison after the pandemic ends. The New York Times first reported last month that the Biden administration, under pressure from advocates, was considering offering clemency to nonviolent federal drug offenders released to home confinement with four years or less remaining on their sentences.
Lawmakers, advocacy groups, and families of incarcerated people have been pressing the Biden administration for months to not send offenders on home confinement back to federal prison, saying it would be unnecessarily cruel to people who've been home for nearly a year or more without incident. However, while advocates applauded the news of the administration's clemency effort, they say the White House's plan still leaves behind thousands of those on home confinement, all of whom were already vetted for release by the BOP.
"We are glad the president is showing signs that he might use his clemency authority to keep some people released during the pandemic home," Kevin Ring, president of FAMM, said in a press release. "But we remain deeply disturbed that the administration is using arbitrary criteria to decide whom to separate from their families."
David McMaster, a white-collar offender released from federal prison to home confinement nine months ago, says returning to prison to finish the roughly five years remaining on his sentence would be "devastating" for him and his family. He doesn't know if his marriage of 32 years will survive.
"Can I go back and do additional time? Of course, I do it through strength and my faith, and I know I can do that," McMaster says. "Can my family handle it? I don't know. I don't think so."
Since being released, McMaster says he has gotten a well-paying job, gotten involved with a local church, gotten his household's finances back in order, and does volunteer work with Joni and Friends, a Christian charity that, among other things, provides wheelchairs to disabled people around the world. He also says he's working toward a doctorate degree in Christian ministry, Christian theology, and Christian counseling.
When Reason spoke to McMaster, he was just walking out of an appointment with a cardiologist. Like many people incarcerated in the federal prison system, McMaster says he received poor to nonexistent medical care, which is a longstanding and dire problem within the BOP.
"I wasn't on my high blood pressure medication for nearly four years," he says. "That's one of the reasons my cardiologist has me going through all these tests because of the additional damage to my heart."
Advocates point to other cases like Cheryl Johnson, who was released to home confinement after seven years in federal prison for a white-collar offense and is parenting her 18-, 15-, and 12-year-old children.
Lynn Espejo, a former federal inmate and advocate with her group, Inside The Walls and Beyond, says that sending people like McMaster and Johnson back to prison would have terrible mental health effects for both the incarcerated and their families.
"These are people that have come home, reestablished family ties, gotten jobs, bought cars, found homes, and then you want to snatch them back away?" Espejo says.
On Wednesday, 29 criminal justice groups, including the Justice Action Network, Right on Crime, and the National Association of Criminal Defense Lawyers, sent a letter to the White House urging Biden to extend clemency to the entire class of offenders released under the CARES Act, saying they have all demonstrated they should not be in prison. According to criminal justice groups, less than 1 percent of those released have violated the terms of their home confinement.
"We thank President Biden for beginning to consider the use of clemency to help people on CARES Act home confinement, but he must go further than his current plans and not needlessly exclude people from being granted clemency," Udi Ofer, deputy national political director of the American Civil Liberties Union, said in a press release Thursday. "President Biden committed to the ACLU that he would reduce the federal prison population once elected, yet the federal prison population today is larger than it was one year ago. It's time for the president to fully meet his commitments and do so through the power of clemency. Forcing people who are already home with their families to go back to prison would be cruel and would make no one safer."
A White House spokesperson said in a statement to Politico that Biden "is deeply committed to reducing incarceration and helping people successfully reenter society. As he has said, too many Americans are incarcerated – and too many of those incarcerated are Black and Brown. That is why the President is exploring the use of his clemency power for individuals on CARES Act home confinement. The Administration will start the clemency process with a review of non-violent drug offenders on CARES Act home confinement with four years or less to serve."