Court Says COVID-19 Can No Longer Justify Immediate Expulsion of Migrant Families
Plus: Pro-Palestine protests allowed outside synagogue, Biden's bank surveillance plan, and more...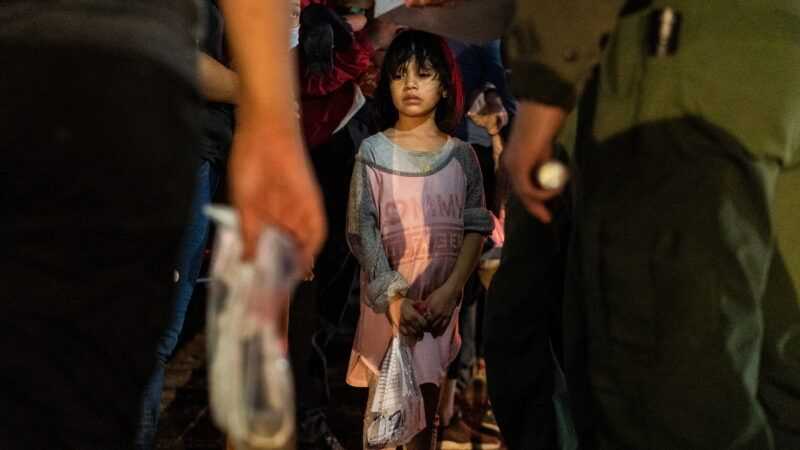 (GO NAKAMURA/REUTERS/Newscom)
"The Court is not convinced that the transmission of COVID-19 during border processing cannot be significantly mitigated." The Biden administration can't keep expelling migrant families under the banner of pandemic precaution, a federal court says.
On Thursday, the U.S. District Court for the District of Columbia struck down the administration's interpretation of a public health rule known as Title 42, which the Centers for Disease Control and Prevention (CDC) had declared as grounds for banning border crossings and immediately expelling anyone caught entering the country.
With "the wide availability of testing, vaccines, and other minimization measures, the Court is not convinced that the transmission of COVID-19 during border processing cannot be significantly mitigated," the new ruling says.
Title 42–based immediate expulsions—which the CDC said were a necessary public health measure during the COVID-19 pandemic—were started under former President Donald Trump and extended and ramped up under President Joe Biden. ("The Biden administration is on target to approach a historical fiscal-year record for apprehending migrants on the U.S./Mexico border," noted Reason's Brian Doherty yesterday. "We are likely to have seen 1.64 million such apprehensions by this month's end of fiscal 2021, even as opponents absurdly accuse the president of pursuing 'open borders' policies.")
The policy means no U.S. processing of anyone—including those seeking asylum here—found attempting to cross the border. Once caught, people are returned immediately to Mexico or their home countries.
But U.S. District Court Judge Emmet G. Sullivan ruled yesterday that Title 42 doesn't justify this policy and, beginning two weeks from the order, the administration will have to give migrant families an opportunity to seek asylum here.
The U.S. "can continue to expel single adults arriving at the U.S. southern border," notes Politico. "Unaccompanied children have been exempt from being expelled using Title 42."
BREAKING: A federal court just ordered the Biden administration to stop expelling immigrant families under Title 42.

The policy, initiated under Trump, unlawfully strips people of the right to seek asylum by expelling them without a hearing under the guise of public health.

— ACLU (@ACLU) September 16, 2021
---
FREE MINDS
Pro-Palestine protests allowed outside synagogue. In Michigan, a federal court held that pro-Palestine protests at Jewish synagogues are allowed. The case stems from protests that have been taking place in Ann Arbor outside the Beth Israel Congregation since 2003. Some synagogue members said the protests caused them emotional distress and interfered with the exercising of their religion.
"But the congregants have not alleged that the protesters ever blocked them from using their synagogue or that the protests were even audible from inside the building," wrote Judge Jeffrey Sutton in the court's opinion, rejecting a 1,000-foot buffer zone proposed by the congregants.
"The American Civil Liberties Union filed a brief in support of the activists, saying the protests are entitled to protection even if 'offensive, upsetting and distasteful,'" notes the Associated Press. "If public officials and courts have discretion to suppress speech they don't like, then none of us truly enjoys the freedom of speech," Dan Korobkin of the ACLU of Michigan said.
---
FREE MARKETS
Billboard tax is unconstitutional. The Ohio Supreme Court has ruled that the city of Cincinnati can't tax billboard companies to help ease its budget woes. From the A.P.:
Justice Sharon Kennedy, writing the court's unanimous opinion, said the companies, as publishers of speech, can't be singled out for engaging in protected expression. She also noted that because of various exceptions, the tax applied mainly to two companies.

Those businesses, Lamar Advertising and Norton Outdoor Advertising, indicated the tax would require them to remove less profitable billboards, which has the effect of limiting protected speech, Kennedy said.

"That the tax involves billboards rather than the institutional press is of no consequence, and strict scrutiny applies," Kennedy said.
---
FOLLOW-UP
Biden elaborates on financial surveillance plan. Following up on a proposal announced in May, Biden on Thursday offered more details about his desire to snoop on American bank accounts. In a White House speech, Biden said that he wants to give the IRS access to information on "the amounts that come into" people's bank accounts "and what amounts go out of their bank accounts." He framed it as a way to catch super-wealthy tax cheats. But "Biden's framing of this plan to beef up IRS enforcement with an additional $80 billion in funding is wildly off-kilter," says Reason's Eric Boehm.
…Giving the IRS more information about the inflow and outflow of bank accounts won't automatically tell the IRS that someone is hiding unreported, taxable income. But it gives the federal tax cops another way to establish probable cause for a financial stop-and-frisk.
More here.
Florida can continue banning schools from requiring students and staff to wear masks. "Judge K. Michael Moore in Miami denied a request by parents of disabled children for a preliminary injunction against an executive order that DeSantis issued in July," reports the A.P. That order "served as the basis for the Florida Department of Health issuing a rule that required school districts to allow parents to opt out of any student mask mandates. Moore wrote in Wednesday's ruling that parents should have pursued administrative claims before filing a lawsuit."
---
QUICK HITS
BREAKING: Bye, single family zoning in California. Governor Gavin Newsom has signed SB9, making duplexes legal on any lot zoned for one house statewide. He also signed SB10 making it easier for cities to approve small apartment buildings in single family neighborhoods.

— Heather Knight (@hknightsf) September 16, 2021
• Two dozen state attorneys general are threatening to sue over Biden's proposed workplace vaccine/testing mandate.
• "Colorado Gov. Jared Polis, the first openly gay man elected governor in the United States, has married his longtime partner in the first same-sex marriage for a sitting governor," notes NBC News.
• New York Gov. Kathy Hochul is set to sign a bill that "gives more leniency for parolees and could mean the release of inmates locked up on technical parole violations."
• "It's not tech companies that have 'seemingly invincible power,' it's the government that does—the entity that has a monopoly on force and wields it with no real opt-out mechanism for those of us who object," writes Reason's Liz Wolfe.
• "Central to President Joe Biden's plan to hike federal spending by $3.5 trillion is a promise that middle-class Americans won't face a tax increase. That's a claim that is looking less and less true with each passing day," points out Eric Boehm.