Someone Placed a Sports Bet From Space
To boldly bet where no man has bet before.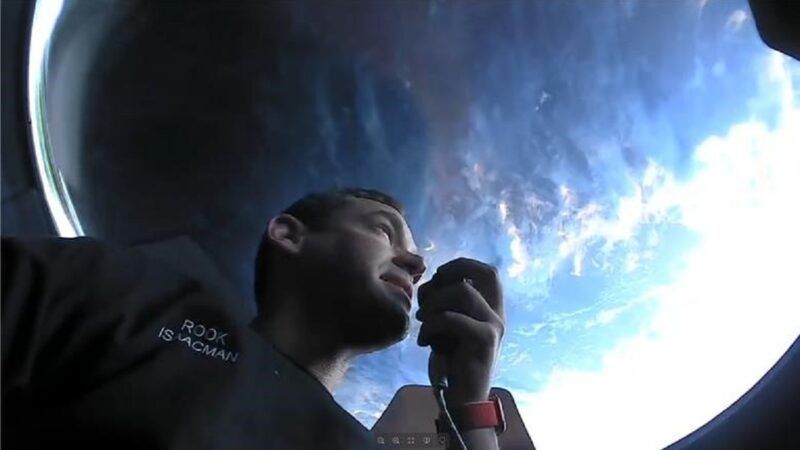 You would think someone who's in space for the first time wouldn't worry very much about how many points were scored in Thursday night's football game between the Washington Football Team and the New York Giants, but Jared Isaacman had a lot on the line.
Isaacman, the billionaire founder of Shift4 Payments Inc., paid a vast sum of money to purchase the first all-civilian space flight for his crew and is commanding the Inspiration4 mission until the conclusion of its three-day mission, likely sometime on Saturday. Not content to merely go to space or be part of this historic all-civilian flight, Isaacman brought along 66 pounds of hops that will eventually be used in a limited edition space beer brewed by Samuel Adams. He also figured that as long as he was engaged in risky spaceflight, he might as well risk $8,000 on a couple of sports bets.
For many Earth-dwelling Americans, sports betting is now easier than ever before. If you're in space, it can be a little bit harder. States with legal online sports betting use geolocation to ensure the people placing bets are actually physically in the state where they're registered. Even if Isaacman had a cell signal 360 miles above Earth, he's moving at 17,000 miles per hour, so pinpointing the moment when he could legally place a bet from a state's airspace would be pretty difficult (and admittedly, that's probably not how that works anyway).
Thankfully, Isaacman had some help from his brother and sports business reporter Darren Rovell.
Before launch, Rovell says he and Isaacman signed proxy bettor documents allowing Rovell to legally take out $8,000 and place bets on Isaacman's behalf. While in space on Thursday, Isaacman told his brother Michael what bets he wanted to place, and Michael relayed the message on to Rovell: $4,000 on the Washington Football Team and New York Giants to combine for more than 40.5 points on Thursday, and $4,000 on the Philadelphia Eagles to win the Super Bowl. Rovell went to Las Vegas to place the bet at MGM Grand.
Thrilled to be a part of history as @Shift4Payments CEO @rookisaacman, who is in orbit in @inspiration4x right now, gave me two bets to make — the first bets ever made from space.

I placed them at @BetMGM sportsbook at @MGMGrand today pic.twitter.com/T04KdgxFBn

— Darren Rovell (@darrenrovell) September 16, 2021
Washington and the Giants combined for 59 points on Thursday, so Isaacman won $3,636.35 and got his original $4,000 back. He says he'll be donating all $7,636.35 to St. Jude Children's Research Hospital.
As for the Eagles winning the Super Bowl, that bet was placed with long odds of +6,600 (that means a $100 bet placed on those odds would get a $6,600 profit). In other words, MGM is giving the Eagles about a 1.5 percent chance of winning the Super Bowl, so MGM was probably more than happy to take that money from Isaacman. Then again, it also decided to donate $25,000 to St. Jude, on top of the $100 million that Isaacman already donated as part of the Inspiration4 mission, so the children's research hospital is coming out way ahead either way.
When he's not in space, Isaacman lives in New Jersey, where it's blissfully easy to place a bet from the convenience of your cellphone. But only 14 states have convenient online sports betting, with a few more on the way in the near future. Hopefully sports betting will soon be so easy that anyone can place a bet in space without having to go through their brother and Darren Rovell.
As Rovell said after placing the bets, "That's one small bet for man, one giant leap for mankind."