SpaceX Sends First All-Civilian Crew to Big Boy Space
The company successfully launched four amateur astronauts into orbit as part of its privately financed "Inspiration4" mission.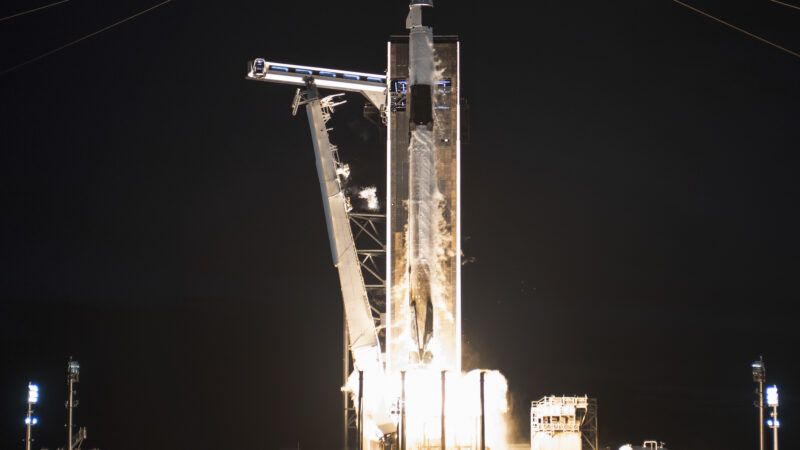 On Wednesday, SpaceX successfully completed the first launch of an all-civilian crew into Earth's orbit, marking another milestone for both the company and the nascent private space industry.
At 8 p.m. yesterday evening, one of the company's Falcon9 rockets took off from Florida's Kennedy Space Center, carrying four amateur astronauts inside a Crew Dragon space capsule some 360 miles above Earth's surface.
Liftoff of @Inspiration4X! Go Falcon 9! Go Dragon! pic.twitter.com/NhRXkD4IWg

— SpaceX (@SpaceX) September 16, 2021
The crew of the "Inspriation4" mission includes billionaire Jared Issacman (who financed the launch), as well as geology professor Sian Proctor, physician assistant Hayley Arceneaux, and Chris Sembroski, an Air Force veteran who works at Lockheed Martin.
"Few have come before, and many are about to follow. The door's open now, and it's pretty incredible," said Issacman during a livestream of the launch, per the Wall Street Journal.
The mission is scheduled to last three days, during which time the crew will circle the earth about once every 90 minutes. They'll then splash down at one of several possible landing sites off the Florida coast, according to SpaceX's website.
The launch is intended partly as a fundraiser—it's supposed to raise $200 million for St. Jude's Children's Research Hospital—and to study the effect of the human body in space.
It's also yet another proof-of-concept launch for the nascent private space tourism industry. Earlier this summer, billionaires Richard Branson and Jeff Bezos traveled into space aboard their respective space companies' own vehicles.
Branson's Virgin Galactic is already selling tickets for future space flights at the bargain price of $450,00 per seat.
Of the billionaire-backed space companies, SpaceX—founded by Elon Musk in 2002—is clearly ahead of the pack. Its Inspiration4 mission actually made it into orbit (i.e. big boy space). That's almost 300 miles higher than either Branson and Bezos', still impressive, but nonetheless, suborbital flights managed.
Last May, the company's Crew Dragon capsule ferried two NASA astronauts to the International Space Station—the first time U.S. astronauts had been carried into space from U.S. soil since the Space Shuttle's retirement in 2011.
SpaceX has been a boon to NASA's space mission, developing new launch vehicles and performing missions for a fraction of the cost of some of the agency's other programs.
Wednesday's launch is even more exciting for wide-eyed libertarian futurists. No longer is SpaceX just helping the government save some tax dollars. It's now sending private citizens into space on privately owned, privately financed spacecraft.
Provided everyone makes it back to Earth safely, the "Inspriation4" mission is proof that commercial spaceflight's best days are ahead of it.