A Win for Devin Nunes in Lawsuit Over Journalist Ryan Lizza's Tweet
Plus: "The endless catastrophe of Rikers Island," studies link luxury rentals and affordable housing, and more...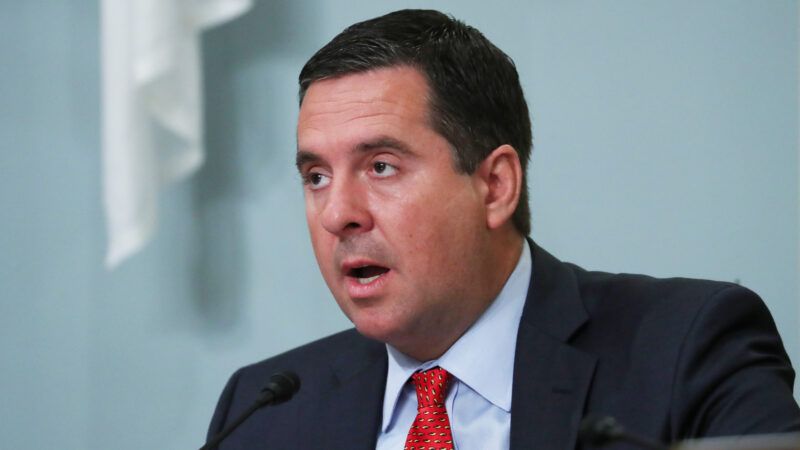 (Tasos Katopodis - Pool via CNP/picture alliance / Consolidated News Photos/Newscom)
Tweeting article after Nunes called it defamatory could count as "actual malice," court says. In a disturbing ruling for fans of free speech, a federal court has partially sided with Rep. Devin Nunes (R–Calif.) in his lawsuit against journalist Ryan Lizza. Nunes has accused Lizza and Hearst Magazine Media, which publishes Esquire, of defamation and conspiracy.
Back in 2018, Esquire published an article by Lizza headlined "Devin Nunes's Family Farm Is Hiding a Politically Explosive Secret." The article suggested that Nunes had hidden the fact that his family had moved their dairy farm from California to Iowa. It also accused the farm of relying on undocumented labor. In addition, the article accuses Nunes of improper political activities, saying he used his position as chairman of the House Permanent Select Committee on Intelligence "to spin a baroque theory about alleged surveillance of the Trump campaign that began with a made-up Trump tweet" about former President Barack Obama tapping Trump Tower and "to discredit the Russia investigation and protect Donald Trump at all costs."

Nunes sued, but a federal district court granted Lizza and Hearst's motion to dismiss his claims. Among other things, it concluded that even if some information in the article was defamatory, it did not meet the standard required for a defamation claim against a public figure: actual malice. So Nunes appealed.
In its September 15 ruling, the U.S. Court of Appeals for the 8th Circuit agreed that there was no actual malice involved in the original publication of the article.

"The Supreme Court's interpretation of the First Amendment requires a public official to prove that defamatory statements or implications are made with 'actual malice,' meaning 'with knowledge that it was false or with reckless disregard of whether it was false or not,'" notes the court. "In this context, 'reckless conduct is not measured by whether a reasonably prudent man would have published.' Instead, 'the defendant must have made the false publication with a high degree of awareness of . . . probable falsity, or must have entertained serious doubts as to the truth of his publication.'…We agree with the district court that the complaint is insufficient to state a claim of actual malice as to the original publication."

But a later Lizza tweet sharing the article could rise to that standard, the court said.
Tweeting a link to the article could be considered "republication," the court explained, noting that "there is a distinction in defamation law between an original publication and a republication." And republication could imply actual malice.
Lizza's tweet came on November 20, 2019, several weeks after Nunes initially filed his defamation claim. "I noticed that Devin Nunes is in the news. If you're interested in a strange tale about Nunes, small-town Iowa, the complexities of immigration policy, a few car chases, and lots of cows, I've got a story for you," tweeted Lizza.
"The complaint here adequately alleges that Lizza intended to reach and actually reached a new audience by publishing a tweet about Nunes and a link to the article," ruled the appeals court. "Although we agree that there are insufficient allegations of express defamation, we conclude that the complaint does state a claim for defamation by implication as to a republication of the article. We thus affirm in part, reverse in part, and remand for further proceedings."

Whether the republication here rises to the level of defamation will still have to be decided.
But under the appeals court's logic, a politician may declare something defamatory and sue in court and—whether there is merit to the original claim or not—the journalist or publication who so much as draws attention to the contested article could become guilty.
It could also have implications beyond a journalist or publication responsible for a piece accused of defamation. "One curious aspect of the ruling is that it appears to open the door to lawsuits against anyone who tweeted or retweeted the original story with knowledge of Nunes' lawsuit, and to similar claims over members of the public or those with significant social media followings tweeting or retweeting stories after learning that the subject of the story is disputing it in some way," notes Politico.
---
FREE MINDS
???? FROM NYT EDITORIAL BOARD: Calls it like it is. Connects today's Rikers horrors to last year's repeal of bail reform. Based on a"relentless scaremongering campaign by the police, prosecutors & some lawmakers who exploited a few high-profile crimes." More:https://t.co/VPcSMhlq7a

— Scott Hechinger (@ScottHech) September 16, 2021
---
FREE MARKETS
Studies link luxury rentals and affordable housing. For a certain sort of misguided activist and policy wonk, new apartment buildings featuring fancy pads aren't just irrelevant to people who can't afford them, but actively harmful. Their theory is that it speeds up gentrification and causes rents to rise. But empirical research—including a new paper out of Finland—challenges this assumption. It suggests instead that expanding "luxury" rental housing stock actually helps create affordable housing, too, by creating "moving chains" and freeing up older places where lower-income renters can afford to live. "For each 100 new, centrally located market-rate units, roughly 60 units are created in the bottom half of neighborhood income distribution through vacancies," and 29 units in the bottom quintile, suggests the Finnish paper.
"What about in the United States?" asks Timothy B. Lee in the Full Stack Economics newsletter.
Over the last couple of years, Notre Dame economist Evan Mast has been doing similar research in American cities, and he published his latest results in July (his 2021 paper is paywalled; you can read a preliminary version from 2019 here).

Mast looked at housing markets in 12 of the largest American cities. The US doesn't have the kind of government population register they have in Finland, so instead Mast obtained data from a private marketing database called Infutor Data Solutions. But he used the same basic methodology as the Finnish economists and got similar—if a bit less dramatic—results. Thanks to moving chains, a new luxury apartment building created vacant units in a wide range of neighborhoods.

Mast found that 67 percent of people who moved into a new luxury apartment building came from another apartment in the same metropolitan area. Of these, only 20 percent of the people who moved into luxury apartment buildings came directly from neighborhoods with below-average incomes. But that set off a moving chain that was more likely to reach lower-income neighborhoods. By the sixth link in the chain, 40 percent of movers were coming from neighborhoods with below-average incomes.
---
QUICK HITS
Florida mass murderer says: "God told me to kill everyone and to rescue Amber because she's a victim of sex trafficking."
An incredibly grim story, but unfortunately it's a perfect example of the very real dangers of spreading sensational myths and lies https://t.co/SUiBWMubHo

— Mistress Matisse (@mistressmatisse) September 16, 2021
• Treasury Secretary Janet Yellen and IRS Commissioner Charles Rettig are fighting for more information about American bank accounts.
• The U.S. Court of Appeals for the 5th Circuit has "overturned a judge's order blocking the Department of Homeland Security (DHS) from shifting its immigration enforcement priorities, delivering a significant victory for the Biden administration," reports The Hill. The court "unanimously ruled to stay a district court judge's injunction against DHS from enforcing a January policy memo that directed authorities to scale back the Trump-era crackdown on undocumented immigrants. The policy included an initial effort to enact a 100-day moratorium on deportations."
• In more good immigration news: "Senators introduced a bipartisan bill on Wednesday that would create a pathway to citizenship for some children and young adults who were raised in the United States but face deportation at age 21. "
• Los Angeles County will start requiring proof of vaccination for indoor bars, wineries, breweries, and clubs. "The mandate, which will be issued by Friday, will require patrons and employees to have at least one vaccine dose by Oct. 7 and be fully vaccinated by Nov. 4," according to the Los Angeles Times.
• L.A. isn't the only place to put new COVID-19 rules in place this week. Gov. Kathy Hochul yesterday announced new rules for New York schools and child care centers:
Face coverings for kids age 2+, all staff & visitors, are now required at @NYSOCFS-licensed/registered child care centers, home-based group family & family child care programs, after-school child care programs, and enrolled legally exempt group programs during operational hours.

— Kathy Hochul (@GovKathyHochul) September 15, 2021
• Vape store owners aren't sure they can survive a new tax hike.