FEC: Twitter Blocking the Hunter Biden Story Wasn't Election Interference
Maryland satire paper threatened over "OlneyFans" article, big tech companies "on the butcher's table," and more...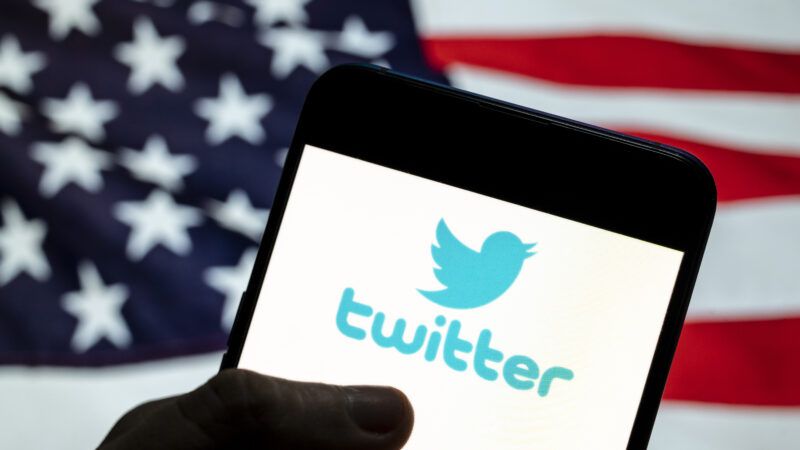 (Budrul Chukrut / SOPA Images/Sip/Newscom)
Twitter is off the hook for Hunter Biden article removals. The Federal Election Commission (FEC) has dismissed a complaint that Twitter illegally blocked links to an article about Hunter Biden last fall. The complaint was filed by the Republican National Committee (RNC), which alleged that Twitter had temporarily blocked links to a New York Post article about Joe Biden's son in order to benefit then-presidential candidate Biden in the lead-up to the 2020 election.
"The RNC is weighing its options for appealing this disappointing decision from the FEC," said spokesperson Emma Vaughn.
Tweets about the Post article—an apocryphal tale of Hunter Biden's lost laptop and hard drives being discovered with incriminating evidence about his father on them—were temporarily blocked by Twitter, which said they violated its "Hacked Materials Policy." Soon after, Twitter reversed course and announced that it had revised the policy. "Straight blocking of URLs was wrong, and we updated our policy and enforcement to fix," posted Twitter CEO Jack Dorsey on October 16.

The debacle did not violate federal election law, says the FEC now, in a case that has important ramifications for future quandaries over social media companies and content related to elections or concerning political candidates.
"The election commission determined that Twitter's actions regarding the Hunter Biden article had been undertaken for a valid commercial reason, not a political purpose, and were thus allowable," The New York Times reports, noting that the FEC also dismissed an election-related complaint against Snapchat yesterday:
… in a second case involving a social media platform, the commission used the same reasoning to side with Snapchat and reject a complaint from the Trump campaign. The campaign had argued that the company provided an improper gift to Mr. Biden by rejecting Mr. Trump from its Discover platform in the summer of 2020, according to another commission document.

The election commission's twin rulings, which were made last month behind closed doors and are set to become public soon, protect the flexibility of social media and tech giants like Twitter, Facebook, Google and Snapchat to control what is shared on their platforms regarding federal elections.
In both instances, Republicans argued that private tech companies couldn't control content on their own platforms as they saw fit. But the First Amendment says otherwise. Again and again, courts have ruled that social media platforms can suspend users—including politicians—for violating their policies.
Social media companies are not required to be neutral arbiters of political speech, nor required to platform any particular type of speech (despite what unconstitutional new laws in states like Texas and Florida say). For this, we can thank the First Amendment, which protects private actors from having to block or carry speech by government entities.
That protection is something both Republicans and Democrats, as well as everyone else, should be glad about. Digital entities may sometimes make the wrong call, but that's better than allowing the federal government and partisan whims to dictate the terms of political discussion on the internet.
Tech companies face an increasingly uphill battle on this front. On one side, GOP leaders want to force Facebook, Twitter, and their ilk to provide a megaphone for former President Donald Trump and an array of other banned figures even when they violate platform policies, as well as be required to carry (and refrain labeling) information that their moderators may deem misleading, inflammatory, or otherwise unwanted. On the other side, Democrats keep demanding that these companies block an ever-expanding cadre of alleged misinformation and hate speech.
Just this week, new New York Gov. Kathy Hochul, a Democrat, is asking Facebook to block things deemed misinformation about abortion and Sen. Elizabeth Warren wants Amazon to stop selling books that contain "falsehoods about COVID-19 vaccines and cures."
---
FREE MINDS
The Takoma Torch, a small satirical publication out of Takoma Park, Maryland, is being threatens with a lawsuit over an OnlyFans baseball parody. The Torch ran an article last week titled "'OlneyFans' Website for MoCo's New Baseball Team Crashes Due to Unusually High Traffic." It was then threatened by the owners of the baseball team in Olney.
The humorless owner of the Olney Baseball team has had his lawyer threaten us about our satirical article about the Olney Fans article. We won't take it down because Satire will always be protected as Free Speech! pic.twitter.com/o0oF8nPo5Y

— The Takoma Torch???????? (@TakomaTorch) September 12, 2021
"They want me to take down the whole article and scrub it from social media," Takoma Torch creator Eric Saul told The Washington Post. "Basically: Comply or else they'll threaten to sue me, with potential damages. I don't know what damages a small-time baseball team has before it's even started its season."
"The threat is against a satirical web site—which clearly repeatedly labels itself as satirical—based on an obviously satirical article—about the new team. There is no remotely plausible or ethical argument that this article is defamatory," tweeted lawyer Ken White.

---
FREE MARKETS
Tech companies "are going to be on the butcher's table." Biden is nominating another tech critic—Alvaro Bedoya—to the Federal Trade Commission (FTC). Meanwhile, statements made by an aide to relentless tech-critic-turned-FTC-chair Lina Khan offer another bad sign for tech companies. Asked about Google and Facebook, FTC attorney adviser Shaoul Sussman told an Israeli newspaper that "all of these companies are going to be on the butcher's table."
"I'm not sure if they will be broken up in the next few years, but from the perspective of legislation, their judgment has been written," Sussman told Hebrew-language paper The Marker (according to a translation from Politico).
Sussman's comments come "amid rising tension between Khan's agency and tech giants like Facebook and Amazon, which have accused her of having already made up her mind on the need for antitrust action against their companies," notes Politico. "Khan took part in an August decision to file a suit seeking to break up Facebook, after the FTC's general counsel dismissed a petition by the company that sought to knock her out of the probe. Amazon remains the subject of an FTC antitrust probe related to its conduct and a separate investigation into its proposed merger with MGM Studios."
See Reason's July cover story for more on the bipartisan anti-tech antitrust crusade.
---
QUICK HITS
• What do COVID-19 hospitalization numbers tell us? Not as much as they used to.
• Democrats' new tax proposal "would give local newspapers up to $25,000 in refundable tax credits for each journalist they employ," notes Reason's Christian Britschgi.
• "A federal judge temporarily blocked Iowa from banning mask mandates in local school districts," reports The Hill.
• The trouble with challenges to the new Texas abortion law.
• Supply chain breakdowns are getting more severe.