The Court Order Approving Sanctions Against Sidney Powell Shows How Hastily She Assembled Her Kraken
A federal judge concluded that Powell and eight other pro-Trump lawyers who challenged Michigan's election results made frivolous arguments and treated evidence recklessly.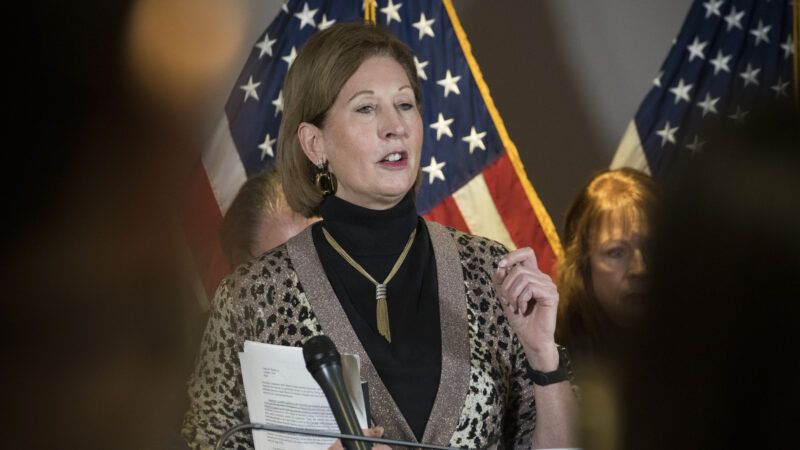 (Rod Lamkey/CNP/AdMedia/Newscom)
A federal judge in Michigan yesterday ordered sanctions against Sidney Powell, Lin Wood, and seven other pro-Trump attorneys who were involved in a lawsuit that sought to overturn the presidential election results in that state. U.S. District Judge Linda Parker, who dismissed that lawsuit on December 7, ordered Powell et al. to pay the legal expenses of the defendants and all but one intervenor. She also is requiring the nine attorneys to complete at least 12 hours of continuing legal education and "referring the matter for investigation and possible suspension or disbarment" to the "appropriate disciplinary authority" in each jurisdiction where they practice law.
When Powell et al. painted a picture of systematic election fraud that supposedly denied Donald Trump his rightful victory in Michigan, Parker concludes in a 110-page opinion, they filed their claims too late, made frivolous legal arguments, maintained the lawsuit long after it was clear that no remedy they sought was possible, and presented purported evidence without inquiring into its reliability or relevance. "This lawsuit represents a historic and profound abuse of the judicial process," Parker writes. "It is one thing to take on the charge of vindicating rights associated with an allegedly fraudulent election. It is another to take on the charge of deceiving a federal court and the American people into believing that rights were infringed, without regard to whether any laws or rights were in fact violated. This is what happened here."
Powell was publicly alleging rampant election fraud even before the polls closed. But she waited until 11:48 p.m. on the night before Thanksgiving, more than three weeks after Election Day, to file her lawsuit.
"Plaintiffs' attorneys waited until after votes were tallied to file this lawsuit, even though the record suggests that—well in advance of Election Day—they knew or should have known about the things of which they complained," Parker writes. "This game of wait-and-see shows that counsel planned to challenge the legitimacy of the election if and only if Former President Trump lost. And if that happened, they would help foster a predetermined narrative making election fraud the culprit. These things—separately, but especially collectively—evince bad faith and improper purpose in bringing this suit."
Parker says Powell and the other lawyers should have known their claims had no chance of succeeding. "At the inception of this lawsuit, all of Plaintiffs' claims were barred by the doctrines of mootness, laches, and standing, as well as Eleventh Amendment immunity," she writes. "Plaintiffs' attorneys did not provide a nonfrivolous argument for extending, modifying, or reversing existing law or for establishing new law to render their claims ripe or timely, to grant them standing, or to avoid Eleventh Amendment immunity. The same can be said for Plaintiffs' claims under the Elections and Electors, Equal Protection, and Due Process Clauses, and the alleged violations of the Michigan Election Code."
In short, Parker says, the plaintiffs did not cite any plausible legal basis for the main remedy they sought: decertification of Michigan's election results. That failure, she concludes, violated the Federal Rules of Civil Procedure—specifically, Rule 11(b), which requires that lawyers' make a "reasonable" effort to ensure that their "claims, defenses, and other legal contentions are warranted by existing law or by a nonfrivolous argument for extending, modifying, or reversing existing law or for establishing new law."
Powell et al. did not withdraw their lawsuit until January 14, more than five weeks after they said it would be moot and a month after Michigan's electors cast their votes. "By failing to voluntarily dismiss this lawsuit on the date Plaintiffs' counsel acknowledged it would be moot and thereby necessitating the filing of motions to dismiss," Parker says, "Plaintiffs' attorneys unreasonably and vexatiously multiplied the proceedings," thereby violating 28 USC 1927.
Parker also concludes that Powell et al. violated Rule 11(b) by failing to conduct "an inquiry reasonable under the circumstances" into the evidence they presented, which consisted largely of affidavits lifted from unsuccessful prior lawsuits. Attorneys are supposed to make an effort to ensure that their "factual contentions have evidentiary support or, if specifically so identified, will likely have evidentiary support after a reasonable opportunity for further investigation or discovery."
These examples illustrate how reckless Powell and her collaborators were with the hundreds of pages they submitted to back up their claims—evidence that Powell likened to a "kraken" and a "fire hose."
The Military Intelligence Analyst Who Wasn't
Joshua Merritt, an affiant presented as a "U.S. Military Intelligence expert" and "a former electronic intelligence analyst with 305th Military Intelligence," had never completed training in military intelligence—a fact that The Washington Post revealed on December 11. "Even after learning that Merritt never completed any intelligence analyst training program with the 305th Military Intelligence Battalion," Parker notes, "Plaintiffs' counsel remained silent as to this fact."
During the six-hour July 12 hearing at which Parker considered the arguments for sanctions against Powell et al., attorney Howard Kleinhendler argued that Merritt's "expertise" was based not on his purported training as a military intelligence analyst but on "his years and years of experience in cyber security as a confidential informant working for the United States Government." Parker did not buy that. "Clearly this is dishonest," she says, since "it was precisely Merritt's experience as 'an electronic intelligence analyst under 305th Military Intelligence' that Plaintiffs' attorneys presented to convince the Court and the world that he is a reliable expert."
Kleinhendler also claimed he "had no reason to doubt" the erroneous identification of Merritt until after the case was dismissed on January 14—a month after the Washington Post story. "This is also dishonest," Parker says. When she asked at the hearing whether anyone had suggested to the plaintiffs' lawyers that Merritt "was not a military intelligence expert," Kleinhendler, Powell, and Julia Haller said no, and "all the other counsel agreed by remaining silent." It is "implausible," Parker says, that "absolutely no member of Plaintiffs' legal team learned of the Washington Post article (and thus the questions it raised) shortly after it was published on December 11, 2020," especially since the Post had asked Powell to comment on "Merritt's limited experience in military intelligence."
'Outlandish and Easily Debunked Numbers'
Another "expert," Russell J. Ramsland Jr., claimed that "6,000 votes in Antrim County" were "switched from Former President Trump to President Biden." But "the State issued a bulletin well before this lawsuit was filed explaining the user error that led to the miscount in Antrim County's unofficial results, which had been 'quickly identified and corrected.'"
Ramsland also claimed that 643 Michigan precincts had improbably or impossibly high voter turnout, including 781.9 percent in North Muskegon, 460.51 percent in Zeeland Charter Township, 215.21 percent in Grout Township, and 139.29 percent in Detroit. "Even the most basic internet inquiry would have alerted Plaintiffs' counsel to the wildly inaccurate assertions in Ramsland's affidavit," Parker notes. The official numbers showed, for example, that voter turnout was 73.53 percent in North Muskegon, 80.11 percent in Zeeland Township, and 50.88 percent in Detroit. Ramsland's numbers, Parker says, were "outlandish and easily debunked."
Parker also notes that Ramsland, in a Georgia election lawsuit, had presented data from Minnesota as data from Michigan. And "even for the Minnesota locations, Ramsland's conclusions about over-votes [were] not supported by official data from the State." That widely publicized episode, Parker says, should have alerted Powell et al. to "the unreliability of Ramsland's figures" and "put them on notice that further inquiry was warranted."
The Dog Walker's Tale
Affiant Matt Ciantar reported that he was walking his dog in Plymouth, Michigan, on "the afternoon following the election" when he encountered "a young couple" who pulled up to a post office in a "dark van" and unloaded "3-4 very large clear plastic bags," which they took to a "USPS Vehicle" that "appeared as if it was 'waiting' for them." Inside the clear plastic bags was "another plastic bag that was not clear," so Ciantar "could not see what was inside." Ciantar found it "odd" that the man and woman did not interact with "any USPS employee" and that they "were smiling" and "laughing at one another." He concluded that "what could be in those bags could be ballots going to the TCF center," the Detroit convention center where votes were tabulated, "or coming from the TCF center."
Powell et al. presented Ciantar's account, which Parker describes as "a masterclass on making conjectural leaps and bounds," as evidence that "unsecured ballots arrived at the TCF Center loading garage, not in sealed ballot boxes, without any chain of custody, and without envelopes, after the 8:00 PM Election Day deadline." When Parker "asked Plaintiffs' attorneys how any of them, as officers of the court, could present this affidavit as factual support of anything alleged in their pleadings," they said Ciantar was simply reporting what he had witnessed.
"The Court accepts that the affidavit is true in that Ciantar memorialized what he saw at the time," Parker writes. "But the Court cannot find it reasonable to assert, as Plaintiffs' attorneys do, that this 'shows fraud.' Absolutely nothing about this affidavit supports the allegation that ballots were delivered to the TCF Center after the Election Day deadline….A document containing the lengthy musings of one dog-walker after encountering a 'smiling, laughing' couple delivering bags of unidentified items in no way serves as evidence that state laws were violated or that fraud occurred….Pursuant to their duties as officers of the court, attorneys typically do not offer factual allegations that have no hope of passing as evidentiary support at any stage of the litigation."
The 'Illegal Vote Dump'
Melissa Carone, a Republican who was working at the TCF Center, said she saw "two vans that pulled into the garage of the counting room, one on day shift and one on night shift." These vans "were apparently bringing food into the building," she said, but "I never saw any food coming out of these vans." Carone added that "coincidently it was announced on the news that Michigan had discovered over 100,000 more ballots—not even two hours after the last van left."
Powell et al. called this incident an "illegal vote dump." But as Parker notes, Carone's account "demonstrate[s] no misconduct or malfeasance," amounting to "no more than strained and disjointed innuendo of something sinister."
Parker points out that "nothing described by Carone connects the vans to any ballots; nothing connects the illusory ballots to President Biden; and nothing connects the illusory votes for President Biden to the 100,000 ballots 'coincidently' announced on the news as 'discovered' in Michigan." Yet "not a single member of Plaintiffs' legal team spoke with Carone to fill in these speculation-filled gaps before using her affidavit to support the allegation that tens of thousands of votes for President Biden were fraudulently added."
'Eyewitness Testimony' of Vote Switching
"I observed a station where election workers were working on scanned ballots that had issues that needed to be manually corrected," reported affiant Articia Bomer, a 2020 Republican congressional candidate. "I believe some of these workers were changing votes that had been cast for Donald Trump and other Republican candidates."
Powell et al. presented this account as their only "eyewitness testimony of election workers manually changing votes for Trump to votes for Biden." When Parker asked the plaintiffs' lawyers whether anyone had asked if Bomer "actually saw someone change a vote," she "was met with silence."
The lawyers "conceded that the Bomer Affidavit had evidentiary value only if Bomer saw election workers manually changing votes for Former President Trump to votes for President Biden." Yet "without asking Bomer if she saw such manual changes, Plaintiffs' counsel submitted her affidavit as evidentiary support that such manual changes in fact occurred." That omission "fell short of counsel's obligation to conduct a reasonable inquiry and is the very laxity that the sanctions schemes are designed to penalize."
Parker adds that "counsel's failure to ask this material question—when paired with their affirmative decision to label Bomer's testimony as 'eyewitness testimony of election workers manually changing votes'—evinces bad faith." Attorneys "may not bury their heads in the sand and thereafter make affirmative proclamations about what occurred above ground," she says. "In such cases, ignorance is not bliss—it is sanctionable."
Cut-and-Pasted Affidavits
Parker found that "almost every (if not every) non-expert affidavit attached to Plaintiffs' pleadings here…was filed by other attorneys in prior lawsuits." In several cases, Powell et al. admitted they had done nothing to independently verify the reliability of those statements. "When the Court asked whether Plaintiffs' counsel inquired as to the affidavits copied and pasted from the other cases," Parker says, they "dipped and dodged the question and did not disclaim the City's counsel's assertions that they did not."
It seems clear, Parker says, that Powell et al. "relied on the assessment of counsel for the plaintiffs in other cases as to the affidavits from those cases that Plaintiffs' counsel recycled here. This is not okay. The Court remains baffled after trying to ascertain what convinced Plaintiffs' counsel otherwise….Plaintiffs' counsel cannot hide behind the attorneys who filed [previous cases] to establish that Plaintiffs' counsel fulfilled their duty to ensure that the affidavits they pointed to as evidentiary support for the pleadings here in fact had any chance of ever amounting to evidence."
Imagined Violations of Michigan Election Law
Powell et al. repeatedly claimed they had evidence that election practices in Michigan violated state law, but they never bothered to check whether that was true. Detroit city employee Jessy Jacob, for example, reported seeing people who had applied for absentee ballots vote in person. But there is nothing illegal about that. "Applying for an absentee ballot is not evidence that someone voted via an absentee ballot," Parker notes. "It does not shock the Court that a Michigan resident can request an absentee ballot and thereafter decide to vote in person. Indeed, Michigan law says that voters can."
Similarly, Powell et al. cited a witness who "observed passengers in cars dropping off more ballots than there were people in the car." Since Michigan allows people to drop off the ballots of family and household members, Parker says, "Plaintiffs' counsel knew or should have known that this conduct did not violate existing state law."
Powell et al. also claimed election workers illegally counted ballots that lacked postmarks. Detroit's lawyer "stated that ballots are not required to be mailed or postmarked in Michigan," since they "are often handed in by hand," via "boxes in front of clerk's offices," and sometimes "right across the desk in the clerk's office." Opposing counsel "did not object to or refute this recitation of the law."
Likewise with ballots that election workers ran through tabulation machines more than once. An adviser to Detroit's city clerk testified that "ballots are often fed through the high-speed reader more than once" as a "routine part of the tabulation process" if, for example, "there is a jam in the reader" or "if there is a problem ballot (e.g., stains, tears, stray markings, etc.) in a stack." Kleinhendler "told the Court that it was 'completely irrelevant' whether the conduct Plaintiffs claimed was violative of Michigan law was actually unlawful."
In short, Parker says, "Plaintiffs alleged that certain acts or events constituted violations of the Michigan Election Code when, in fact, Plaintiffs' counsel failed to make any inquiry into whether such acts or events were in fact unlawful….Plaintiffs' counsel did not bother to find out what the Michigan Election Code requires, and whether the acts alleged to constitute violations of the Michigan Election Code were actually prohibited."
Just My Opinion
Parker's conclusions about Powell's approach to evidence can only hurt her as she tries to fend off the $1.3 billion defamation lawsuit filed against her by Dominion Voting Systems, the company she implicated in the massive criminal conspiracy that supposedly enabled Biden to steal the election. Parker notes that "several of the allegations asserted in this and similar lawsuits filed by Plaintiffs' attorneys" are at issue in Dominion's lawsuit.
To win that case, Dominion has to show "actual malice," meaning that Powell made her charges against the company even though she knew they were false or that she acted with "reckless disregard" for whether they were true. If Powell's actions in the Michigan case do not demonstrate reckless disregard, I'm not sure what would.
Conversely, Powell's defense against Dominion's claims helped clinch the case for sanctions against her in Michigan. In an unsuccessful attempt to have the defamation lawsuit dismissed, Powell argued that her statements about Dominion were not actionable because they were "opinions" that "reasonable people would not accept…as fact." Parker sees that characterization as further evidence that Powell ignored her duties as a lawyer in Michigan (citations omitted):
Powell's brief in support of her motion to dismiss in the Dominion Action states: "Given the highly charged and political context of the statements, it is clear that Powell's statements were made as an attorney-advocate for her preferred candidate and in support of her legal and political positions." "The highly charged and political nature of the statements," Powell continues in her brief, "underscores their political and hence partisan nature." Powell characterizes her statements and allegations as "vituperative, abusive and inexact" "political speech," as well as "inherently prone to exaggeration and hyperbole." Powell latched onto the Dominion plaintiffs' assertion that her allegations amounted to "wild accusations" and "outlandish claims" and therefore, she argued, "reasonable people would not accept" these alleged statements and allegations "as fact but view them only as claims that await testing by courts through the adversary process."

It is not acceptable to support a lawsuit with opinions, which counsel herself claims no reasonable person would accept as fact and which were "inexact," "exaggerate[ed]," and "hyperbole." Nor is it acceptable to use the federal judiciary as a political forum to satisfy one's political agenda. Such behavior by an attorney in a court of law has consequences. Although the First Amendment may allow Plaintiffs' counsel to say what they desire on social media, in press conferences, or on television, federal courts are reserved for hearing genuine legal disputes which are well-grounded in fact and law.
Powell cannot have it both ways. If her story about a stolen election is true, as she still insists it is, she can easily prevail against Dominion. But in that case, she should have been able to muster evidence more impressive than the mish-mosh of speculation, innuendo, and fabrications she presented in Michigan and elsewhere. And if her tale is nothing but fact-free "opinion," it never should have been the basis of a federal lawsuit.
"This lawsuit should never have been filed," Parker says. "Sanctions are required to deter the filing of future frivolous lawsuits designed primarily to spread the narrative that our election processes are rigged and our democratic institutions cannot be trusted. Notably, many people have latched on to this narrative, citing as proof counsel's submissions in this case. The narrative may have originated [with] or been repeated by Former President Trump and it may be one that 'many Americans' share; however, that neither renders it true nor justifies counsel's exploitation of the courts to further spread it….As officers of the court, Plaintiffs' counsel had an obligation to do more than repeat opinions and beliefs, even if shared by millions. Something does not become plausible simply because it is repeated many times by many people."