Review: Reminiscence
Hugh Jackman and Rebecca Ferguson in a neo-hardboiled sci-fi mystery.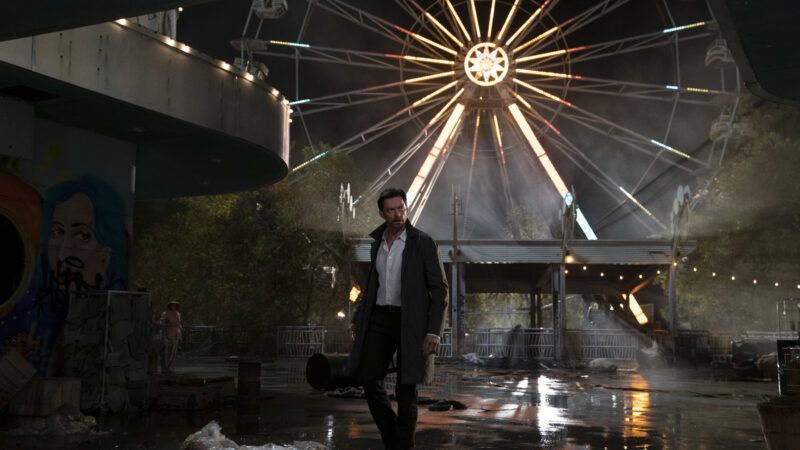 You know you've wandered into a neo-noir movie of a certain sort when the humidity's a bitch and everything's wet—rain-slicked streets, sweat-slicked faces. The weather's hot, and of course so are the women. People spend a lot of time living in the past (each moment of it "a bead on the necklace of time," as someone says in the new neo-noir Reminiscence) and they toss around lines like, "The city simmers with corruption." In Reminiscence, they also say things like, "When London sank, I fled to New Orleans," which is how you know you're in a neo-noir of the sci-fi variety. Like Blade Runner, sort of. (Although only sort of.)
Reminiscence is the first feature by Lisa Joy, who created and still writes HBO's Westworld along with her husband, Jonathan Nolan (brother of Christopher), who's a producer here. The picture has a friends-and-family component that might partly explain how it managed to get made. Also dropping in from Westworld are cinematographer Paul Cameron, composer Ramin Djawadi, production designer Howard Cummings, and actor Thandiwe Newton. Hugh Jackman, star of the Nolans' 2006 film, The Prestige, stars here too, along with Rebecca Ferguson, who featured with Jackman in The Greatest Showman (2017).  
The story is set sometime in the future, naturally, not long after a war that continues to cast a melancholy pall over the present (a vintage noir trope). There's been some bothersome business with the climate, it seems, such that the seaside stretches of Florida are now referred to as The Sunken Coast, where concrete levees have been constructed to fend off the ever-rising ocean. In soggy South Beach, a quasi-investigator with the classic flatfoot name Nick Bannister (Jackman), runs a business devoted entirely to living in the past: With the aid of a soothing water tank and some fancy tech, Nick fishes people's most pleasurable memories out of their minds and preserves them on little discs, to be revisited whenever the clients want a replay of their good old days. Nick is assisted in this enterprise by his friend Watts (Newton), an off-the-sauce alcoholic.
One day, Nick is visited by Mae (Ferguson), a woman so ultra-sultry she might as well have fatale engraved on her perfect brow. (You can imagine Nick in some future reverie thinking, "Of all the memory joints in all the towns in all the world, she walks into mine.") Mae has, uh, lost her keys and needs Nick's help in finding them. He makes the mistake of helping her. This involves poking around in Mae's own memory attic and learning perhaps more than he should. It turns out that she's a singer in a place called the Coconut Club, where she wears a side-slit scarlet gown while murmuring the 1930s memory ballad "Where or When" into an antique microphone of exactly the sort into which Isabella Rossellini once murmured the 1950s memory ballad "Blue Velvet."
The movie's creation of an indeterminate future clapped together from trappings of the past is certainly well-done, but generally speaking, it's hard to sell a picture solely on atmosphere, no matter how many likable pros you have in the cast. The movie doesn't add up to a lot, and you could get a headache trying to keep up with all the little twitches of plot that might fill in various blanks.  
Accepting Mae as a client, Nick is quickly hooked by her inscrutable beauty. But learning more about this woman is a perilous undertaking. As we soon see, he could find himself taken down by a bent cop named Boothe (Cliff Curtis) or drowned in a tank full of eels by a drug dealer called Saint Joe (Daniel Wu). Alternatively, he might succumb to the movie's gusts of hardboiled jive. Hearing some guy say, "You're just an empty man looking for a woman to blame," would he not wonder, "What the hell does that mean?"