In a Land of Scarce Water, Prices Should Be the Guide
The West needs markets in water, not allocations based on political considerations.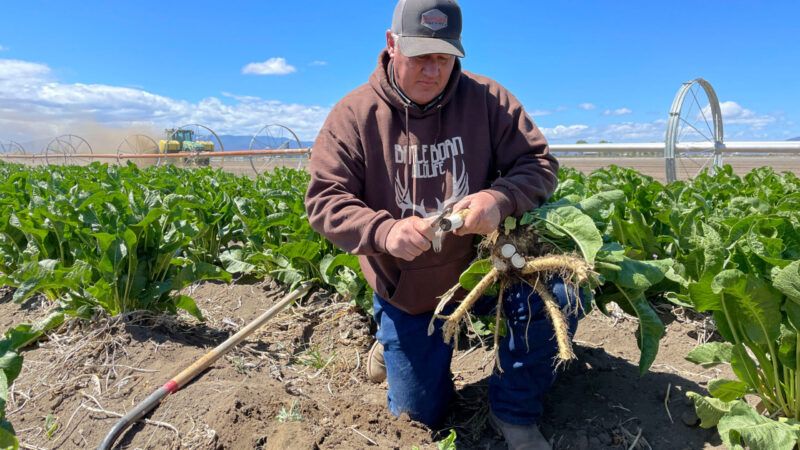 (Ryan Sabalow/TNS/Newscom)
This week, the U.S. Bureau of Reclamation, which manages federal water resources throughout the West, announced a water shortage at Lake Mead, the country's largest reservoir, and resulting cuts in allocations to Arizona, Nevada, and Mexico. The announcement came even as parts of the West see massive monsoon rainfall resulting in washed-out roads and loss of life. It's a testament to the extremes of life in the region, where water can be both a scarce resource and sometimes available in dangerous excess. That unpredictability makes a mockery of centralized management schemes for the wet stuff—but flexible rules and water markets offer a way to reduce both risk and waste of the valuable resource.
"Monsoon 2021 rainfall measured at Tucson International Airport set one of several records set this season with 5.88 inches of rain through July 25," the Arizona Department of Water Resources announced at the end of July. "At Phoenix Sky Harbor International Airport, meanwhile, National Weather Service officials reported 1.67 inches for the month as of July 25, making 2021 the wettest July since 2013 and the 17th wettest on record."
Unfortunately, that's not enough all by itself.
"Fending off drought – especially the kind of long-running drought the Southwest has experienced – takes deep winter snowpack in the region's mountainous watersheds. After more than two decades of dry conditions, it would take several consecutive years of deep snowpack to release from drought's grip," the department added.
The extremes of life in the West were apparent near my home in Arizona's Verde Valley, which early in the summer was hemmed by wildfires that choked the air with smoke during the day and lit the sky with flame at night. The bone-dry conditions of 2020 turned brush into tinder for lightning strikes and stray sparks. But within weeks, torrential rains flooded roads and swept away a local teenager.
As the Arizona Department of Water Resources noted, these conditions have persisted for decades. There comes a time when you have to accept alternating dust and flood as normal and treat old assumptions about water abundance as out of step.
Fortunately, there are established practices for allocating scarce resources in a decentralized way. 
"What we have advocated for at PERC is the expanded use of water markets," Reed Watson, then-executive director of the Property and Environment Research Center (PERC) told Reason in 2016. "Can we define water rights in the state, just define them in such a way that they're tradeable so that people can buy and sell water freely?" 
Watson spoke specifically about California because, well, it's California and the state draws lots of attention. Not all western states treat water the same way, but most recognize "appropriative rights" to water based on historical usage. That's helpful, since those rights can often be transferred independent of the land on which the water is located. So, water markets are developing, but they're compromised by political decision-making and regulatory barriers.
"You have to have markets that actually work, that allow competing users to resolve their competition amicably and efficiently rather than through political allocation of water," PERC's Watson added.
Case in point is the U.S. Bureau of Reclamation announcement of an unprecedented "Tier 1" 18 percent reduction in water allocation to Arizona, 7 percent reduction to Nevada, and 5 percent reduction to Mexico based on "the 2007 Colorado River Interim Guidelines for Lower Basin Shortages and Coordinated Operations of Lake Powell and Lake Mead, 2019 Lower Basin Drought Contingency Plan and Minute 323 to the 1944 Water Treaty with Mexico." That's political allocation in a nutshell. On the bright side, it incentivizes creative solutions where options still exist.
"The Tier 1 declaration gives states and local communities reason to remove barriers to transferring water," observes Robert Glennon, law professor and water rights expert at the University of Arizona. "Market forces are playing an increasingly critical role in water management in the West. Many new demands for water are coming from voluntary transfers between willing sellers and desperate buyers."
That said, Glennon doesn't advocate a completely free market for water, since he fears that farmers, who consume the lion's share of the region's water, wouldn't be able to compete with urban users. He supports "a process to ensure that transfers are consistent with the public interest," though it's unclear how to keep that from degenerating into the political allocation of water against which Watson warned. He also may confuse "public interest" with sentimentality over inefficient use of a scarce resource.
Still, Glennon co-authored a piece for the Brookings Institution in 2014 advocating that "sensible water policy should allow someone who needs water to pay someone else to forgo her use of water or to invest in water conservation and, in return, to obtain access to the saved water." To that end, "state and local governments should facilitate these transactions by establishing essential market institutions, such as water banks, that can serve as brokers, clearinghouses, and facilitators of trade."
Clearing away red tape that prevents efficient use of water is also important in a region where the stuff is scarce. Greywater Action, an organization that advocates for allowing the reuse of water from sinks, showers, washing, and the like for irrigation and toilets notes that western states have taken the lead in easing regulatory barriers over the past two decades. "Many barriers still exist for legal greywater systems around the country, but the tendency is toward better, friendlier codes," the organization adds.
Harvesting rainwater is also becoming more common as people embrace the practice—and as the law gets out of the way.
"Colorado's longtime ban on residential rain barrels has come to an end," Colorado State University celebrated in 2016. "Now most homeowners in the state are allowed to collect precipitation for later outdoor use."
Colorado still strictly limits households to two rain barrels, but other states are more relaxed.
"In the state of Arizona, it is legal to collect any rainwater that falls on your property for future use," the University of Arizona Water Resources Research Center notes. The center offers a guide advising on how to do just that.
Still, graywater and rain barrels are only going to chip away at the problem so long as federal agencies allocate massive amounts of water based on political considerations. In a land where water is scarce, its use will be most efficiently determined by the prices that users are willing to pay in an open market.