In 'Precedent Setting' Transgender Rights Case, Court Strikes Down Hobby Lobby Bathroom Policy
Plus: The critical race theory debate, delta variant surges and vaccination rates, school mask mandates, and more...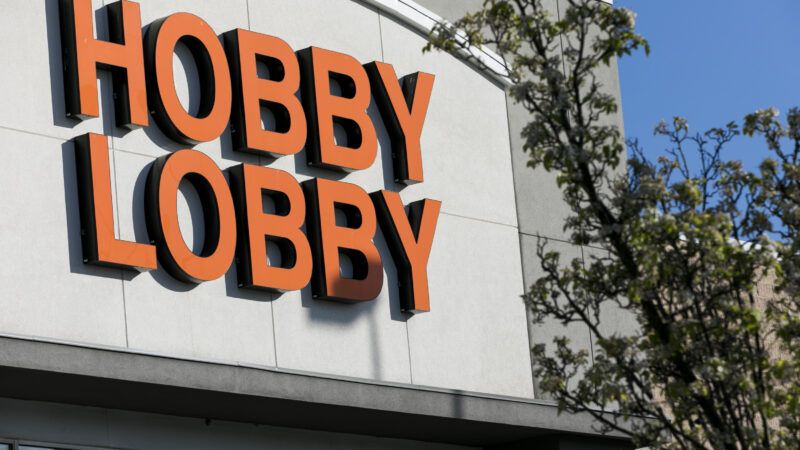 (Kris Tripplaar/Sipa USA/Newscom)
Hobby Lobby's refusal to let a transgender female employee use the women's bathroom violates Illinois anti-discrimination law, a state appeals court ruled. The case revolves around Meggan Sommerville, a trans woman who has worked at Hobby Lobby stores since 1998 and has been fighting over its bathroom policy since 2010.
Last week, the 2nd District Appellate Court of Illinois held that Hobby Lobby's refusal to let Sommerville use the women's bathroom violated the Illinois Human Rights Act—upholding an earlier decision by the Illinois Human Rights Commission and the Commission's award of $220,000 in emotional distress damages.
"The Commission correctly found that Hobby Lobby violated the Act," wrote Appellate Justice Mary Seminara-Schostok in an August 13 opinion joined by Justices Kathryn E. Zenoff and Ann B. Jorgensen. "There is simply no basis in the Act for treating the 'status' of being male or female as eternally fixed."
"Indeed, it is worth noting that, although Hobby Lobby has advanced a variety of different meanings of 'female' over the course of this litigation, at different points suggesting that it would allow Sommerville to use the women's bathroom if she could produce a birth certificate with a female sex marker or if she underwent genital surgery, none of these scenarios is impossible. Thus, even the restrictions on 'female' status advanced by Hobby Lobby are things that can be changed. Hobby Lobby's argument that female status is somehow immutable is belied not only by the Act but also by its own conduct," the justices added.
"This is a precedent setting case in Illinois, because the Human Rights Act has never been tested in this way in Illinois, and actually in the country," Sommerville told Forbes.
The case "is one of first impression, meaning it is a case in which a legal issue has never before been decided by that governing jurisdiction," Forbes explained. And it could have implications far beyond Illinois.
"This decision will have national implications and start the process of courts around the country addressing the issue of bathroom access," suggested Sommerville's lawyer Jacob Meister in Bloomberg.
Hobby Lobby—which was famously involved in a religious freedom suit concerning the Obamacare birth control mandate that went all the way to the U.S. Supreme Court—did not invoke freedom of conscience arguments in this case. Rather, it argued "that its policy of regulating bathroom access based upon users' 'sex'—which, it contends, means their reproductive organs and structures—does not violate the [Illinois Human Rights] Act," the judges noted.
Here's more background, from their decision:
In 2007, Sommerville began transitioning from male to female. In 2009, she disclosed her female gender identity to some staff at Hobby Lobby, and began medical treatment that resulted in female secondary sex characteristics such as breasts and the absence of facial hair. In early 2010, she began to use her female name and appear at work in feminine dress and makeup, without objection from Hobby Lobby.

In July 2010, she obtained a court order legally changing her name to Meggan Renee Sommerville, and a new Illinois driver's license and Social Security card, both of which showed her new name and identified her as female.

On July 9, 2010, Sommerville formally informed Hobby Lobby of her transition and her intent to begin using the women's bathroom at the store. Hobby Lobby changed Sommerville's personnel records and benefits information to reflect her female identity. However, Hobby Lobby refused to allow Sommerville to use the women's bathroom at the store. Faced with an initial demand that she produce 'legal authority' requiring it to allow her to use the women's bathroom, Sommerville provided Hobby Lobby with a variety of documentation including her driver's license, Social Security card, and name change court order; a letter from her medical providers identifying her as a female transgender individual, describing the transition process, and urging that she be allowed to use the women's bathroom; and a copy of the Act and similar statutes from Iowa and Colorado. However, Hobby Lobby continued to refuse to allow her to use the women's bathroom.

Sommerville occasionally used the women's bathroom at the store despite Hobby Lobby's policy. However, Hobby Lobby assertively enforced its policy, ordering employees to report Sommerville if she tried to use the women's bathroom. On February 23, 2011, she was given a written warning for entering the women's bathroom at the store. Sommerville testified that she was 'emotionally devastated' by the discipline, and her supervisor testified that she was 'very upset' and 'broke down crying.'
Sommerville works in an Aurora, Illinois, Hobby Lobby's custom framing department and told Forbes she fought the bathroom policy rather than simply quit because she likes her job and she likes her customers.
"I have a very good clientele that have been coming to me from before I transitioned," she said. "That was one of my biggest fears, how my customer is going to react. I've been able to build a clientele that come to me and I've done practically everything in their homes because they like what I do. And it's something I'm good at. How often are you going to find a job where your customers come to you and appreciate you for what you do?"
In 2013, she filed a complaint with the Illinois Human Rights Commission. In 2015, an administrative law judge said Hobby Lobby was violating the state's Human Rights Act. Hobby Lobby appealed and, in 2019, the appeals court issued a temporary stay.
Now, the appeals court says "Sommerville's sex is unquestionably female" and Hobby Lobby's refusal to let her use the women's bathroom clearly a civil rights violation. More on its reasoning:
There is no real dispute that, in this case, Hobby Lobby is barring Sommerville from using the women's bathroom because she is a transgender woman, that is, a woman whose 'designated sex at birth' was male, instead of a woman who was designated as a female at birth. Hobby Lobby's conduct thus falls squarely within the definition of unlawful discrimination under the Act, as it treats Sommerville differently from all other women who work or shop at its store, solely on the basis that her gender identity is not 'traditionally associated with' her 'designated sex at birth.'

The Commission did not err in finding that Hobby Lobby's conduct of denying Sommerville access to its women's bathroom violated her civil rights under articles 2 and 5 of the Act.

Hobby Lobby argues that the Commission misunderstood the Act, improperly conflating 'sex' with 'sexual orientation.' Specifically, it argues that it limited access to its bathrooms based on sex, not gender identity, and that the Act permitted it to do so. It also argues that 'sex' means 'reproductive organs and structures,' and thus Sommerville (who has not had a surgical vaginoplasty or labiaplasty) is of the male sex. As the proper definition of 'sex' under the Act lies at the heart of Hobby Lobby's arguments, we begin there.

As noted, the Act defines 'sex' as 'the status of being male or female.' The phrasing of this definition is broad: it does not draw distinctions based on genitalia, the sex  marker used on a birth certificate, or genetic information. Moreover, it uses the word 'status.' At law, a 'status' is a state of being that may be subject to change. 'Marital status' is one obvious example of this, as it may change depending on an individual's actions or external events. Similarly, 'resident status' (the condition of being a resident of a particular area) may change depending on whether one continues to live in that area. … Hobby Lobby contends that an individual's 'sex'—the status of being male or female—is an immutable condition. However, the plain language of the Act does not support this conception. There is simply no basis in the Act for treating the 'status' of being male or female as eternally fixed.

Hobby Lobby argues that the Commission improperly conflated 'sex' and 'gender identity,' which 'are not synonymous.' We agree that of course these two terms are not synonymous; after all, each term is defined separately in the Act. However, neither are these two terms wholly unrelated. To begin with, section O-1, the provision referring to gender identity, itself uses the term 'sex,' showing that the two provisions must be read together. … Further, by defining 'sex' broadly as a status, without any reference to anatomy, birth certificates, or genetics, the Act allows for the consideration of gender identity as one of the factors that may be used to determine sex.

It has been 15 years since protections against discrimination on the basis of sexual
orientation, which includes gender identity, were added to the Act. In that time, Illinois law has explicitly recognized in a variety of ways that gender identity is a primary determinant of a person's 'sex' for legal purposes. In Illinois, a transgender person can receive a birth certificate with a corrected sex marker upon presenting the vital records division with a declaration by a health care professional that the person has received medically appropriate gender transition treatment. Similarly, a transgender person may apply to correct the sex designation on a driver's license simply by signing an attestation of the person's gender identity. Illinoisans can also mandate the gender identity, expression, and pronouns to be used in funeral and burial instructions. All of these provisions demonstrate that, under Illinois law, an individual's gender identity is an accepted basis for determining that individual's legal 'sex.'…

Given the interrelationship between "sex" and gender identity in Illinois law, the record establishes that Sommerville's sex is unquestionably female. She has undergone years of effort and expense to transition, and she appears to be and comports herself as a woman. Of even greater significance, her status of being female has been recognized not only by the governments of this state and the nation but also by Hobby Lobby itself, all of which have changed their records to acknowledge her female sex. Given this recognition, Hobby Lobby cannot plausibly assert that it is denying Sommerville access to the women's bathroom on the ground that she is not female.
Hobby Lobby has not said yet whether it will appeal to the Illinois Supreme Court.
---
FREE MINDS
What are we really talking about when we discuss critical race theory? On today's episode of The Argument, @realchrisrufo and @rrbanks join @janecoaston to hash it out. https://t.co/ZWOqHX7xHF

— New York Times Opinion (@nytopinion) August 18, 2021
---
FREE MARKETS
Do delta variant surges really correspond with low vaccination rate states? "There has been a lot of news about how these surges are hitting unvaccinated states harder and that's not really true," suggests Matt Shapiro in the Marginally Compelling newsletter.
Regional status seems to be the primary indicator of how COVID cases are surging in a given state. When a surge hits, we're not seeing the kinds of differences we would expect between high vaccination and low vaccination states.

For example, Florida has a nearly 20% edge on Mississippi and Louisiana in vaccination status (Florida at 72.7% with one dose among adults vs Mississippi at 54.5% and Louisiana at 58.3%), but the COVID cases are surging very close together.
---
FOLLOW-UP
President Joe Biden won't let states ban mask mandates. As the school mask battles rage in Texas, Florida, and other states, the Biden administration is weighing in. "I'm directing the Secretary of Education, an educator himself, to take additional steps to protect our children," Biden said on Wednesday. "This includes using all of his oversight authorities and legal action, if appropriate, against governors trying to block and intimidate local school officials."
---
QUICK HITS
• The Washington Examiner explores what it's like for families trying to leave Afghanistan.
• The Transportation Security Administration will make people in airports wear masks through at least January 18, 2022.
• A federal appeals court says Texas can ban the most common way of conducting second-trimester abortions.
• Thousands of people in Northern California have had to flee wildfires this week. "The newest inferno, the Caldor Fire, continued to grow explosively in the Sierra Nevada southwest of Lake Tahoe, covering 84 square miles after suddenly ravaging Grizzly Flats, a community of about 1,200," reports NPR.
• Another study suggests the Pfizer COVID-19 vaccine is less effective against the delta variant.
• The quickest way out of U.S. population decline in certain parts of the country "might be if the federal government gave up its monopoly on immigration and allowed states to bring in workers from anywhere in the world, based on their own labor needs, without being held to federal quotas," suggests Shikha Dalmia in The New York Times.
• Geena Davis "is wrong about video games and her prescription for 'fixing' video games is silly and counterproductive," writes Erik Kain.
• "Don't blame Russian trolls for America's anti-vaxx problem," says The Guardian. "Our misinformation is homegrown."
• "A federal judge on Wednesday threw out Trump administration approvals for a large planned oil project on Alaska's North Slope, saying the federal review was flawed and didn't include mitigation measures for polar bears," NBC News reports.
• Sen. Marco Rubio (R–Fla.) is still holding on to Trump's TikTok ban dreams.