Cops Receive Qualified Immunity for Coercing a 13-Year-Old Into Confessing to a Murder He Didn't Commit
The boy was sentenced to 25 years' imprisonment.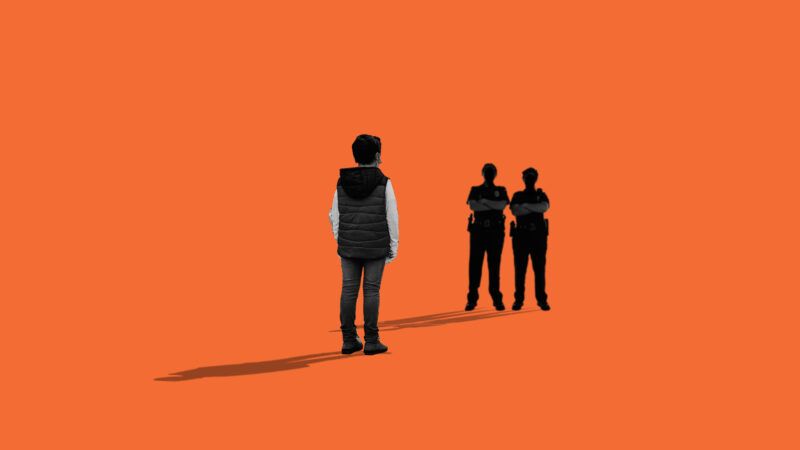 (Illustration: Lex Villena; ID 3421345© Iofoto | Dreamstime.com)
In May of 2013, Art Tobias was sentenced to 25 years' imprisonment after confessing at age 13 to a shooting that he did not commit. Eight years later, the U.S. Court of Appeals for the 9th Circuit has ruled that Tobias can sue the officers who interrogated him for violating his Miranda rights when they ignored his request for an attorney. Yet the court gave the officers qualified immunity for allegedly violating Tobias's 14th Amendment due process rights when they coerced him into signing a confession by fabricating evidence and insisting he'd receive better treatment in court if he gave in.
The 9th Circuit conceded those interrogation tactics were indeed abusive. But the officers received qualified immunity because the exact factual circumstances surrounding Tobias's experience were not etched in a previous court precedent with razor-like precision. As such, Tobias will not be permitted to sue on that claim.
After the summer 2012 killing of Alex Castaneda, police zeroed in on Tobias, despite being told that he bore little resemblance to the man caught on video committing murder. The boy, who was then an eighth-grader, was pulled out of school for questioning. He was not read his Miranda rights until 20 minutes into the interview; shortly after, he asked for a lawyer.
"Could I have an attorney?" he asks. "Because that's not me," referring to the video of the shooting.
"But—okay. No, don't worry," responded Los Angeles Police Department (LAPD) Detective Julian Pere. "You'll have the opportunity."
He was not given the opportunity. Instead, the 13-year-old was given a lot of lies, including that "somebody gave [him] up" as the murderer—they didn't—and that if he refused to confess he'd look like a "cold-blooded killer."
Most notably, Detective Michael Arteaga said that his mother identified him as the shooter. (She didn't.) It's "fucked up" and "fucking pitiful," Arteaga continued, that Tobias's mom would be forced to testify against her own son.
"You're full of shit. And when this case is presented to a district attorney's office, they're going to see you're a cold-blooded killer," Arteaga claimed. "Okay, but I'm telling you man, we have a lot more evidence than you think, and right now when we take the case to court they're going to think you're a big time gang killer who didn't want to tell the truth, who is down for the hood. It's going to look like you're down—you're so down for the hood that you didn't want to speak. So they might throw the book at you."
Tobias obliged.
After his release on June 11, 2015, the family sought the right to sue. Overcoming qualified immunity doesn't render a claim vindicated—it only gives a plaintiff the opportunity to argue his or her case in front of a jury, who would then decide damages after hearing the facts of the matter.
To do so, a victim needs to prove the constitutional violation was "clearly established." The U.S. Court of Appeals for the 9th Circuit found that Tobias didn't meet that standard for his 14th Amendment claim because the precise length of the interrogation wasn't specified somewhere in an analogous court decision.
"Threatening that a suspect will 'receive less favorable treatment' for 'exercis[ing] [his] rights' is so coercive that it always 'risks overcoming the will of the run-of-the-mill suspect,'" writes Judge Kim McLane Wardlaw. "This extended, overbearing interrogation of a minor, who was isolated from family and his requested attorney, comes close to the level of 'psychological torture' that we have held is not tolerated by the Fourteenth Amendment."
There's a catch. "Tobias's interrogation falls short of the behavior in [previous precedents] in one main respect: unlike those cases, Tobias's mistreatment lasted under two hours," she says. "We do not hold that 'hours and hours' of coercive questioning are required for an interrogation to 'shock[] the conscience.' But because the prior cases in which we found 'psychological torture' did involve hours of questioning, and because the officers' behavior towards Tobias was otherwise similar to—but not obviously worse than—the behavior in those cases, it was not clearly established that the offending tactics 'shocked the conscience' when used over a shorter period of time."
Though it sounds fantastical, that's to be expected with qualified immunity, which continues to shield government officials from misconduct even when their victims have viable cases against them.
Fortunately, the 9th Circuit denied the officers' qualified immunity request on the Miranda claim, meaning Tobias can sue the officers for that violation.
"The LAPD detectives suggest that Tobias's question was not clearly established as unambiguous because we have found statements such as 'I think I would like to talk to a lawyer,' 'Maybe he ought to see an attorney,' and '[I] might want to talk to a lawyer,' ambiguous," notes Wardlaw. But Tobias's request, was not, in fact, ambiguous—something he'll be able to sue for. "He asked directly for an attorney, a request the officers ignored."